Party King SWING 'N Smoke MVP Hitch Mount Swing Out Grill Review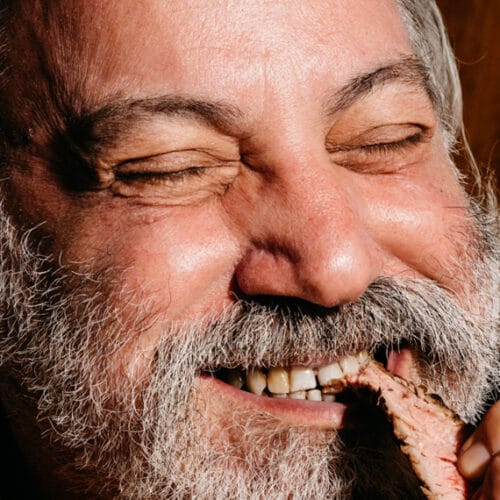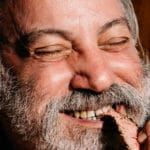 By: Meathead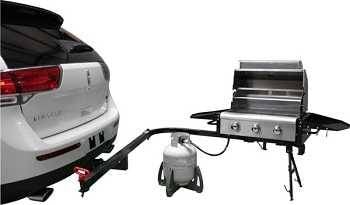 PARTY KING IS OUT OF BUSINESS
Party King's SWING 'N Smoke MVP Grill packages are their most popular models consisting of a 3-burner gas grill mounted on a steel arm attached to your trailer hitch. When ready, the arm swings out and away from your vehicle and a two legged adjustable stand folds down from the bottom for added support and stability. MVP is PK's largest grill head with 540 square inches of primary cooking surface. Party King offers some great options like their Twin Valve Manifold (pictured below) that hooks up two small propane canisters to double fuel capacity.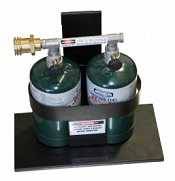 The Swing Out Arm comes in a standard size for holding one grill head, or large size for two grills or a grill and cooler combo. Party King's Swing Out BBQ designs are unique and appealing, but quality and execution need significant improvement.
Furthermore, although we appreciate the array of options PK offers, the catalog is made confusing by their non-intuitive names, with the part names and numbers clearly designed for the warehouse manager and not the consumer. Then there's the Hitch Cuff, VERSArm LT or HD, Twin Valve Manifold or tank talon, made more confusing because they are often spelled differently on different parts of the site. We recommend you talk to them before you finalize your order. For example, if you buy an arm for your hitch, you may want the locking options so the unit cannot be stolen when you are in the stadium.
Party King sent us their smaller, single burner Varsity model to test. Click here for the full review.
Model:

SWING 'N Smoke MVP Hitch Mount Swing Out Grill

Item Price:

$ 829.00

Made in USA:

no

Review Method:

Cooked On It
We have hands-on experience testing this product. We have also gathered info from the manufacturer, owners and other reliable sources.

Primary Function:

Grill, Tailgater

Fuel:

Propane Gas

BTU:

34,500

Heat Flux:

92.74
Heat Flux is the BTU per square inch and is a more useful measure of how much heat a grill delivers than BTU alone.

Main Burners:

3

Primary Capacity:

372 square inches

Secondary Capacity:

93 square inches
Published On: 9/15/2013 Last Modified: 1/25/2022
Meathead - Founder and publisher of AmazingRibs.com, Meathead is known as the site's Hedonism Evangelist and BBQ Whisperer. He is also the author of the New York Times Best Seller "Meathead, The Science of Great Barbecue and Grilling", named one of the "100 Best Cookbooks of All Time" by Southern Living.

---