Given Arteflame's unique design with an unregulated live fire surrounded by an 11 inch wide griddle ring, we expected the heat to be concentrated in the center and drop off at the perimeter. However, the heat pattern was much more unruly and asymmetric than anticipated. We got frustrated by the uneven heat and eventually agreed to let an Arteflame rep drop by to show us how it's done. It turns out that the size of your fire largely determines your cooking temperature, and you have to chase the hot and cool spots around the cooktop as needed. We haven't fully embraced this premise because temperature control is a hallmark of the best cookers. The best way to control the heat on this cooker is to create an even coal bed around the circumference of the cooktop. Despite this more hands-on approach to temperature control, we believe the Arteflame's unique and aesthetic design will find a place in the pantheon of outdoor cooking.
How to fire up Arteflame
The carbon steel cooktop must be seasoned before first use by coating it with cooking oil and cranking up a fire, much like seasoning a cast-iron pan. This seasoning process quickly creates a dark non-stick surface shown below. To season or cook on the Arteflame light up a large wood fire in the fire bowl. Arteflame recommends starting with a half chimney of Match Light instant start charcoal.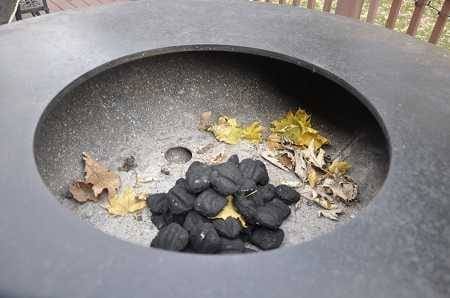 Build the fire by placing several splits crisscrossed over the coal.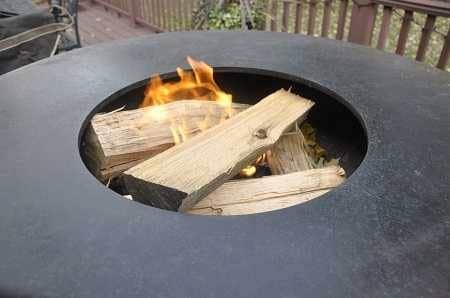 Add cooking oil to the cooktop.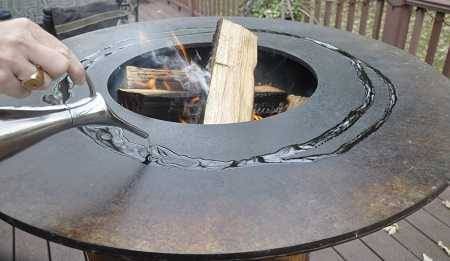 Spread the oil with a cloth or paper towel and coat the entire cooking surface.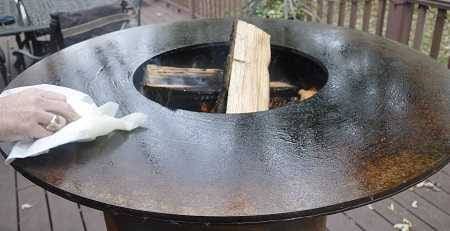 Push the burning wood under the cook surface and add fresh logs.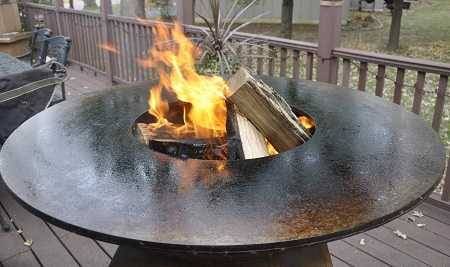 How to cook on Arteflame
Here's a neat trick: you can cut food right on the carbon steel cooktop (if you don't mind dulling your knife blade a bit).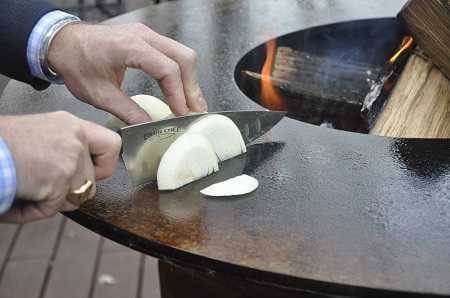 Bacon is your friend with Arteflame, providing flavor, lubricant and a rough barometer of where the hot spots are developing on the cooktop.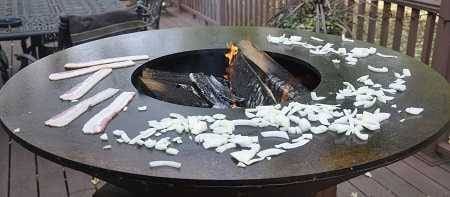 Some cinders can jump from the fire to the griddle and the food. This was not a big problem during our tests, but it could be on a windy day. Best to keep the coal bed tucked beneath the circumference of the cooktop.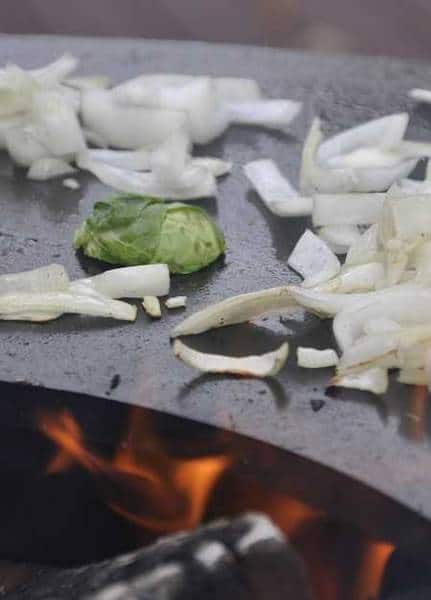 In the blink of an eye, our Arteflame rep had a feast in process.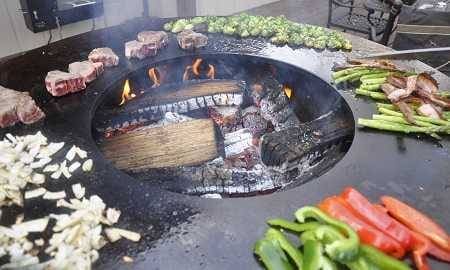 As foods cooked, he moved them around, finding hot spots to sear meat and cooler, holding spots for foods that just needed to be kept warm.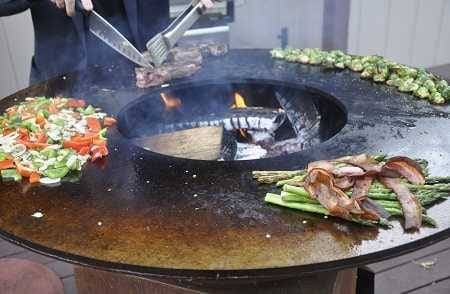 And of course we had to have….
Bacon and eggs! The cooktop is slightly pitched to the center to coax oil and grease into the fire rather than onto your deck or patio. Nonetheless, protective concrete pavers should be placed beneath the Arteflame to catch wayward drips or splatters. When you are finished cooking, simply scrape any residual gunk into the fire to burn up. Then wipe the cooktop clean like you would with a cast-iron pan. There is no ash removal system, so ashes must be scooped out after each use to avoid plugging up the drainage holes in the bowl.
Before buying, consider this
It's essentially a big griddle. That's great when you want to griddle a lot and gather your friends around for a feast. Arteflame also offers a rotisserie for the 40 inch model (see below), and you can use pots and pans over the fire much like you would with a campfire. There are lots of culinary possibilities with this cooker. But at nearly 3 1/2 feet in diameter, it is pretty big and not as well suited to just cooking a couple burgers. However, you can make a small fire off to one side of the fire bowl. And Arteflame makes smaller 30 inch and 20 inch models.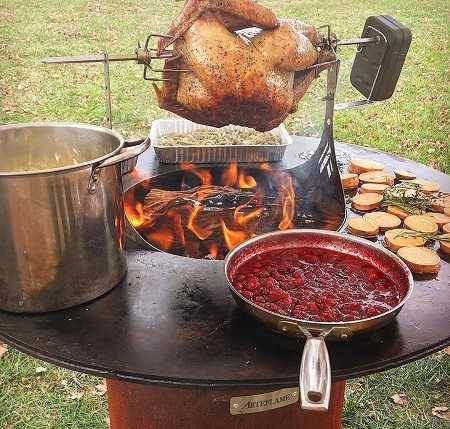 The size and aesthetics of the Arteflame are among its greatest strengths. Everyone loves to gather around a gorgeous fire bowl where you can also cook a big feast. But, from a practical standpoint, if you don't need all that cooking area, you could get by with a couple cast iron skillets placed over your grill or kamado and have greater temperature control. In fact, Arteflame makes kettle grill and kamado inserts for this purpose (see below).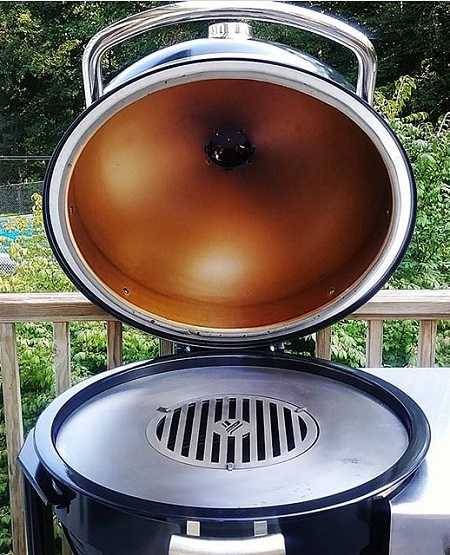 Arteflame touts being maintenance free. It's true that it has no moving parts, electronics or fasteners and is built of heavy steel that should last for generations. But if you don't use it on a regular basis, the carbon steel surface can rust. Our readers who own cast iron grates, skillets and Dutch ovens know the cleaning routine. These metals must be scraped, wiped down and oiled, and then burned again (re-seasoned) to maintain the dark non-stick surface. Leave them out on your deck, and before long these metal cooktops will be as bright orange with rust as Arteflame's corten steel fire bowl and stand. Arteflame recommends rubbing the cooktop with oil periodically when not in use. Worst case, the surface can be sanded down and re-seasoned. A fitted vinyl cover is optional, but it will likely only slow rust down a bit while spoiling one of Arteflame's main selling points, its beauty! Why buy a statue then cover it with black vinyl?
Impractical or marvelously impractical?
As mentioned previously, when we first began Arteflame tests we were frustrated by the uneven heat. With an infrared thermometer, we measured the cooking surface temps in ten places with following results:
Inner edge: 340°, 280°, 440°, 490° and 560°F
Outer Edge: 250°, 200°, 280°, 330° and 380°F
We tried and tried to build the fire just right and even out the coal bed, aiming to impose sheer will on the random heat pattern. But success eluded us. Only after observing the Arteflame rep cook a variety of foods did the advantages of this unusual cooker come into focus. We began to appreciate the Arteflame experience.
It's not for everyone by a long shot. Even if the $2,450 price tag is within your budget, you have to be drawn to varying heat levels of Arteflame's live fire. You have to accept that the heat is largely uncontrollable and be willing to maintain the cooking surface. If you can embrace the simplicity and hands-on nature of a fire bowl with a large, built-in griddle, your reward will be a stunning, modern outdoor centerpiece that creates unique and thrilling social experiences. Think of it as a lifestyle decision. Arteflame's website provides recipes and videos that offer insight to this type of outdoor lifestyle.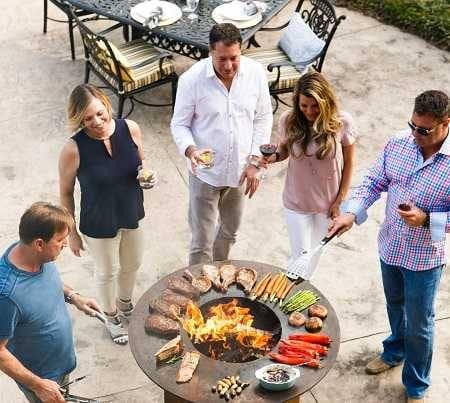 The Chef's Podium
For commercial use, it's easy to see why some chefs love cooking at the Arteflame podium while chatting it up and hamming it up with guests. It's almost like cooking on the Olympic flame itself.

In addition to round griddle inserts for kettles and kamados, Arteflame offers a few different sizes shown below.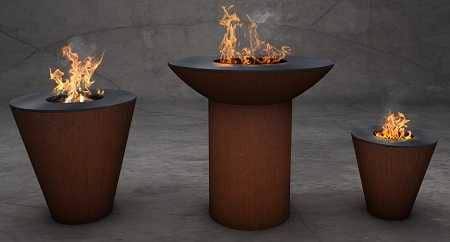 We tested an older two piece model with a single piece fire bowl and cooktop that weighed well over 200 pounds. Our two piece Arteflame arrived in two cardboard boxes on a pallet weighing a total of 350 pounds. I had to hire my landscapers to schlep the heavy metal pieces onto the deck. The current three piece models have a separate 110 pound fire bowl, 120 pound cook top and 60 pound stand, making them easier to move and enabling owners to take away the cook top and just use Arteflame as a fire bowl.
Some ash and embers fall into the center stand, so Arteflame should be placed on concrete pavers to avoid damaging decking or pavement. Check inside the stand periodically to remove ash and unburnt wood fragments that can collect at the bottom.
Arteflame carries a limited three year warranty for materials and workmanship to the original purchaser of the product from an Authorized Dealer.
We thank Arteflame for providing a Classic 40" for this review.