Char-Broil's Gas2Coal Grill is a new iteration of a design they've explored since the late 1990s. It is a low cost 3-burner gas grill with a charcoal tray that rests above the burners. Char-Broil intends to provide a gas grill and charcoal grill experience for one low price under one hood. Gas2Coal is bigger than their previous 2 in 1 Hybrid Grill and features an improved charcoal tray that creates better air flow around the coals via rows of air intake vents. As a gas grill, the three 13,333 BTU stainless steel burners are capable of producing pretty high temps, but performance is hampered slightly by an uneven temperature cook surface. As a charcoal grill Gas2Coal falls flat. With no way of controlling air and therefore temperature, it is essentially a charcoal tray with a cooking grate on top. Click here to learn more about controlling temperature with vents.
Be that as it may, Char-Broil claims this model is a hit and many buyers seem pleased with their dual fuel grills. I suspect those folks have little experience with a traditional charcoal grill. Indeed Char-Broil's target audience for Gas2Coal is consumers who are curious about charcoal, but afraid to light it and nervous to give up their control knobs. This hybrid fuel cooker is meant to simplify the charcoal experience for someone who's new to charcoal grilling and apprehensive about giving it a try.
Gas
G2C's gas burners provide a temperature range from low to high of about 470° F to 790°F measured at the middle of the cook surface, but heat concentrates in the back with a noticeable drop off toward the front. One needs to take this uneven heat profile into account particularly when loading the grill surface up. The photo of chicken wings (below) clearly illustrates the issue. Foods must be rotated from front to back to insure even cooking.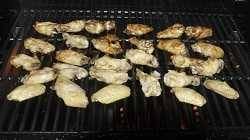 Charcoal
Switching from gas to coal is certainly easy. The older 2 in 1 Hybrid Grill required removal of the heat tents over the gas burners, Gas2Coal does not. You just remove the three porcelain-coated cast iron cooking grates, drop the charcoal tray in place above the burners, add a single layer of charcoal, replace the grates, ignite the burners, then operate on high with the lid closed for fifteen minutes. Open the lid and….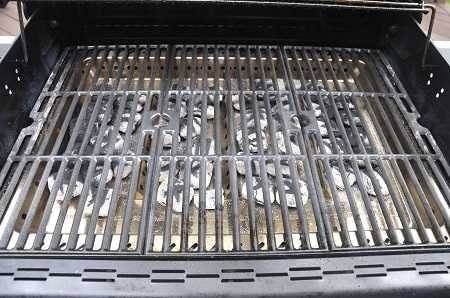 The single battery powered ignitor only works on the middle burner and side burner, so you must always lite the middle burner first before turning on the left and right burners which will then ignite via carry over. This is important to note when igniting charcoal as you cannot see the flames with the tray covering the burners.
There are three non-adjustable air intake holes, one on each side of the firebox and one at the bottom. The bottom hole also facilitates grease removal by channeling gunk into a small removable metal cup underneath. While starting the charcoal is effortless, the only way to control temps is using more or less fuel and opening and closing the lid. Surprisingly, when used as a gas grill, the hot rear zone sears just as well as the charcoal. It works OK for simple grilling like burgers, and you do get some charcoal flavor, but the performance and overall experience is lacking as compared with a charcoal grill.
Perhaps that is an unfair comparison as Gas2Coal is obviously not a dedicated charcoal grill. And perhaps we shouldn't have even tried to smoke a couple small pork butts using the charcoal tray instead of a smoke box or smoking pouch as we would with any other gasser. But curiosity kicked in. Knowing we couldn't hold low and slow BBQ temps with the charcoal. We decided to use the gas burners for temperature and charcoal and wood for flavoring. With the charcoal tray in place and the left and right cooking grates removed to allow access to the fire, we placed a water pan on the middle grate then another grate on the water pan.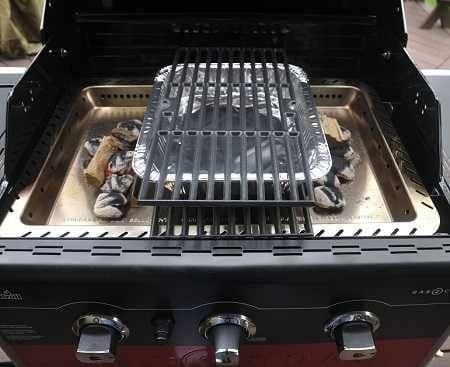 After some experimentation with charcoal on both the right and left side with the corresponding burners on low, we found the magic temp of 225°F by burning a small amount of charcoal and wood on one side with a single burner at medium low on the other. On went our pork butts and we began replenishing the small pile of coal and wood every half hour to insure it didn't go out. It looked good (below), but with no air control and no exhaust vent, the fuel smoldered intermittently, creating dirty smoke that lingered in the hood.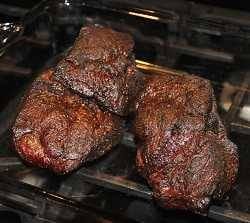 The result was a slightly bitter flavor. If any Gas2Coal owners have developed tricks to make this method work, please share them in the comments section below. Meanwhile, when smoking and roasting we advise leaving the charcoal tray tucked away in the dedicated storage space below the firebox and using the gas burners. To learn more about smoking on a gas grill go to our Best Setups for Gas Grills Page.
The attractive red façade under the control panel is a nice touch. A warming rack folds backward out of the way when you lift the lid. A right side shelf provides a work surface. When not in use, the flush lid over the 12,000 BTU side burner on the left makes it an additional side shelf. There are no tool hooks. The bottom cart is not enclosed in the back and functions mainly as a storage space for the LP tank. Some owners gripe about having to walk around the back to turn the gas valve on. There are two black plastic wheels on the left and the right side shelf serves as a handle when moving the grill about. Ash removal is accomplished by taking off the cooking grates then dumping out the charcoal tray.
Conclusion
Char-Broil seems to have struck a chord with curious gas grillers who like the 2 for 1 concept that saves space and provides a bridge to the mysterious land of charcoal. In our view Gas2Coal is not a bad gas grill and not a good charcoal grill. We have to recommend those who want both fuels in this price range get a decent low cost gasser and separate inexpensive charcoal grill. There are plenty models to choose from and Char-Broil offers some good options. In fact, Char-Broil's Kettleman Charcoal Grill is very user friendly and works as advertised; no flare-ups, even heat, retains moisture in foods, and with just a little effort it can be a pretty decent smoker as well.
Five year warranty on the burners, two years on the lid and firebox and one year on everything else.