Dancook 1900 Charcoal Grill Review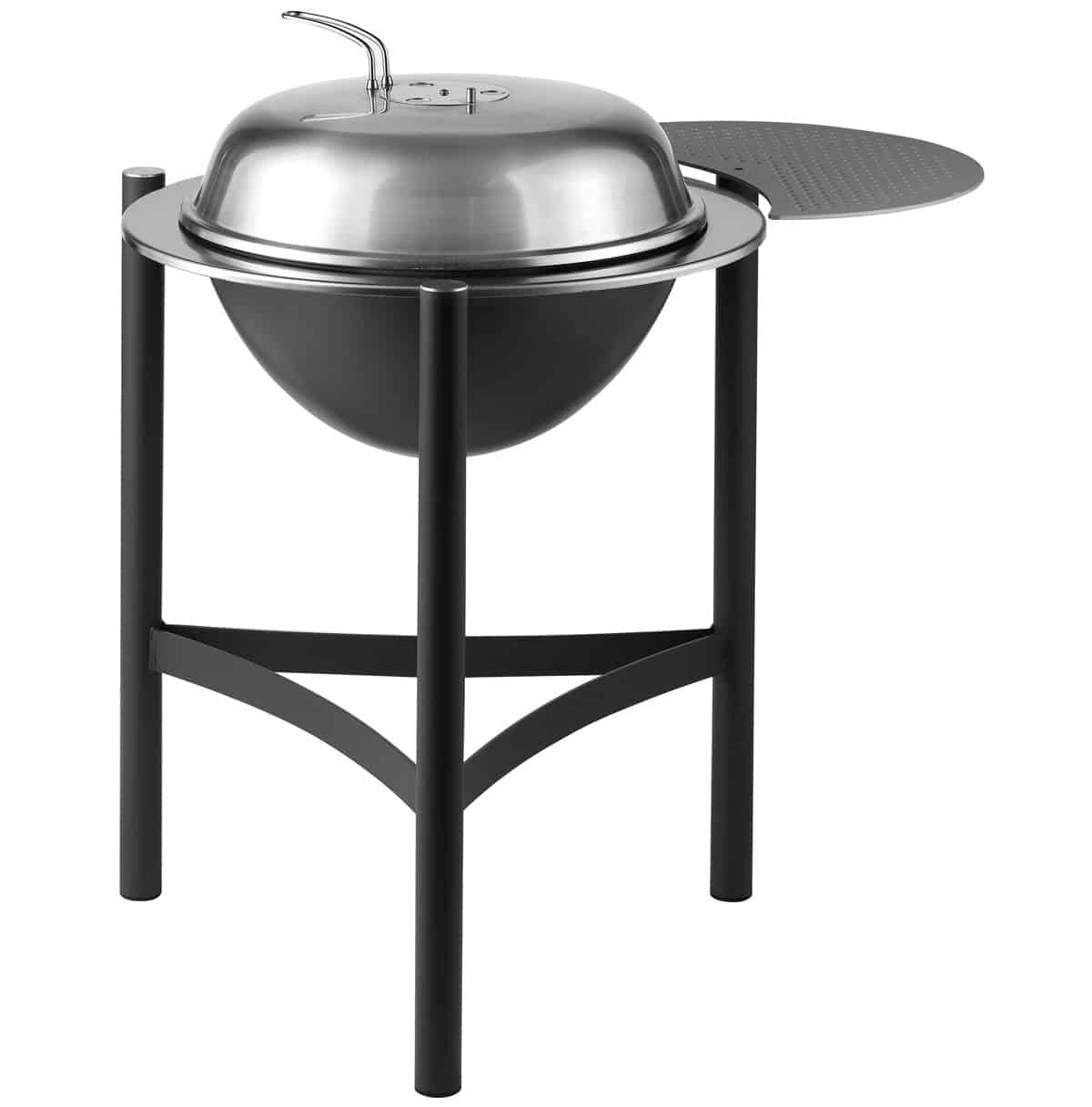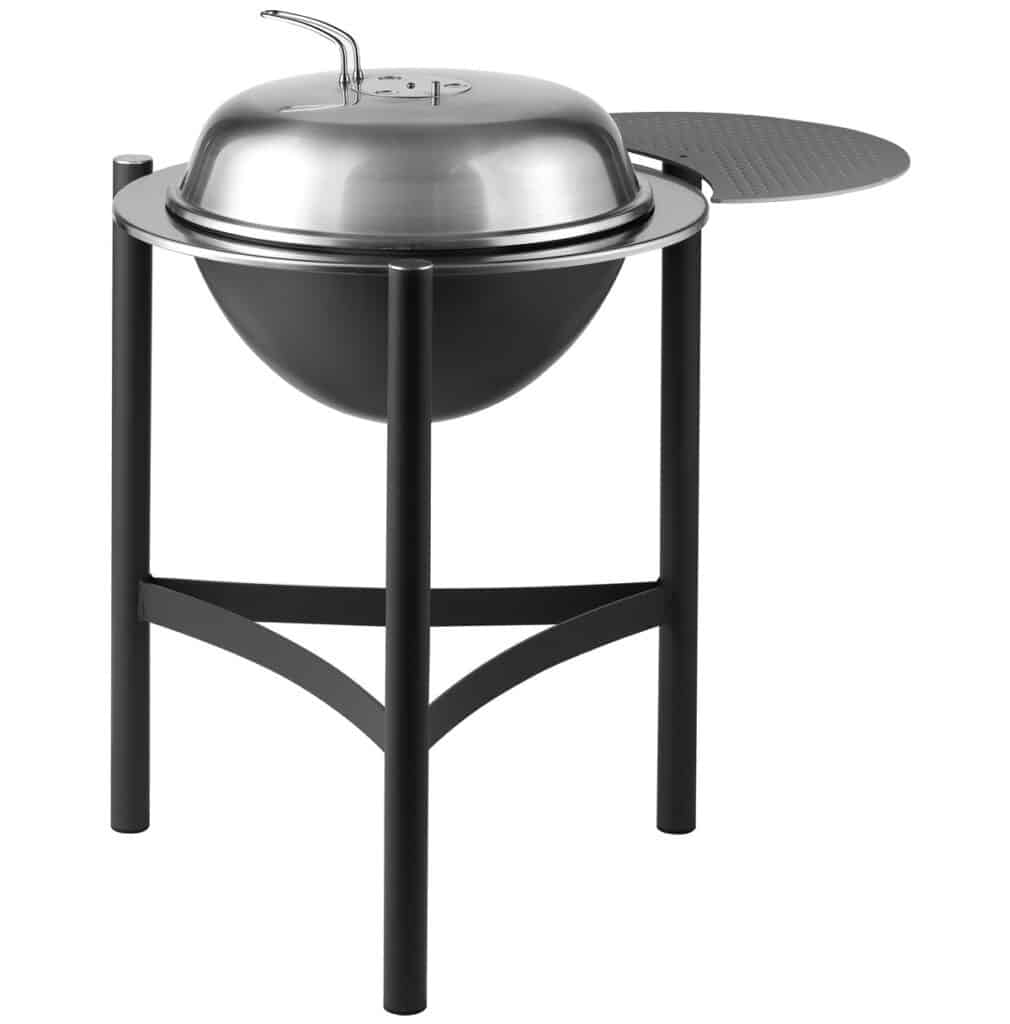 Dancook's sleek and stylish "Euro" designs have a stripped down, less is more quality, with clean uncluttered lines. They look like futuristic Weber kettles. Indeed it performs very much like Weber. There are obvious similarities and striking differences too. Instead of Weber's single wall bottom with a damper and coal rack, Dancook uses an aluminum outer bowl with three holes at the base – no damper, and a 304 stainless steel "liner" that floats inside the bowl on a stainless liner ring. The liner has a circle of one inch holes positioned above the coal to let pre-heated air into the cook chamber and replenish oxygen. Air is pulled into the bottom where it quickly heats up before being sucked into the kettle through the liner holes. The only damper is in the center of the stainless steel lid, (see below, right). This double wall bowl is meant to retain heat and reduce charcoal consumption, both desirable attributes. Since one cannot shut off air intake at the bottom, we wondered if the coal would continue to burn after the single top damper was closed – negating fuel savings. Surprisingly, the coal died out and plenty remained for reuse. To remove ash you lift out the liner and dump it.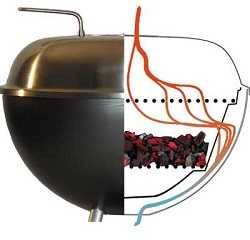 This is a good looking, well-made grill that would make a nice addition to a shiny, gas-powered outdoor kitchen. Dancook offers a 1500 Series model that has the same kettle, but a more practical cart with large work surface and two wheels. Very heavy rain can penetrate the top damper and water will collect in the sealed bottom. No big deal if you dump it out right away and let the interior dry. One cover is offered for both the 1900 and 1500 models. Covers are always a good idea and will extend the life of your cooker.
As mentioned the lid, liner ring and inner liner are high quality 304 stainless steel and the sturdy one-piece frame is grey, powder coated aluminum. The lid rests neatly on the frame under the grill when you need to get it out of the way. The 58 cm (22.84″) cooking grate has 6mm chrome plated steel rods. Thin steel rod grates are our favorite for searing steaks over charcoal. Unlike heavy cast iron grates that brand meat with brown stripes, thin rods expose meat surfaces to red hot radiant heat and help create a delicious, even brown crust.
One crescent shaped aluminum side shelf is included and a second may be added. No BBQ tool hooks yet, but Saber may add them for the US market. Yes please do! We'd also suggest putting a hinge on the shelf so it can be folded down.
Model:

1900 Charcoal Grill

Item Price:

$ 450.00

Where to buy (buying from this supplier supports this website):




Made in USA:

no

Review Method:

Cooked On It
We have hands-on experience testing this product. We have also gathered info from the manufacturer, owners and other reliable sources.

Primary Function:

Grill

Fuel:

Charcoal

Primary Capacity:

410 square inches
Published On: 3/25/2014 Last Modified: 1/23/2023
Max Good, Full time grill tester - Max Good, AmazingRibs.com's Vice President of Product Reviews & Keeper of the Flame, is the man in charge of finding the best products for the AmazingRibs.com Equipment Reviews section. Max bottles his own barbecue sauce recipes and now sells them around the country.

---