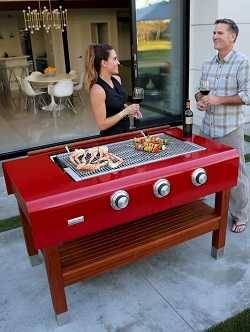 Caliber dubs their luxurious Rockwell gas grill, "the world's first estate-scaled, 360 degree walk around Social Grill." They define, "estate scaled", as big grand and beautiful, right at home on the grounds of a magnificent mansion. There's a social element to all BBQ, but Rockwell goes a step further with a roll top lid that can disappear completely, allowing grillers and guests 360 degree access to the cook surface and generous surrounding table space. Flip open a conventional grill and the lid will direct heat and smoke outward, while the wide open Rockwell lets heat rise up and away from bystanders. It blends the attributes of a luxury gas grill and kitchen island creating an enticing environment for everyone to gather around and enjoy food, drink and conversation.
This stunning and unique grill was created by Caliber for David Rockwell of the Rockwell Group, an award-winning cross-disciplinary architecture and design firm. Born in Chicago, Rockwell draws on his love of drama and spectacle to create fantastic, high-impact restaurants, malls, airline terminals, theater sets, and playgrounds. His world renowned organization employs 250 people, with offices in New York, Madrid and Shanghai. Rockwell's accomplishments and accolades are too numerous to mention in this review. The curious may click here to learn more.
For the 2014 Architectural Digest Design Show in New York, Rockwell was enlisted to create a cooking event with a celebrity chef. Inspired by the social aspects of a roll top chaffing dish that allows 360 degree access for servers and guests, he envisioned a large roll top grill, set in a table with a red table cloth. Caliber jumped in to engineer and manufacture Rockwell's concept. Seeing the market potential, they put the new grill into production right before the show. Unlike roll top chaffing dish lids that are usually pinned upright or allowed to fall out of the way, Caliber's sophisticated lid design is 100% counterbalanced throughout rotation by a patent pending system of gas springs and machined arms to balance the load. It can be stopped at any position in its rotation.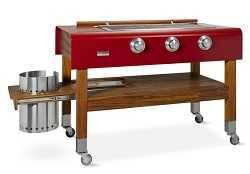 The exterior BBQ grill is built from heavy-gauge powder-coated high-grade aluminum and is draped over a hand finished, Brazilian cherry wood cart. This "aviation grade" aluminum withstands heat without fracturing and is lightweight. Even so, Rockwell tips the scale at 450 lbs. There is a large cherry wood lower shelf where a slide out LP tank may be stored (shown above with optional locking casters). Rockwell is available in natural gas models as well. The top quality 304 grade stainless steel lid features a matching cherry wood handle.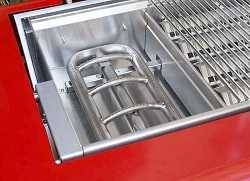 Caliber owners, Randy Rummel and Dan Nichols, worked for three years to perfect their signature Crossflame grill design, which they claim delivers a flawless cook surface that rivals their competition. Crossflame burners are a variation on U and H shaped burners, spreading the flame across the lower firebox. They are a rectangular grid of tube burners, arched in the middle. Their Crossflame Radiant System is a set of unique heat tents resting lengthwise from left to right, rather than the conventional orientation of front to back.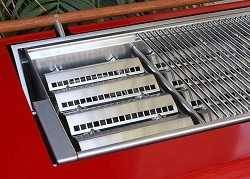 These tents are slightly angled to diminish flare-ups by diverting grease to the left and right sides then down beneath the burners to the bottom of the firebox, which is also angled to channel grease to a central slide out grease tray. Removable Zone dividers can be placed between each burner to isolate heat for 2-zone set-ups.
Three 20,000 BTU burners service the large 675 square inch cooking surface. Caliber also offers two built-in Rockwells in two and three burner configurations. All sport striking oversize control knobs. Rockwell has no electronics. Their "Sure-Lit" ignition is a piezo electric system embedded in each gas valve. Rather than ignite the burner with a piezo electric spark, the spark ignites gas in the valve and shoots a flam-thrower column of fire to the burner for ignition. Caliber feels this protects the piezo electric mechanism from the elements and creates a superior, more reliable method of ignition.
Stock finishes are terra cotta, turquoise, midnight black, red and stainless steel. Custom colors and wood choices are available. Rockwell is delivered fully assembled in a crate.
Lifetime warranty on the burners, grates and firebox. Five years on the radiant trays and powder coat finish. One year on in home operation.