The Saber Cast 500 P is an entry level model to the Saber line of gas grills. This 3-burner cooker has some unique features based on patented infrared designs developed by Saber's parent company, Char-Broil. But Sabers are much more sophisticated and much higher quality than anything that bears the Char-Broil name.
The firebox is designed to cradle each burner with individual compartments for complete isolation and optimal zone cooking. Below is an illustration of one burner system. On a two burner unit there are two of these units, etc. There are no heat tents or flavor bars covering the burners. The 304 stainless grate system has a unique, patented design meant to promote uniform radiant heat and move convection heat away from the cooking grate. Convection heat is hot circulating air that can rob food of moisture. The grate/emitter system has ridges that conform to the bottom of the grates. Rather than cast metal or steel rods, the grates are half-tubes of stainless steel that fit onto these ridges and create a series of hot air tunnels. A row of slots at the peak of each ridge delivers heat from the burners below into this tunnel. The heat then naturally escapes by moving out of the tunnel and dissipates through vents at the cooking area perimeter.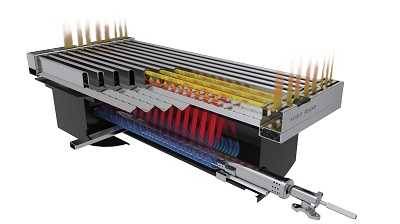 Despite the high heat, the 500 P is rated at only 24,000 BTU (remember, BTU is a measure of fuel consumption and is not directly related to heat any more than fuel consumption of a car has to do with speed). Each burner is rated at 8,000 BTU. Saber's fuel efficiency was rewarded by Hearth and Home Magazine with their VESTA 2012 Green Award for creating a grill that reduces gas consumption by 30 to 50%.
Housings are built with solid construction that rivals many more expensive, premium grills. All stainless steel is top quality 304 grade. Cart frames are fully welded 1″ steel. All cart models have heavy duty 3″ locking casters and are built for Propane. Natural Gas conversion kits are available. This Entry level model has a porcelain coated lid, cast aluminum end caps and painted steel shelves, doors and cart. Push button ignition is battery powered. It carries a warranty that exceeds many competitors.
Although it can't go from 225°F to 900°F in the blink of an eye like some more expensive grills, it cranks pretty fast, making it great for the reverse sear method on steaks and burgers. Pat O'Donnell, president of Hearth and Home Patio & BBQ, is a Chicago area Saber dealer. O'Donnell has sold the venerable TEC infrared grills for many years and feels the performance of Saber for searing steaks, chops and fish is nearly as good as TEC. "There is no appreciable difference", he states.
We extensively tested a three burner stainless steel model that is an upgraded version of this unit. We were impressed. It gets real hot, real fast, and can hit 700°F in about ten minutes. Heat is uniform across the entire cooking surface. It does not flare up and produces moist, juicy foods.
There are a few minor issues. Like most gassers, this grill has a hood thermometer. We've never found accurate bi-metal dial thermometers from any manufacturer and Saber is no exception. We had a couple conversations with Saber about their dial thermometers. They ultimately agreed with us that dial thermometers only provide a vague reference point. They are not accurate and "heat indicators" is a more appropriate name. They do illustrate how quickly these systems heat up. After fifteen minutes with all burners cranked to the max, the dial on our test model was pegged past 800°F and our Thermoworks thermocouple read 710°F. We positioned the probe in the center of the cook surface hovering at grate level between two grates. At that point, regardless of the actual temperature, it was plenty hot for searing. At the end of the day, nothing takes the place of an accurate digital thermometer.
We were able to get a nice whiff of BBQ smoke on steaks, fish and chicken by simply dropping wood chips into the grates. But when we set up for 2-zone cooking with a water pan and used wood chips in foil pouches for ribs, shoulder, brisket and whole chickens, it was good, but not deep-smoked: typical of a gasser.
The Saber cook chamber is almost completely sealed off from the gas flame. In fact, you may have trouble seeing the flame when you first fire one up, (one quickly learns to peek through a small opening above each main burner). When grilling small items like shrimp and wings, there are no worries about losing food between the grates. This closed system is instrumental for generating radiant heat and preventing flare ups, but even though I did a burn off after each session, grease accumulation eventually became noticeable inside the hood and around the edges of the grates.
Speaking of grease, the grease tray is our least favorite feature of Saber. When left in the rain uncovered, the tray fills with water. Although, not much grease gets past the grates, some does. Handling a one inch deep two foot wide tray of greasy water can be frustrating. Avoid this nuisance by using a cover, especially when you expect rain.
Assembly was easy. You basically put the cart together then drop the head into it. This is done with twenty-six identical hex bolts, six identical screws, and some washers.
Rob Schwing who was General Manager of Saber at the time of the 2011 brand roll out, told us how the powers that be at Char-Broil directed him to create a new line of premium grills from the ground up. There's an old saying: "It can be great, it can be inexpensive, or it can be done quickly…. pick two." Char-Broil chose great and inexpensive. Saber had to compete with other premium grills, but sell for less. Schwing was given a blank piece of paper, a pile of money and told to do what it takes to make it happen. He had the buying power and infrastructure of one of the worlds largest grill manufacturers at his disposal.
Schwing's team immediately ordered hundreds of different grills to be delivered to the new Saber warehouse in Char-Broil's Columbus, GA, facility. They wanted to not only analyze the best performance characteristics of each grill, but also how different designs impacted on cost, packaging, shipping and assembly. One interesting idea gleaned from this process was to pre-assemble the grill head, then wrap it with the partially assembled cart. If the box was damaged in shipping, the less expensive cart would protect the valuable grill head. All cost savings were passed along to the consumer, or used for upgrades like the 304 stainless. "From a business perspective, the time was right to introduce a line of premium grills that didn't carry a super-premium price tag", said Schwing. "In recent years we've watched high-end manufacturers degrade their materials to bring margins up. Product quality has gone down but prices haven't."
Saber achieves further cost reduction by using Char-Broil's aggregate buying power although they do not use Char-Broil's Chinese manufacturing facilities. They work with a different Chinese manufacturer that focuses on high-end metal fabrication. Schwing bristles at the perception that everything made in China is cheap. "When I go to an airport, everyone's walking around with iPads and iPhones. The Chinese make some of the best products in the world." We agree. It's not that the Chinese are only capable of making cheap stuff, it's that western companies are placing orders for an awful lot of cheap stuff with Chinese manufacturers. Not so with Saber. During the course of our tests we invited many friends and family members by to join in. None had heard of Saber yet, but the response was always some variation on "Wow! That's a nice grill!" The quality is easy to see and easy to appreciate.
Saber is not available in any big box chains and is sold exclusively through specialty retail stores. For your nearest dealer check Saber's website.