THE GENESIS II LX LINE HAS BEEN DISCONTINUED
The Genesis II LX E-440 is a good looking 4-burner gas grill, built like a tank with many great features that do justice to the Weber Genesis names lofty reputation. However the LX E-440 has two frustrating flaws; it doesn't do a good job of searing and high price. It cooks most food beautifully. We got tender and juicy BBQ chicken with reasonably crispy skin for example, but it can't properly sear steaks. By that we mean, we can't get an all over even dark brown surface with more browning (flavor) that a few pale grill marks. We tested two units supplied by Weber and neither did any better than a tan steak with golden grill marks as described in this article. We can get a better sear on a $30 Hibachi.
The previous Genesis line was not super powered either, but price tags were lower and sear burners were offered for a modest upcharge. Sear burners are special burners that produce extra heat. Instead of sear burners, LX has slightly higher powered main burners and a "High+" setting on the control knobs that Weber describes as "a new High+™ setting that allows all burners to turn up to highest setting for an added boost of heat". Sounds good, but High+ is actually just an additional graphic next to the burner dials, (see below). Some users have compared it to the guitar amplifiers that go to 11 in the heavy metal movie spoof, Spinal Tap.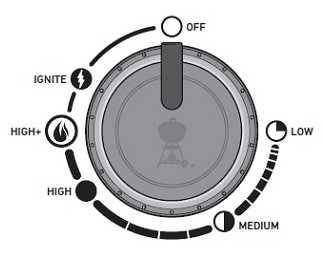 The last Genesis line only came in 3-burner models. The new Genesis II is offered in 2, 3, 4 and 6 burner configurations. With an enclosed cart, 14,500 BTU burners and stainless steel rod grates and flavorizer bars, LX models are meant to be a step up from standard Genesis IIs that have an open air cart, 12,500 BTU burners, coated cast iron cooking grates and enameled steel flavorizer bars. LX models also have LED illuminated control knobs and an LED fuel gauge mounted on the right side shelf, (shown below). Click here to learn more about different grates.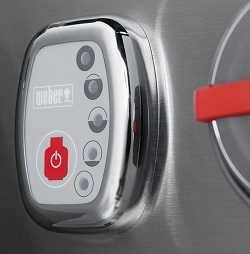 Genesis II features Weber's new GS4 grilling system, consisting of their Infiniti Ignition with an impressive ten year warranty, and tapered-quadrangle shaped burners to replace tube burners.
The new GS4 burners are intended to provide uniform gas pressure from front to back to ensure even heat. Using a Fireboard digital thermometer, however, we observed an 80°F temperature difference from the right front to right rear cook surface. Flavorizer bars have half circles cut in them so you can see more easily if the burner is lit, a very nice feature. Inverted V heat deflectors in between flavorizer bars and slightly below reflect heat upward. The new grease collection tray is easy to remove from the front. It funnels grease to a disposable aluminum grease pan that sits in a steel pan under the center of the cast aluminum firebox.
Weber recently purchased iGrill Digital Thermometers and all G2s are "iGrill 3 ready". iGrill 3 is a four probe digital thermometer that can be monitored from an app on your smart phone. We've long been advocates of replacing obligatory, useless hood temperature estimators with accurate digital thermometers. Antique hood thermometers can easily be 50°F off. The iGrill 3 enables you to place one digital probe at the cook surface to dial up the correct oven temp, and one in your food to monitor internal meat temp. Click here to learn about digital thermometers.  The concept is a step in the right direction, but surprisingly, there is no read out on the iGrill 3 itself, so you need to use the app even when you're standing at the grill. Furthermore, mounting one on an LX model requires removal of the LED fuel gauge. Check out Weber's iGrill 3 video below that shows the installation on a standard Genesis II.
Click here to snag an iGrill 3 on Amazon.
The hefty and beautiful enameled hood attaches to the cast aluminum end caps with riveted seams. A rear "tuck away warming rack" folds down; handy but a bit of a pain to move into position. LX comes with Weber's grill light that attaches to the handle and switches on when you lift the lid and off when you close it. Useful, but tedious to assemble and you need a screw driver to change batteries. Pay attention, it is easy to install upside down.
On the left is a large stainless side shelf with three built-in tool hooks. On some models the shelf can be folded down to save space, but not on the LX E-440. A second side shelf on the right has a nice flush mounted 12,000 BTU side burner for side dishes and warming sauces. The cover is not water proof so rain will get in, but everything looks rustproof. As is often the case, the quick release connector for fuel for the side burner is tricky to connect. The manual shows battery installation for side burner ignition backwards. All Genesis II LP models include Weber's "Precision Fuel Gauge" which measures the LP tank weight and shows your approximate fuel level. Nifty, but hardly precision. Natural gas models are available, but no conversion kits, so decide before you buy.
The double door storage cabinet has two internal shelves. The grill doesn't come with a cover and the cabinet is not water proof, so you may want to purchase the optional cover. There are two locking casters on the left and two large fixed wheels on the right.
Shipping crate and packaging were very well designed. The manual states three people are needed for assembly, but we easily accomplished the task with two. With only 8 nuts and a little wiggling here and there we were done in 60 minutes. BEFORE USE YOU MUST TURN IT TO HIGH AND BURN OFF ANY RESIDUAL DIRT DUST AND GREASE. It smoked for 20 minutes.
There is much to like about the new Genesis II line, not the least of which is the superb customer service that comes with all Weber products. Yet we can't help being disappointed, particularly with LX which we view as equivalent to the previous Genesis EP models that were a step up from the standard Genesis line. Having the choice between 2, 3, 4 & 6 burners is good and integration of the iGrill 3 digital thermometer, while imperfect, is a feature we've been pleading for. But the discontinued EPs had a significantly lower cost and were available with sear burners which actually enabled you to make restaurant quality steaks at home. Printing "High+" on the control panel doesn't replace a real sear burner and we expect more from Weber especially at this price. The 2016 Genesis EP-330 3-burner with sear burner had an MSRP of $999 and typically sold for $849. The 2017 Genesis II LX E-340 3-burner with no sear burner has an MSRP of $1,399 and street price of $$1,199.
Warranty is 10 years for the cook box, lid, burners, stainless grate, flavorizer bars, ignition system, and grease management system. All remaining parts are two years. LX models are made in Palatine, IL while standard Genesis II is made in China.
Weber provided our test grills.