This grillbrush has a superpower: Steam!
We are not sure of the status of this gizmo. The manufacturer may be out of business but the product may still be in some stores. If you find it get it.
You must clean your grill grates. Period. No, make that exclamation point! Grease or carbon on the grates do not "season" them. Grease smoke is yucky and nowhere nearly as tasty as wood smoke. And carbon helps your meat stick. Wire brushes, gadgets like the Chargon, and chemical sprays do a nice job, especially on grease, but this device beats them all easily when it comes to carbon buildup. Just look at this picture sent to us by Pete Kuncis (@Morning Wood BBQ) on Twitter.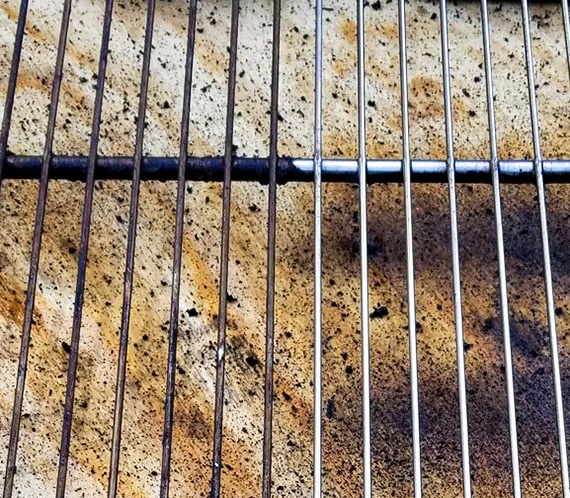 The Grilltastic has a water tank in the handle. Plug in the long cord (you will need an outlet) and click the switch, and in a few seconds the 1500 watt steam generator sprays steam on the grates. Lean in and scrub and you will be shocked at how clean the grates come. Even carbon. It works surprisingly fast.
If you don't have an outlet nearby you can remove the grates, put them on newspaper, and move them close to the outlet. The very sturdy stainless steel bristles are unlikely to fall out of the tight braided metal that hold them in, and they quickly and easily remove all the hard to release grease and carbon. The brush head is removable and can be washed in the sink or dishwasher. A tankful of water lasts several cleanings and there is a small window that shows you the water level.
It works on cold metal but works best if you preheat the grates, and you should clean the underside of the grates too. When I am done steam cleaning I still like to push a wad of paper towels over the grates with the brush to lift off any residue.
On the downside, it is a bit clumsy, you still have to put in some elbow grease, you will need to store it indoors in cold weather or the water will freeze and probably crack the tank, you need an outlet, and it would be nice to have a skein to wrap the cord around. But it does the job superbly.