You may be one heckuva cook in the kitchen, but even top chefs blow it when they step outside and go eyeball to eyeball with a hunk of metal that has a live fire, a worthless thermometer, and no thermostat or timer. There are specialized tools, techniques, and concepts to master before you can become a pitmaster and earn the kudos of family, friends, and get properly cooked food to the table on time.
And even if you think you're pretty good, and ready to enter a competition, be prepared to kiss your entry fee goodbye. The top teams competing for five-figure prize money don't cook like you and me. Before you get your butt kicked you better take a competition class and learn how to get your pork butt cooked. And if you're not ready to run with the big hogs but want a taste of what the ultimate can be like, you can take a barbecue judge certification class and sit on a panel with experts chowing down on something very special.
There are many around the continent worth attending. Some are very basic, some advanced, some backyard oriented, some competition oriented, some are for a few hours, some last two or more days, some are hands-on, some are demos and lectures. Some even include free beer and parties. A few are held at magnificent resorts and the package includes room. Some of these instructors will travel to your location if you want to pull together a group, and some will even teach private lessons. Many are taught by competition pitmasters, others by chefs, others by authors. I have attended classes by Todd Johns and Amy Mills, and they were jam packed with info. Truly worthwhile.
Here's a list of the classes about which I have heard good things through the grapevine to which I am well connected. In addition, many cooking schools and barbecue supply stores offer classes. A quick look at Google shows many others.
The schedules, fees, dates and other particulars change frequently, so you will need to go to their sites for the details. Check them out and let me know what you think in the comments below.
Cooking classes
CA: Diamond Bar and other locations around the nation and in the UK. Slap Yo' Daddy BBQ Classes with Harry Soo, numerous classes in Diamond Bar, CA, cover both backyard and competition cooking. Harry is one of the best cooks I know.
CO: Colorado Springs. BBQ University (a.k.a. "BBQ U") is taught by the world's most famous barbecue expert, author of the Barbecue Bible and numerous superb books,
PBS TV star, Steven Raichlen. Held at the spectacular 5-Diamond/5-Star Broadmoor Resort, this intensive course sells out long in advance. Here's a great photo story of a recent BBQ U from our reader Rob Bass.
FL: Winter Haven, Venice, and other locations around the nation. Swamp Boys with Rob "Rub" Bagby does several competition cooking classes a year.
GA: Hoboken. The Lang Q-School is usually by Chef Paul Kirk. Kirk, known in many circles as the Kansas City Baron of Barbecue, has won more than 545 cooking and barbecue awards since his first competition at the 1981 American Royal Barbecue. His accolades include seven World Championships, and his storied barbecue career is highlighted by victories at the American Royal World Series of Barbecue Open Contest, American Royal Invitational Contest and The Jack Daniel's World Championship Invitational Barbecue. He takes you from the beginning of choosing the correct cut of meat for what you are planning, to how to trim for the best finished product. You cook on several models of Lang Smoker Cookers and learn to cook for both competition and your backyard parties. This class is taught in both the spring and the fall seasons. The classes have remained at the same price for many years. They even have "Lang Bucks" that can be purchased just for the classes to make sign up even easier.
Upcoming classes at the Lang BBQ Smoker Q-School include two one-day BBQ classes taught by Chef Paul Kirk in Hoboken, GA just down from the Lang Factory in Nahunta GA. Partipants can select from the Friday, November 13, 2020 class or the Saturday, November 14, 2020 class. Each class features lessons on creating rubs, picking meat and prepping it. The students will be cooking on all different Lang BBQ Smoker. They can either try it out before purchase, or if they have purchased, Ben will season and they will learn to cook on their own Smoker Cooker. You can learn more and sign up by visiting https://langbbqcookingclass.com/.
GA: Unadilla. Jack's Old South Cooking School with Myron Mixon, restaurateur, one of the most highly decorated cooks on the circuit, and star of BBQ Pitmasters on TV.
IL: Chicago. The Chopping Block teaches a wide range of cooking classes including grilling.
IL: Wilmette. The Backyard BBQ Store has a variety of classes throughout the year.
IL: Elmhurst and Lisle. Fireplace and Chimney Authority Classes with several instructors and themes ranging from steaks to seafood to brisket.
IL: Murphysboro (near Carbondale and St. Louis) and Cape Girardeau, MO. Amy Mills, co-author with her pitmaster/champion/restaurateur/father Mike Mills of the superb book Peace, Love, & Barbecue: Recipes, Secrets, Tall Tales, and Outright Lies from the Legends of Barbecue, runs a consulting business to restaurateurs and caterers named OnCue. She conducts amazing classes on whole hog and brisket cooking and the business of barbecue aimed at restaurateurs and caterers. People from as far as New Zealand and the Canary Islands attend. I took the whole hog class, pictures from which are shown in my article on how to cook whole hog. It was simply amazing.
IL: Wilmette. The Backyard Barbecue Store offers a number of classes on a range of topics from Weber Kettle Grilling, Big Green Egg Classes, Steaks, Competition Cooking, as well as beer and wine tastings.
KS: Kansas City and other locations around the nation. Kansas City Baron of BBQ School Of Pit Masters with Paul Kirk, The Kansas City Baron of BBQ. Kirk is a legend. A champion pitmaster, one of the first to teach competition BBQ in the nation, and author of numerous books. He is a certified chef and his food knowledge is boundless.
Spotlight on our favorite products
The Pit Barrel Cooker May Be Too Easy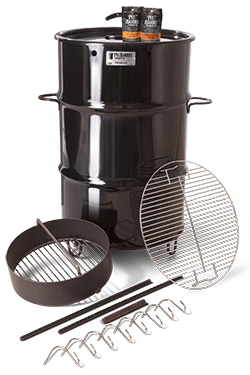 The PBC has a rabid cult following for good reason. It's among the best bargains for a smoker in the world. This baby cooks circles around cheap offset smokers because temperature control is so much easier. Click here to read our detailed review and the raves from people who own them.
– THIS IS NOT AN AD –
KS: Overland Park and other locations around the nation. Pellet Envy Competition Cooking School with Rod and Sheri Grey, one of the top teams on the circuit and extremely knowledgeable about pellet cookers, but what they teach is applicable to all competition cookers.
KS: Overland Park. The Midwest Barbeque Institute is a part of The Culinary Center of Kansas. They offer a huge range of classes from BBQ'n with Booze to tapas.
KS: Wichita. All Things Barbecue is a barbecue and grill store that has a nice lineup of classes from ribs to baking and pizza.
MO: Kansas City and other locations around the nation and Australia. The Good-One BBQ Classes with Chris Marks, 8-time Grand Champion of the American Royal BBQ Cookoff; winner of over 40 National BBQ Contests; TV Cooking Show Guest. Chris is also The Chief BBQ Expert for The Good-One Grills and Smokers. Great products endorsed by a great guy. He'd love to hear from you. chrism@landmarkfab.com
NC: Barbecue: Culture as Reflected in Culinary Tradition with Cyndi Allison, cyndiallison@gmail.com
NY: Hyde Park , St Helena, CA, and San Antonio TX. The august Culinary Institute of America offers a wide range of summer cooking boot camps, including a Grilling & BBQ Boot camp. Students get CIA jackets!
OK: Yukon. Clark Crew BBQ Cooking School. Travis Clark is one of the top cooks on the circuit. He won KCBS Team of The Year in 2015 and 2017, more than 40 Grand Championships, more than 30 perfect scores.
PA, Lansdale. Bob Trudnak, winner of many many competitions and the guru of BBQ Guru, occasionally teaches classes.
SC. Carolina Pitmasters with Jack Waiboer, a champion cook and video blogger teaches the unique barbecue styles of South Carolina and competition in SC.
TX: Frisco, Plano, and other locations around the nation. Premier Grilling with Chris Marks, another champion pitmaster with a fine reputation as an instructor. He teaches Barbecue 101; Barbecue 201; Fish & Wild Game Barbecue; Competition BBQ Secrets; Grilling 101; Ladies Grilling & Smoking Classes; Surf & Turf Grilling; and How to Make Sausage.
TX: College Station. Foodways Texas hosts seminars and their unmatched Barbecue Summer Camp and Camp Brisket at the Meat Science and Technology Center, Texas A&M University. Instructors include meat scientists, butchers, pitmasters from top barbecue restaurants around the state, and authors. This is special.
WA: Seattle. Seattle BBQ and Grilling School specializes in backyard grilling and smoking and even offers private classes.
Many locations across the US
Todd Johns of Plowboys Barbeque (that's him at the top of the page) has won numerous Grand Championships across the nation, and his rubs and sauces are used by scores of other teams. He teaches such a great competition cooking class that he was invited to do one at the annual meeting of the National Barbecue Association, which is where I took it. He went through the whole procedure of preparing meats, cooking, and presenting them for KCBS events from start to finish, and I got the impression that he held back nothing.
The Traeger BBQ Shop Class is traveling coast to coast, providing interactive instruction and expert tricks of the trade to take your BBQ skills to the next level. A BBQ manual, assorted take-home swag, and of course, a whole lot of mouth-watering food samples are all provided in this one-of-a-kind course. Find a Traeger BBQ Shop Class in your neck of the woods and save a seat before they fill up.
Various locations. Mark Lambert of Sweet Swine O' Mine (Memphis in May Grand Champion in 2009 and 2013)teaches classes that focus on competition cooking techniques.
Judging classes
Kansas City Barbeque Society (KCBS) teaches Certified Barbeque Judge classes and cooking classes at many locations around the country. These are not cooking classes. They teach you how to judge barbecue so you can join a panel at one of the many KCBS competitions across the nation.
Memphis Barbecue Network (MBN) is another major competition circuit and they teach the MBN method of judging in a handful of locations throughout the summer.