Komodo Kamado is the brainchild of designer Dennis Linkletter, grandson of TV legend Art Linkletter. Dennis Linkletter has lived and worked in Indonesia for decades where he built a business fabricating teak furniture, flooring and doors. He became interested in kamado cooking and began using his facility to explore making high quality cookers with state of the art design. After years of "capitalizing on the strengths and correcting the flaws" of existing kamados, Linkletter introduced Komodo Kamado.
Meathead tested a Komodo Kamado and found it stunning visually and superb in performance and craftsmanship. All sales are direct.
Spotlight on our favorite products
Our Favorite Backyard Smoker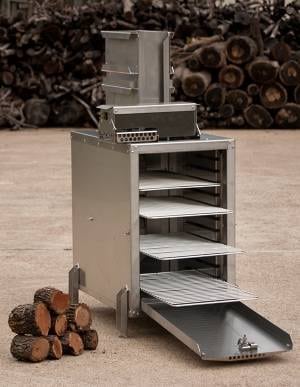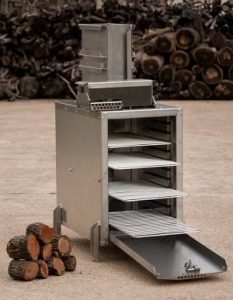 The amazing Karubecue is the most innovative smoker in the world. At its crux is a patented firebox that burns logs above the cooking chamber and sucks heat and extremely clean blue smoke into the thermostat-controlled oven. Click here for our review of this superb smoker.
– THIS IS NOT AN AD –
We used a KK Big Bad 32 in our Science of BBQ & Grilling With Meathead video series presented by Kingsford. Click here to see that video series and check out my Virtual Showroom vid below: