Most barbecue sauces contain liquid smoke or "Natural smoke flavor", and some commercial meats, like hams, jerkies, and sausages are created with liquid smoke. Barbecue purists (snobs?) detest the concept, but I see it as just another flavoring in my arsenal. Because I have several smokers, I rarely need it, but if you live in a hi-rise or a dorm, it can bring some of the outdoor flavor indoors as we did in our indoor ribs recipe.
If you are among the haters, please note that it is made by a distillation process similar to making whiskey, so back away from the bar and put down that single malt, pahdna. In fact, it is made in a similar manner to making barbecue!
As shown in the illustration from Colgin, hardwood sawdust or chips are heated in a tank until they smolder but not burn (1). The gases and particles are cooled so that they condense and liquefy usually with the help of water (2 – 3). It is then refined (5 – 11) and filtered (12) to remove impurities, and then aged in oak barrels (14). This is, in fact, similar to the way smoke flavors food. It condenses on the food which is cooler than the smoke. You can read more about the process in my article on wood and smoke.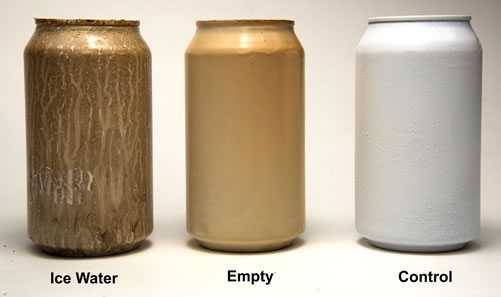 Above are three beer cans I painted white. The one on the left was filled with ice water and the middle one was empty. They both went into a smoker for about an hour. The one on the right sat on my desk. As you can see, smoke is attracted to cool surfaces, a process called thermophoresis.
Spotlight on our favorite products
The Good-One Is A Superb Grill And A Superb Smoker All In One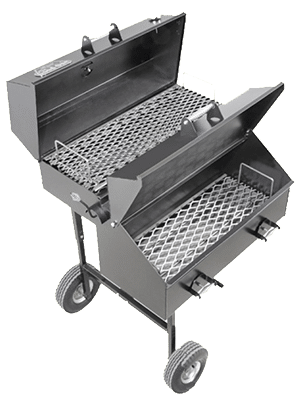 The Good-One Open Range is dramatically different from a traditional offset smoker, placing the heat source behind and under the smokebox instead of off to the side. Click here to read our complete review.
– THIS IS NOT AN AD –
I asked the AmazingRibs.com science advisor Prof. Greg Blonder to describe the differences between smoke vapors and liquid smoke. He said "Wood combustion smoke contains hundreds of chemical compounds. A few with sweet pronounced caramel notes, others smoky and clean like an autumn campfire, but many are bitter and acrid. Some are carcinogenic and others antibacterial and others act as a preservative. Most of the smoke is in the form of gases that cannot be captured and bottled in liquid form, or rapidly degrade into flavorless molecules. Enough stable smoke compounds are either water or oil soluble and they can be condensed, filtered, and washed out of the smoke and then sold by the bottle.
"Liquid smoke, at least the better grades, is designed to minimize bitter flavors and known carcinogenic compounds, while maximizing smoke-like flavor and color. Because liquid smoke contains only a subset of all the combustion products produced in a wood fire, and in different proportions, the bottled flavor is not a perfect reproduction of a fire pit. However, combined with herbs, spices, sauces, and even charred veggies, the results can be close to real barbecue."
Liquid smoke is quite strong and if you wish to use it in a sauce or slow cooker, add just a few drops at a time. There are two major brands, Colgin and Wright's. Colgin adds water, vinegar, molasses, caramel coloring, and salt. Wright's adds only water to most of its flavors, but the applewood flavor also contains apple and maple flavors. There are noticeable taste differences between them, and we slightly prefer Wright's. Can you tell the difference between foods flavored with liquid smoke and with vaporous smoke? Yes. But I'll bet there are people who prefer the liquid smoke! Here's a link to the different liquid smokes on Amazon.