With the most striking appearance of any cooler we know, Orion has seven different cooler designs, each of which is literally a work of art.
The Orion 45, the cooler tested, looks from the outside, and inside too, like a lovely surrealistic painting in reds and blues. The beauty of Orion coolers is matched by outstanding performance. These rotomolded coolers have built-in aluminum bottle openers on all four corners, six tie-down points, molded lock eyelets, low profile lifetime galvanized camming latches that won't snag, a "grippy" standing pad on the lid for comfortable, no-slip standing, and a solid thermoformed plastic tray that allows drainage.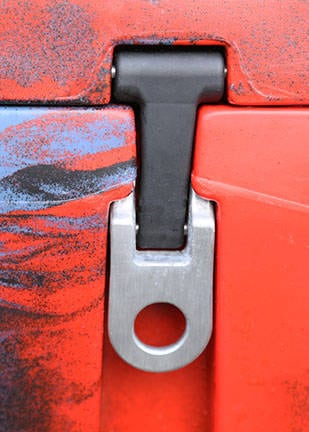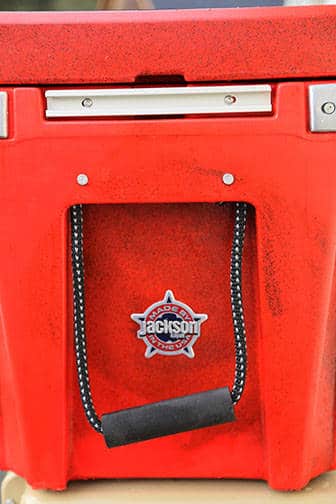 The cooler latches are extremely user-friendly and can be used by young, old, strong, and weak alike. Their patented YakAttack™ tracks allow for adding accessories like fishing rod holders, phone, cups and fish finders, without drilling.
Test Details:
Ice retention. Tied for second, the ice hung around for 11.5 days.
Heat retention. It took 3.5 hrs. for the ham to drop to 145˚F.
Leakage/Dropped Damage. Did not leak when turned over on its side or top, or dropped from pickup truck, and only suffered minor abrasions on several corners from the drop test.
Hinges, latches and lid. Easy-to-use hinges and low-profile latches didn't budge when I pulled or leaned on them with full force, and the lid is comfortable and safe to either sit or stand on.
Drain efficiency and speed. Drained 100% of the water in :52 seconds. Drain plug has no attaching lanyard and could be misplaced.
Handles. Molded and poly cord.
Dimensions. 27"L x 14.5"W x 18.5"H
Weight. 31.3 lbs.
Extras. Available in 7 colorful designs, plus Stone (an off-white). A sectional divider that doubles as a cutting board.
Cost. Approx. $450.
Warranty. 10-year limited liability
Country of origin. Sparta, TN, USA