The Blaze 32" 4-Burner with Rear Burner on Cart looks great, cooks great and competes well with other premium priced gas grills such as AOG, Bull and Weber's Summit line. The basic model has few frills, but is beautifully made in high grade 304 stainless steel with a seamless welded hood and 8mm stainless rod grates. Four heavy, cast stainless burners with 14,000 BTU each. An excellent variable temp, 10,000 BTU rear IR backburner is included for the optional rotisserie. Flame stabilizing grids blanket the burners to spread heat and reduce flare ups. Removable dividers between each of the main burners accentuate heat zone separation.
Temperature range for all four main burners on Low with the lid down is 325° and 650° on High, nice numbers for roasting and searing. Blaze points out their burners may be adjusted to lower temp settings using adjustment screws at each valve, but we didn't find this necessary. The removable dividers enable effective set ups of multiple heat zones. We easily dialed Blaze down to 225° for slow cooking.
With the optional IR ceramic sear burner, Blaze blasts to 850°. It's a breeze to swap out one of the mains for the sear burner, because all burners slide in and out of valve posts at the front by the control panel and are held in place by cotter pins at the back: no tools needed, (see video below). This convenient design also mitigates the pain of cleaning burners.
You gotta love the rotisserie backburner. On Low it nails 225° for low and slow and 325° on High for roasting. The Sear burner and Rotisserie Kit are about a hundred bucks each. If you can swing the dough, these options take the already versatile basic BBQ Blaze to the next level up and are highly recommended.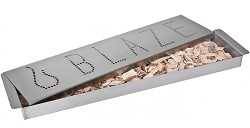 The smoke box is another option. I'm not a big fan of smoking on gas grills because they are so well ventilated, smoke doesn't get to stick around very long and work magic on the meat surface. Some manufacturer's make the situation worse by designing itty bitty ineffectual tubes and/or positioning them off to the side where the smoke escapes immediately. Blaze's smoke box is better than most. It is large and can be dropped directly over any main burner with removal of the corresponding grate and heat tent. Put it over one of the middle burners and plan on loading it with chips at least a few times. The welded stainless steel box can also double as a small water pan.
Curiously, there are no lights and no electric ignition: features that seem de rigueur for premium gassers. Blaze explains they identified electronics as one of the primary sources of product failure and customer frustration. Although they concede many luxury manufacturers avoid this pitfall by offering top of the line electronics that boost the price tag substantially, Blaze decided to go without electricity in order to stay within their target price ranges. We miss the lights at night, but the main igniters never failed. The IR rear burner igniter malfunctioned, but Blaze advised us to simply hit the two ignition rods with sand paper and we were back in business.
As mentioned, switching and removing burners is effortless. Blaze designs all grill heads with a large opening in the back for easy access to the cotter pins holding each burner in place. While convenient, this opening exposes the burners and on a windy day one hears the flames flutter. Most Blaze grills are sold without a cart for outdoor kitchen installations where designers can possibly address wind issues. Mounted on a cart, the large opening caused us concern, although we were able to position it to avoid wind currents and the flames never blew out.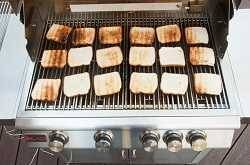 The cooking surface runs a bit hotter around the back and sides as shown in our bread test. The slight temp difference was not an issue when cooking. We did a pork butt at 225° with a 2-zone set up using the Blaze Smoker Box, a rotisserie chicken at 325° with the Rear Burner on High, and reverse seared a couple steaks using the blazing Blaze IR ceramic burner. All came out great although, as expected, smoke flavor on the pork butt was subtle at best.
The grill head was shipped complete, while the cart needed assembly. The cart was relatively easy to put together except for removal of adhesive backed protective plastic on all outer surfaces. While we appreciate the care taken to avoid cosmetic damage, the adhesive backing was tough to remove and there was a lot of it. The cart also seemed slightly lower quality in design and construction than the head.
This is a mighty nice grill, especially with the optional rotisserie and sear burner. Versatile, solid and dependable: your wish is Blaze's command. Lifetime warranty on the main burners, grates and exterior, 15 years on the valves, 5 years on flames tamers and zone separators and 1 year on everything else.