The Broil King Signet 320 is an entry level, 3-burner Gas Grill that packs a lot of value under the hood. We tested the previous version of this attractive, modestly priced 3-burner which is identical except for the handle and shelves (described below).
Signet gets hot fast and is able to achieve high, searing temps that rival most comparatively priced gas grills. The bad news is, with all burners on low it ran hot at about 490°. Not a big problem because we just did 2-zone set-ups by shutting down some burners to create a moderate, indirect cooking zone for lower temps. Additionally, Signet has removable zone dividers between the burners. These dividers are steel inserts that isolate heat around each, individual burner to enhance zone separation. The good news is, cranked up high this baby approached 800° with no sear burner!
Broil King's signature, proprietary Dual Tube Burners are meant to distribute gas uniformly from front to back by employing an inner feed tube that runs through the center of the gas burner, allowing fuel to fill the entire burner tube before being exposed to flame. Although they produce an apparently even flame from front to back, BK's unique Flav-R-Wave heat tents that blanket the upper firebox may be more instrumental in creating even heat distribution.
Our bread test when calibrating Signet, indicated a slightly cooler right side.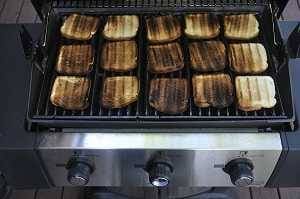 This pattern did not persist when doing a subsequent test with chicken wings. After cooking extensively on Signet, we believe the heat is indeed even, but no more so than with similar quality grills.
Their Linear Flow control knobs, however, were a step above the competition. With very little play in the valve stems, movement was smooth and solid throughout the 180° arc from low to high, making minute adjustments easy. One battery powered igniter lit up all three burners.
To test Signet's temperature range, particularly the upper register, we did a couple reverse seared steaks. Click Here to learn about Reverse Sear and how to make better than steakhouse steaks. With the zone divider removed between the left and middle burner and the right burner at one third, we nailed 225 on the indirect left side to start the initial low temp cooking phase. When internal meat temp hit 110° we removed the steaks and cranked all burners up full. Within ten minutes we had a screaming hot grill. On high, Signet gets so hot you almost need gloves to touch the front handle. That's OK by us, better too much power than not enough and Signet's three mains performed like an additional sear burner was hidden under the grate!
Because it can get searing hot, we wish Signet had stainless steel rod grates rather than coated cast iron. Cast iron stores heat energy efficiently and will brand meats with brown bands, while stainless rods are more neutral and will allow a delicious even crust to form across the entire meat surface, provided the grill is HOT like Signet. Many other low to medium priced gas grills are underpowered and the only way they get any searing done is with cast iron grates. To learn more about grates Click Here.
Signet's cast aluminum housing retains heat evenly and will never rust, but some of the fasteners may need replacement over time. The high profile lid and deep firebox places the cooking grate right in the middle from top to bottom. Some feel this is an ideal design for roasting, so we decided to try a turkey next. Signet has a neat warming rack that folds away toward the back of the grill when you open the lid to give you a clear shot at the entire grate surface. It needs to be removed when doing large roasts, but pops out with very little effort. Once again, 2-zone set-up was easy. We placed a water pan in the middle on the Flav-R-Wave heat tents, put the grates back in place and turned the left and right burners up halfway with the middle burner off to hit 325°. It roasted beautifully, producing crispy skin and moist meat. Hard to attribute the good results solely to the deep firebox, other factors like the cast aluminum hood and Flav-R-Wave diffusers come into play as well. Whatever the cause, the effect was delicious!
Unfortunately, the grease tray is small and must be carefully lined up with three slots in the bottom of the firebox where grease and gunk drain out. If it's off by even half an inch, one of the slots could drain right into the cart. One wonders why Broil King didn't just make it a few inches longer?
Signet 320, like its predecessor Signet 20, has drop down side shelves typically found on smaller grills: nice touch for condo and apartment dwellers who don't let limited space limit their guest list. The Signet 20 had black resin shelves with handy built-in condiment trays and tool hooks. Signet 320 has stainless steel shelves with with tool hooks, but no condiment trays. The video below was taken of the previous Signet 20 model. All that changed on the 320 is the handle and shelves.
The small two door cart, which rests on two large wheels and two locking casters, can't hold much more than a standard LP tank.
Assembly was fairly easy. Although a few fasteners required finesse to position, all parts fit together beautifully. And though packaging was good, one of the cast iron grates had a small crack. A quick call to customer service was all it took to get a replacement delivered within a week.
The aluminum housing carries a Limited Lifetime Warranty, 10 years on the burners and 2 years on everything else. You get a lot for your money with Signet. It competes well with Weber's beloved Spirit line for a lower price. A little harder to find than the ubiquitous Spirit, but worth the effort.