Oklahoma Joe's Judge Charcoal Grill is a solid, well-made grill with useful features. The large, 18 inch x 30 inch, rectangular cook surface is easy to set up for 2-zone cooking with a moderate indirect side for smoking and roasting, and a hot direct side for searing and finishing. Click here to learn why 2-zone cooking is an essential technique for outdoor chefs. An adjustable height charcoal grate enables you to drop the fire down to the bottom for low and slow smoking, then lift it up right beneath the cook surface for high temp sizzling, making Judge a 2-zone charcoal champion. It's a practical, versatile cooker that's a pleasure to use.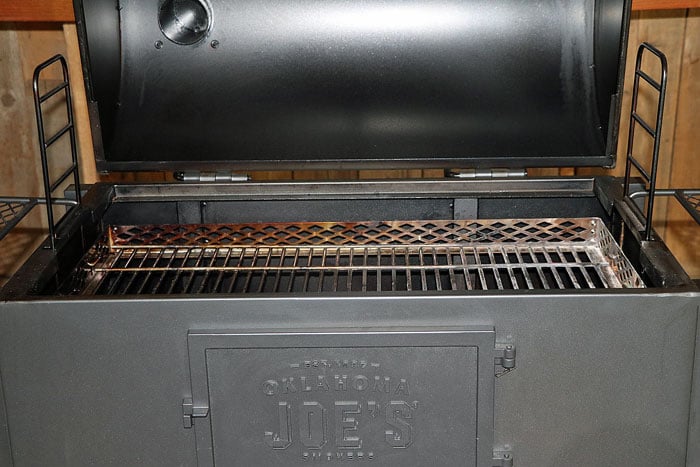 Like what you're reading? Click here to get Smoke Signals, our free monthly email that tells you about new articles, recipes, product reviews, science, myth-busting, and more. Be Amazing!
Seasoning with a dry run
The best way to learn a new grill or smoker is to fire it up with no food and do a dry run. While the fire burns off any chemicals, dust and oil accumulated during manufacturing and shipping, you can clip a digital temperature probe to the cooking grate and start playing with the air intake and exhaust dampers to get a feel for how to set the air dampers on your new grill. I accomplished a long dry run while seasoning the grill (and grates) which included lightly washing the cast iron grates with mild dishwashing detergent, drying them, and coating them with vegetable oil for the seasoning process. After using Judge a few times, I scrubbed down the grates with soap and water to remove gunk and they developed a little rust. Once you start grilling, OKJ recommends not using any water to wash the grates, only a scrape and burn, which allows the oils from the food to protect the rust-prone cast iron.
Grilling
As the charcoal was burning out at the end of the seasoning process, I raised the charcoal tray just below the cooking grates and grilled a couple split sausages. The charcoal tray is lifted or lowered via handles on each side and is a nice feature to get the heat level where you want it. I'm single so I "had" to consume all the sausage myself. Bummer.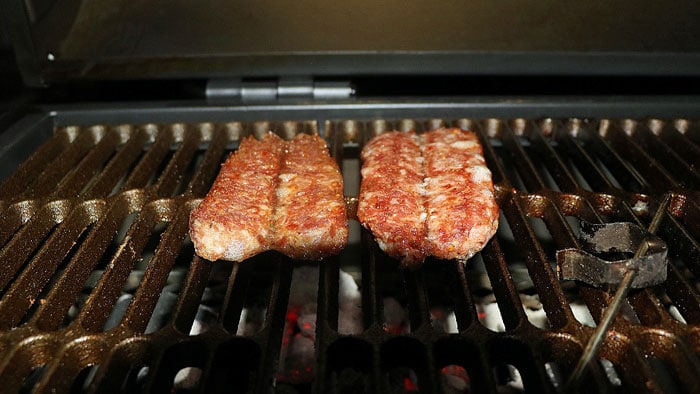 Get a sneak peak at Meathead's next book. He shares chapters with members of our Pitmaster Club as he finishes them. Click here for a free 30 day trial. No credit card needed. No spam. Click here to Be Amazing!
Let the tests begin
Charcoal grills require a bit more skill than gas grills because you have to fiddle with the air intake and air exhaust dampers to dial in the cooking temperature you want. I started testing with a simple reverse seared pork chop recipe, made even simpler by Judge's 2-zone friendly design. Reverse searing prevents overcooking the interior of steaks and chops by starting out slowly over gentle, indirect heat, then cranking the fire up for a delicious, sizzling finish. I began with the charcoal all the way down and adjusted the intake damper on the lower right side.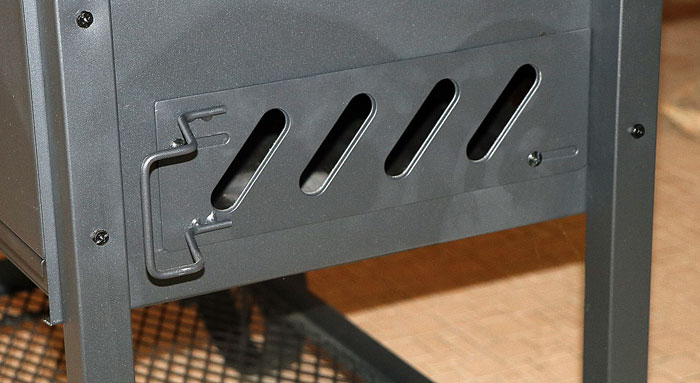 I also adjusted the chimney exhaust damper on the upper left side to give my chops the low and slow treatment at 225°F on the indirect side of the cooking grate.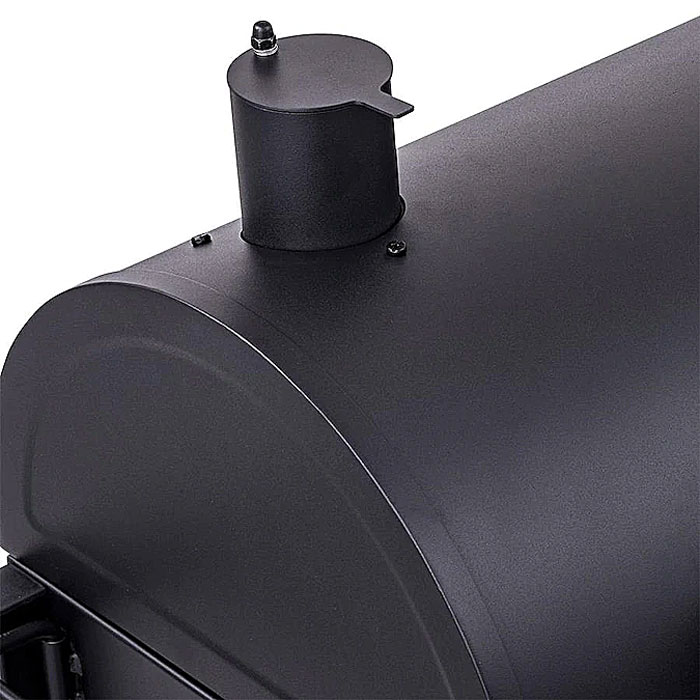 When my digital meat thermometer read 130°F internal temp in the chops, I opened the lower air intake, lifted the fire all the way up and left the lid open to get the charcoal roaring hot. Then I quickly seared my chops, flipping often to prevent the center from getting dry and overdone, while still developing a tasty brown exterior.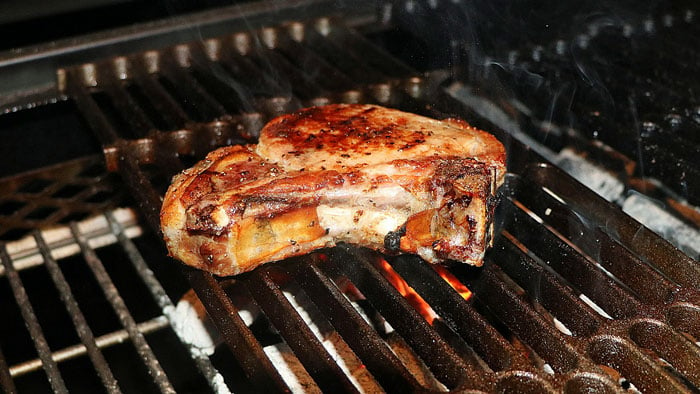 Reverse sear is the absolute best way to make thick, medium-rare, juicy steak house quality steaks and chops. Click here to learn all about the process. And if you don't already have accurate digital thermometers, you need to get them immediately. They are the easiest, most effective way to prevent over or undercooking and they don't have to be expensive either. Check our Searchable Ratings and Reviews of Thermometers for your best options.
Next came smoked ribs, which needed to smoke low and slow at 225°F for a longer duration. Trying to hold the indirect side at a steady low temp began to get challenging. That's when I noticed my big, solid Judge didn't seal tight and air was going in and out around the lid and chimney. A great charcoal grill needs tight construction for air control because charcoal needs oxygen to burn. When you control the air intake and exhaust, you control cooking temp. I ended up closing the side intake damper all the way because the fire was already getting enough oxygen. With a little baby sitting, my baby backs and I prevailed.
Hungry for more ribs recipes, tips, and techniques? Click here to download our ebook "Amazing Ribs Made Easy" $3.99 on Amazon (free Kindle app runs on all computers and devices). Or, get this book and others FREE as a member of the AmazingRibs.com Pitmaster Club. Click here to join.
However, doing a Big Bad Beef Brisket overnight was difficult. Brisket is one of the hardest classic barbecue recipes to execute. You really have to hold that low temp steady for 12 to 14 hours or more. Throughout the smoking process, the Judge was leaking smoke around the base of the lid and the base of the chimney. I also saw it had gaps in the corners of the main body. It was enough to remind me of my COS (Cheap Offset Smoker). The lid does not have a gasket, which is not necessary for grilling, but for 2-zone low and slow smoking it would help plenty. Likewise, Judge's chimney does not sit flush with the lid and leaks at its base. If you plan on doing a lot of long, low and slow smoking, I would definitely recommend installing some type of gasket on the lid and seal off the base of the chimney. Even with the air intake closed and the chimney almost completely closed, I found that temperatures were still climbing. I was able to mitigate the temp climb by using small amounts of fuel, but that long brisket session gave Judge plenty of time to heat up. Fortunately, I had the briquets as far away from the brisket as possible, so the meat turned out fine. Click here for more tips on sealants and insulation.
OKJ has stated that the loose construction of the grill can make temperature control difficult at times, and I would reiterate that mods to seal things up are not critical if you only plan to grill on this thing, because grill it will! And even though the loose, leaky gaps reminded me of my cheap offset smoker, the solid build of Judge did not. This baby is heavy duty, not a $200 tin can from the hardware store. Additionally, the convenient fire box door makes tending the fuel a breeze.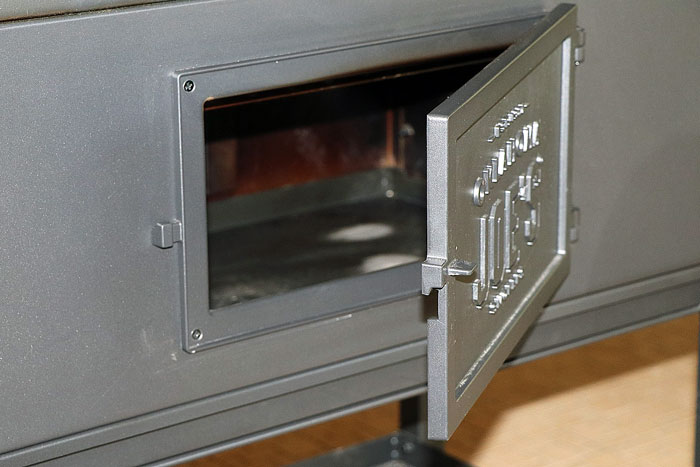 Get a sneak peak at Meathead's next book. He shares chapters with members of our Pitmaster Club as he finishes them. Click here for a free 30 day trial. No credit card needed. No spam. Click here to Be Amazing!
More nice features
Judge has handy, removable work shelves on each side.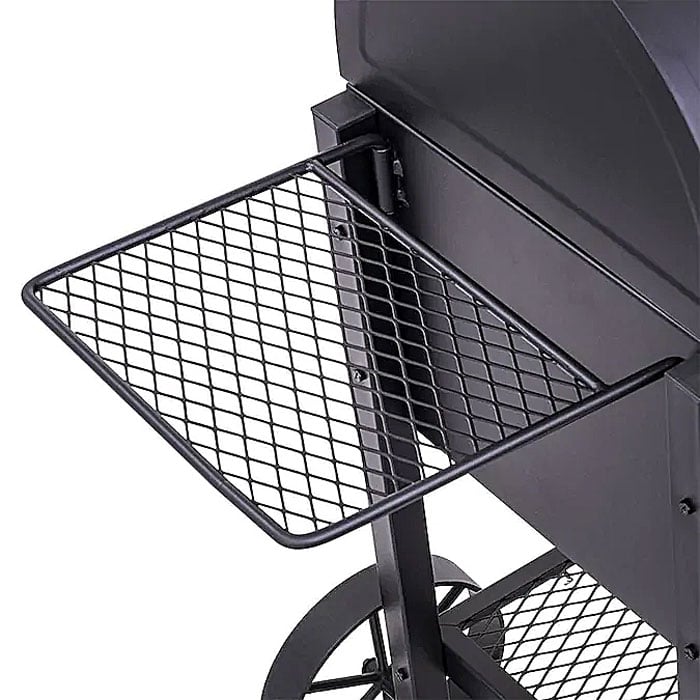 A large storage shelf is located on the bottom. And the big, metal wagon wheels look cool and work well on all terrains. A slide out ash tray makes ash removal simple and quick. The unit comes well-packaged and assembly was super-easy, even for one person.
Final thoughts
The Judge is an all around solid grill that is built to last with some nice features that make for an easy grilling experience. Remember that the cast iron grates don't like to get wet, so just scrape them and burn off gunk after each use. No water. With a couple modifications to seal things up, you should have no problems smoking everything from ribs to brisket on this thing. It offers more space than a Weber Kettle and the adjustable charcoal grate is a feature you won't want to do without once you've experienced grilling with it. Still, we have to ding Judge for the compromised air control, which is important for outdoor cooking with charcoal. Even though Judge is not advertised as a dedicated smoker, it does work as one. OKJ should consider adding some type of insulation to make smoking easier. It isn't much of a problem when grilling but can be challenging when trying to dial in and hold low temps. Judge comes up just a briquet or two shy of winning our Gold Medal, but earns a solid Silver.
Warranty
2 year Limited Warranty.