It's 2021 and no word from Otto on when we'll receive even the basic G32 let alone the Smart Grill.
Otto Wilde, the German engineering group that brought us their super powered Over Fired Broiler salamander grill, is working on a new line of modular outdoor kitchen equipment centered around a premium priced, 32 inch wide, four burner, stainless steel gas grill dubbed Otto's 32. At the time of this writing, they're wrapping up a very successful Kickstarter campaign and hope to roll out the first G32 Connected models in the fall of 2020, with an upgraded G32 Smart Grill scheduled for spring 2021. 
AmazingRibs.com has an official policy of not recommending or endorsing any crowdfunding campaigns. That's because many of those "products" don't turn out as planned or advertised, they often ship late, they often ship at different prices, and often never go to market at all. We haven't seen G32 and we're definitely not endorsing it at this time.
Otto's G32 Connected
However, if the connected G32s live up to Otto's hype, they will be a great new entry to the mid-priced outdoor kitchen market. G32 Connected appears loaded with great features. The prototypes have sleek, modern cosmetics, four 14,000 BTU cast stainless steel main burners and an extra wide, 28.3 inch infrared rotisserie backburner. Digital temperature probes above each main burner monitor cooking temperature.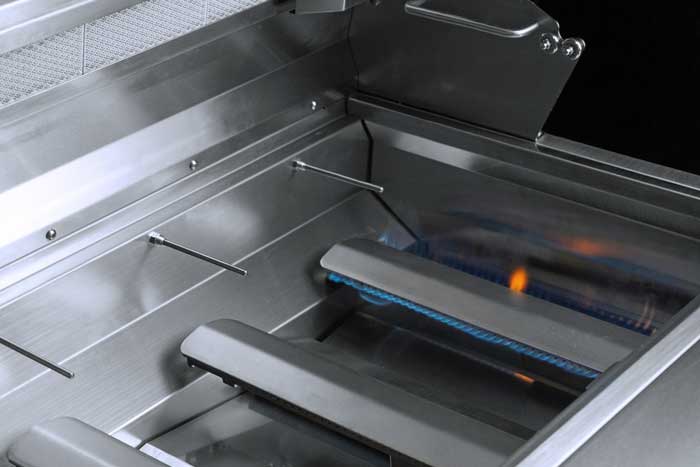 Four internal meat probes plug into the front control panel and all that info is sent to an app on your smartphone.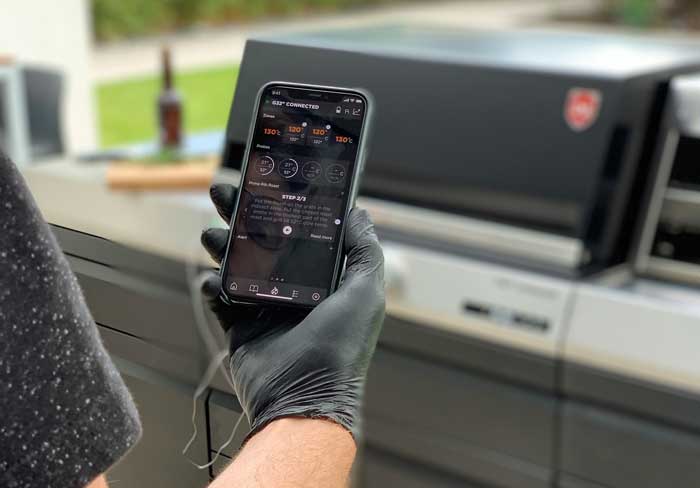 Otto's G32 Smart Grill
But as Otto Wilde states in their promo video, "We didn't stop there." And what really compelled us to bring this to your attention now is Otto's G32 Smart Grill. The Smart Grill is said to provide thermostatic control and enable you to set, monitor and control precise cooking temperatures just like an indoor kitchen oven, from the smartphone app.
Like what you're reading? Click here to get Smoke Signals, our free monthly email that tells you about new articles, science, recipes, product reviews, mythbusting, and more. Be Amazing!
For years, we at AmazingRibs.com have called for thermostatically controlled gas grills. Our indoor gas ovens are thermostatically controlled. Why can't we have the same precision and convenience on our decks? A few manufacturers tried without success. It remains to be seen if Otto WIlde can boldly go where no gas grill has gone before. If, and that's a BIG IF, the first G32 Smart models roll out in the spring of 2021 as planned and achieve their eye-popping product descriptions, these self proclaimed "Top Notch Grills" could bring a shock to the gas grill market. Of course, spring 2021 is quite a way off. Could someone else beat them to the punch before then?
Keep in mind that all of the above is solely based on information we have received from Otto Wilde. They plan to send us the first G32 Connected production models that enter the US in the fall, then follow up with a G32 Smart Upgrade to replace the Connected front control panel in the spring of 2021. Stay tuned for our complete, detailed review and rating afterward.
Warranty
Otto's G32 will be covered by a lifetime warranty on all stainless steel parts and two year warranty on electronics.
Our posted price below is for the G32 Smart Grill. The G32 Connected price is $1,999.