Oklahoma Joe's Rider DLX Pellet Grill is a big, heavyweight cooker with a low price and some cool features that grabbed our attention. As we got ready to test the Rider DLX we were alarmed to see a large number of very negative reviews from remorseful buyers on the internet. Oklahoma Joe's assured us they stand by their product and welcomed our thorough, honest review. Since we like Oklahoma Joe's, our respect for the brand and Rider's unique designs compelled us to proceed.
When it arrived in a large cardboard box, we were struck by the heavy construction, weighing in at over 300 pounds unpacked. OKJ products don't skimp on the heavy metal and Rider DLX is no exception. After assembling this big beast, we were eager to explore the features that set it apart from the competition.
Cooking Modes
Most pellet "grills" are really pellet smokers, lacking the high temperature range needed to sear foods properly. They are outdoor ovens with smoke that operate much like your kitchen oven. Just set the temperature and a thermostatically controlled system feeds wood pellets to a fire pot as needed to maintain your set point. Click here to learn more about pellet smokers. Some are designed to create small sear zones by exposing foods to wood pellets burning in the fire pot. Rider has a large, 18 inch diameter "high heat area" delineated by a heavy, coated cast-iron "Flex Grate."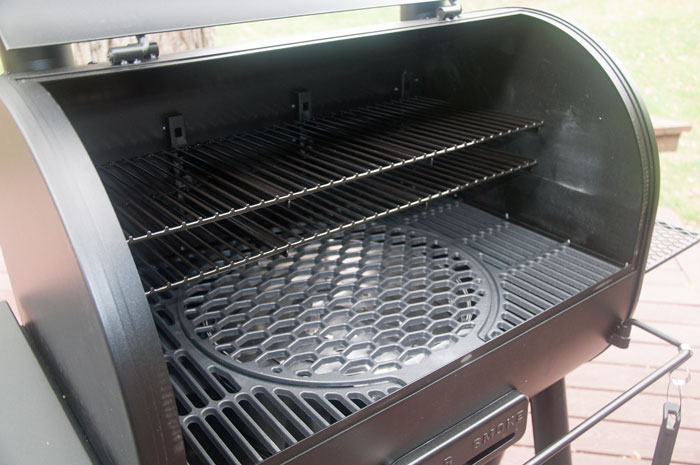 An optional 18 inch griddle and deep dish carbon steel pan can be swapped out with the Flex Grate. Note the two adjustable height, porcelain coated racks which come with Rider DLX.
To diffuse heat, a cover plate with a handle stays in place over the fire pot.
Remove the cover plate to check out Rider's interesting sear zone design. An additional, adjustable damper further diffuses heat when the dampers are closed.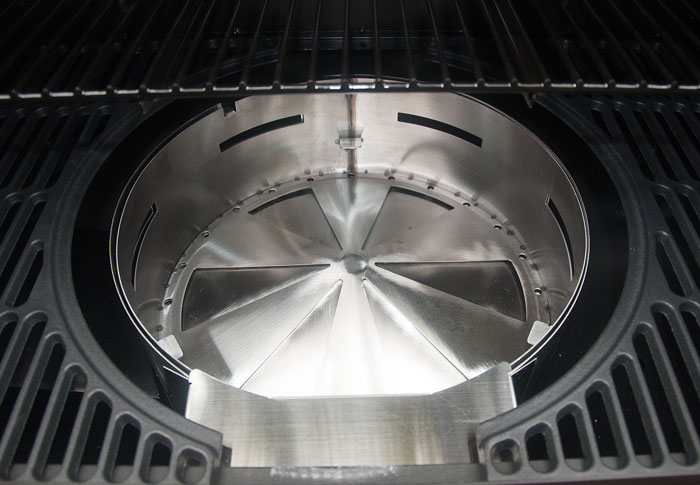 But it can be opened on the fly, while cooking, with a "Selector" lever on the lower front.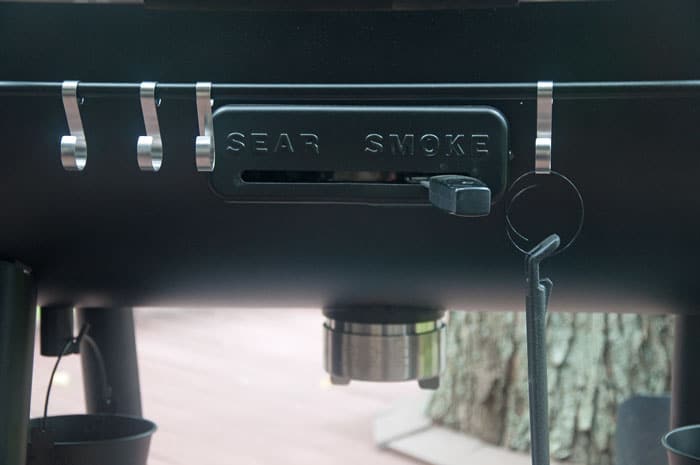 Switch from "Smoke" to "Sear" to expose the Flex Grate to direct, intense heat from burning wood pellets in the fire pot.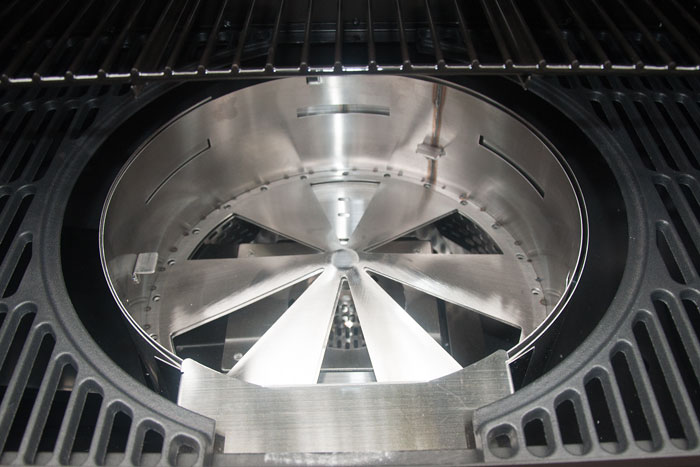 We told you this was cool!
Like what you're reading? Click here to get Smoke Signals, our free monthly email that tells you about new articles, recipes, product reviews, science, myth-busting, and more. Be Amazing!
QuickDraw Hopper
More and more pellet smokers now include some type of pellet clean out system enabling you to easily remove wood pellets from the hopper to switch woods or clear it out for storage. It's typically a small door or chute near the bottom of the pellet hopper. Rider's "QuickDraw Hopper" is the best we've seen. Two trap doors under the bottom of the hopper open by pulling a spring loaded handle.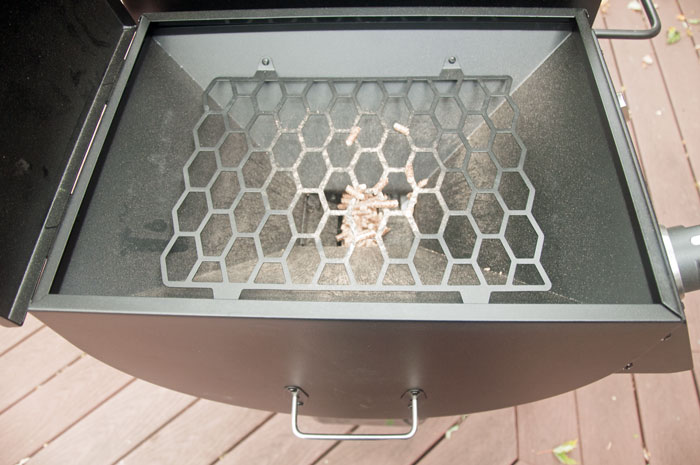 Pellets cascade into a slide out bucket below in seconds.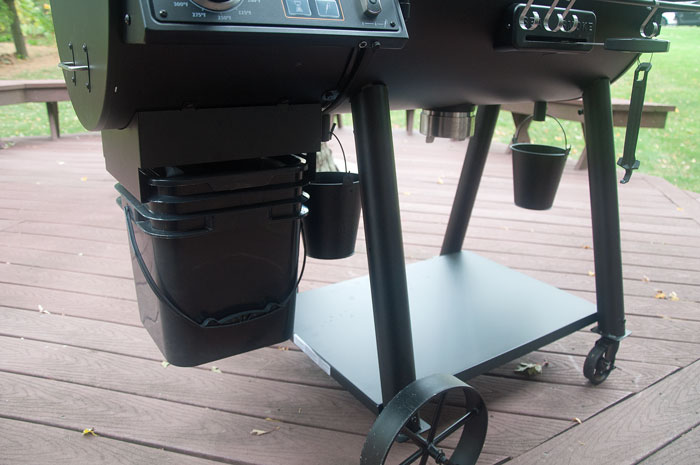 The bucket has a snap on lid to keep your fuel safe and dry. Super handy!
And there's more as you can see in the photo: a towel rack with hanging tool hooks runs across the front, a removable ash cup sits underneath the cookbox, and there's a large storage shelf down low, along with Oklahoma Joe's signature wagon wheels, and their dual, adjustable dampered chimneys up top.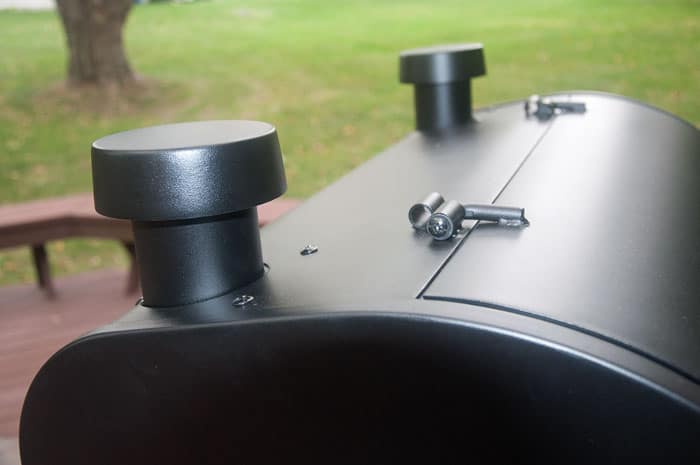 Up your game: Join our Pitmaster Club. Try it out for free for 30 days. No credit card is needed. No spam. Join now and Be Amazing!
We looked forward to firing up Rider and checking out all this cool stuff. Alas, our initial fears after reading so many complaints from unhappy buyers quickly came back again.
*Sigh*
Right from the start, the auger made clanging sounds and the grill shook slightly with each hiccup. After being primed and filled with wood pellets, Rider quieted down then abruptly shut off. We fired it up again and again, but Rider kept tripping the circuit breaker for our GFCI protected electric outdoor outlets. This wasn't a common complaint from Rider customers so it may have been an anomaly. We've also experienced this occasionally with other brands of pellet grills, but our Rider unit was particularly finicky and consistently shut down. Ultimately, we had to run a long extension cord indoors to an unprotected outlet in order to begin tests.
Temperature tests
Using our Fireboard multi-channel digital thermometer we began testing actual temperatures against those on Rider's digital readout. Rider's control system has a control knob with gray and orange settings. The gray section is mostly numeric and meant for lower temp cooking, while the orange settings of Low, Med and High generate higher temps similar to those used for cooking on gas grills.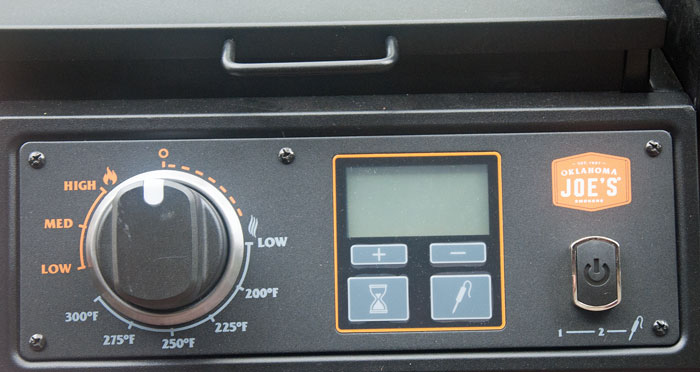 On our test unit, the grey temperature settings were fairly consistent with those displayed on the unit's screen and the actual left side cooking surface where the controller's thermostat is located. Temperatures grew increasingly hotter toward the center grate and hotter still on the right side.
DISPLAY LEFT MIDDLE RIGHT
LOW 176°F 184°F 205°F 208°F
225°F 215°F 245°F 245°F 250°F
300°F 300°F 315°F 350°F 405°F
We jumped to the orange settings. As temperatures rose, so did the variance from left to right. The auger clanging also returned and increased in occurrence and intensity along with the temperature.
DISPLAY LEFT MIDDLE RIGHT
LOW 400°F 365°F 410°F 475°F
MED 500°F 440°F 500°F 575°F
HIGH 560°F 488°F 570°F 645°F
Those are some pretty big and troubling temperature discrepancies from left to right.
We shifted the Selector from Smoke to Sear and the high heat area at the center rose quickly past 700°F! Them's steakhouse temps baby! Finally some good news. But our mood quickly sank when we saw a large amount of paint flaking from the bottom just to the right of the firepot by the removable ash cup. And this was after just a couple days use! We turned the unit off and it went through its shutdown sequence.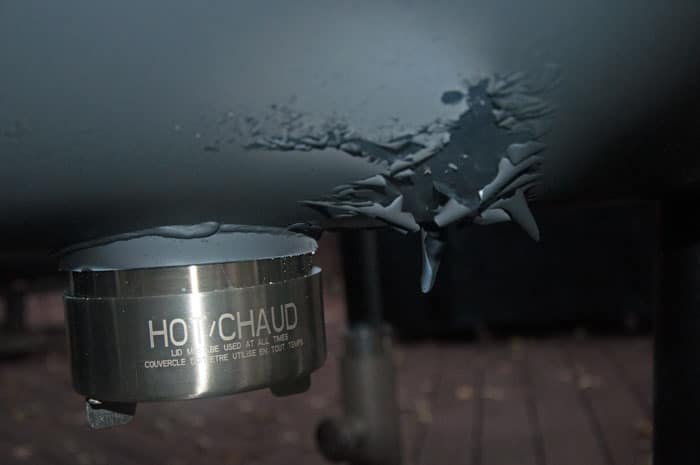 After inspection, the metal appeared to be intact, but geez….what next? Oh well, at least we planned to have fun searing a couple 1 1/2 inch thick strip steaks over that HOT-HOT sear zone. But when we fired Rider up again, our "What next" question was sadly answered: the auger jammed and wouldn't feed pellets.
Get a sneak peak at Meathead's next book. He shares chapters with members of our Pitmaster Club as he finishes them. Click here for a free 30 day trial. No credit card needed. No spam. Click here to Be Amazing!
What next?
It was time to take stock and assess what was happening. Had you visited Oklahoma Joe's website and looked at the buyer reviews on their Rider DLX page at the time of this writing in the fall of 2020 you would have seen this graph.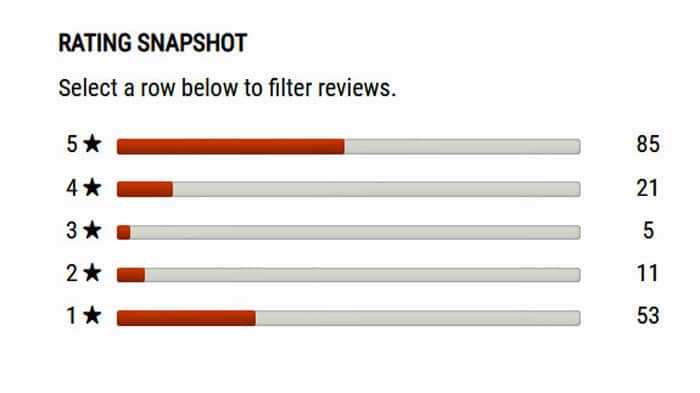 And talk about division, the 5 star and 1 star groups were equally vehement in their expressions of love and hate. No product is loved or hated by every last person who buys it, but the scale is usually tipped more clearly in one direction. This is why we hesitated to test Rider DLX at the outset. Before agreeing to move forward, we reminded OKJ of our Product Testing Policy, which clearly states, "Manufacturers or merchants who send us products to test need to understand that our first obligation is to our readers and we will do our best to review your products honestly and fairly considering price. To make sure we get it right, we always give manufacturers an opportunity to respond to our reviews and correct omissions, errors, and concerns. We put a lot of time and effort into testing, therefore we post all reviews whether good or bad."
Conclusion, for now
After discussing our disappointing test results, Oklahoma Joe's offered to send us a new unit, but even if we accepted and found it worked well, how could we discount our first test results? Our experience was similar to the surprisingly large number of unhappy buyers who regretted their purchase. Our concern is that the initial Rider DLX production runs were inconsistent, which is not typical of today's Oklahoma Joe's products. Unfortunately, some of those questionable units are still on the market.
As reported above, there is a lot to like about Rider's unique and clever features. It has great potential for a great price. We believe OKJ will get this right, and when they do, we will welcome the opportunity to re-test Rider. Until then, we fear our readers might be subject to the luck of the draw and we don't want any of them to end up in the 1 star camp. Therefore, at this time we cannot recommend Oklahoma Joe's Rider DLX.
Warranty
Two year limited warranty on all parts, excluding shipping. Paint and rust are not covered.
We thank Oklahoma Joe's for providing a Rider DLX for our tests.