Click Here To Search Our Electric Smoker Reviews And Ratings
Set it and forget it. That's the main attraction to electric smokers, and an important one. No lighting charcoal, no checking the fuel supply every hour or so, no messy ash to clean up. Just turn it on, crack a brew, and take a snooze in your lounge chair. Or put in a brisket before you leave for work and come home to a tender, smoky, juicy meal. Electrics need only two to four ounces of wood to give meat a smoky flavor. And if they are well insulated, they are great for winter use.
The good news is that they excel at fish and things like smoked peppers, sausage, nuts, bacon, and cheese. The bad news is that, in head-to-head tastings, I think the flavor is inferior to charcoal, gas, or pellet smokers for most other meats such as pork ribs, pulled pork, turkey, and beef brisket.
If you already have an electric, I know you LOVE LOVE LOVE it because the food it turns out is delicious. But I'm here to tell you, I've tested scores of smokers, and you don't know what you are missing. There is no substitute for live fire and the flavor it generates which is even more delicious. A VW Beetle can be a delightful drive until you sit behind the wheel of a Porsche.
Since I am really tired of repeating myself in the comments below to irate owners of electrics who rave over their choice of smoker (this is called confirmation bias), let me say it again succinctly in bold type: Electrics make really delicious food. But wood, pellets, charcoal, and even gas make food that is even more delicious.
On the other hand, an electric smoker is better than no smoker, especially if you're in an apartment or condo where they won't let you have gas, charcoal, or pellets. But if you are considering an electric because it is so darn easy to use, the good news is that gas smokers are almost as easy to use as electrics, they make better food, and they are much less expensive. Pellet smokers are just as easy to use as electrics, produce much better tasting food, but they are more expensive. Before you buy an electric, please read this page.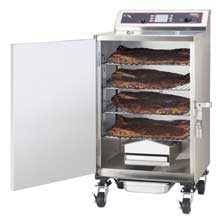 How they work
Some inexpensive electric smokers use a rheostat, which turns down the flow of electricity to the coil, similar to an electric hotplate or a stove. Some have low, medium, and high settings. A few of the high end electrics have thermostats which have a temperature probe inside the cooking chamber, and the probe turns the juice on and off in order to hold it at a desired temperature. Just turn the dial or press the buttons.
You can get pretty precise about the temp and the timing. Thermostats are better and more expensive than rheostats. You can't cook if you can't control temp. You don't want something that does not have good temp control.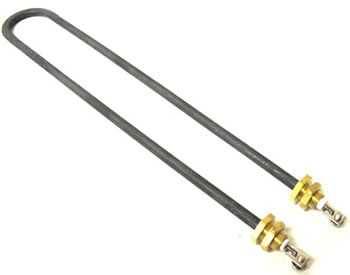 You may need an extension cord and not any cord will do. Read this article to calculate the size and capacity of the cord you will need. Electrics typically draw 10 to 20 amps, and if your outlet is already carrying a load it can pop the circuit breaker. I have even heard of electric smokers habitually popping GFCI outlets and necessitating a visit from the neighborhood electrician.
On the plus side, electrics are fairly cheap to operate. A 750 watt element burns about half a kilowatt every hour if it is running constantly, which it doesn't because the thermostat cycles it on and off. At the time of this writing, a kilowatt runs about 8 to 15¢ depending on where you live. That's a lot cheaper than charcoal, and if you rent an apartment and your lease includes electricity, then running an electric smoker is free!
Important caveats
They also usually have very tiny vents to help maintain temps. This makes them ideal for cooking things where retaining moisture is crucial. But if you want crispy skin on chicken or turkey or a thick crusty bark on for your pulled pork, it is not easy on an electric.
Remember, the heat in gas, pellet, and charcoal cookers comes from combustion which, when mixed with wood, produces gases that impart a distinct flavor. The heat in an electric comes from a glowing metal rod. Smoke is created by putting wood above the heating element and letting it smolder. But electrics don't usually produce the needed combustion gases, so the flavor is different and there is no smoke ring, the pink layer of meat on the outside that says "Southern barbecue". The ring doesn't add flavor, but it adds authenticity and creates visual expectations.
The AmazingRibs.com science advisor Prof. Greg Blonder explains why there is no smoke ring: "Electrics have low airflow since there is none needed for combustion. The lack of oxygen tends to lower the smoldering temp of the wood, which tips dozens of chemical reactions in a different direction than with other fuels. Wrong mix and levels of normal combustion gases, carbon monoxide and nitric oxide." He gets into more detail here. To get a smoke ring, add one or two charcoal briquets to the woodbox of an electric. They sometimes produce gases that help create a pink smoke ring. But sometimes they don't.
Another drawback: Most barbecue competitions do not permit electric cookers, so if you ever thought about going for the gold.
Click Here To Search Our Electric Smoker Reviews And Ratings