MAK Grills 1 Star General Pellet Grill Review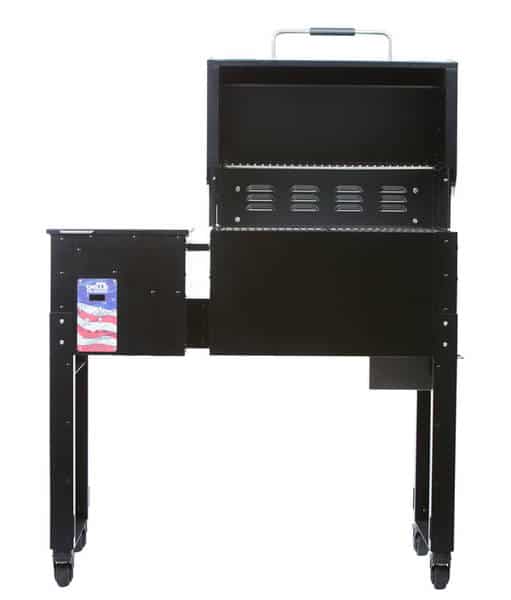 MAK Grills have the distinction of being Meathead's favorite pellet smokers. He tested their 1 Star General and 2 Star General Residential Pellet Smokers. MAK also makes a large double firepot 3 Star General. Here is Meathead's review on the 1 Star General.
Introduced in fall 2010, the 1 Star is a real star, and it sells for about $1,700, $1000 less than the 2 Star. In 2016 MAK made a few changes. They increased the primary cook surface to 429 square inches, raised the height by 3 inches, added a pellet hopper clean out chute and went from a silver finish back to their original black powder coat. They retained the attachable legs so it can be used free standing or as a built-in.
The 1 Star is 49″ high x 40″ width x 21.5″ depth. The expanded cook surface provides plenty of room for a whole lot of chicken parts or pork chops and the hood is tall enough for a turkey. It uses the same Pellet Boss digital controller as its big brother, so it has the same set-it-forget-it convenience. I used it in below freezing December weather and it held temp steady within 5°F with my best testing equipment. The entire unit is aluminized steel, an excellent material for heat retention, and the paint is high-temp powder coat, also top drawer.
MAK Grills Mobile WiFi option, released in 2013, is an upgrade to their previous Remote Boss bluetooth remote control. MAK Mobile enables owners to control and monitor their MAK from any device with an internet connection, anywhere in the world. It requires easy installation of a chip and antennae. Remote Boss can be upgraded to MAK Mobile.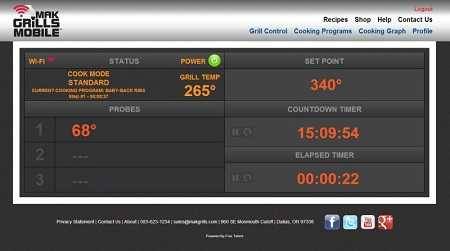 The hood is a roll top meaning it does not need a lot of rear clearance like some competitors. As with the 2 Star, it is built to last: Heavy gauge and solid! Best of all, there assembly was easy. You just bolt a left and right leg panels to the grill. Assembling the 2 Star took some time. The hopper is capacious, holding more than one 20 pound bag of pellets. You can order several options, a bottom storage shelf, a right side shelf, a tool hook, and an upper grill grate. Most importantly, the meat it produces has plenty of moisture, tenderness, and the delicate BBQ smoke flavor typical of pellet burners. MAK recently got rid of their external grease bucket and replaced it with an internal grease drawer that accommodates a disposable foil pan to easily remove ash and gunk. As with the 2 Star, I would like to see a reel for the cord or some way to store it out of the elements. Also, you should make sure to buy a cover for it. Water got into the Pellet Boss on mine and it ceased functioning. I took it out of the unit, air dried it, and it worked just fine. To be safe I ran a bead of silicone caulk around it to prevent encroachments again.
Model:

1 Star General Pellet Grill

Item Price:

$ 2000

Where to buy (buying from this supplier supports this website):

Made in USA:

yes

Review Method:

Cooked On It
We have hands-on experience testing this product. We have also gathered info from the manufacturer, owners and other reliable sources.

Primary Function:

Smoker

Fuel:

Wood Pellets

Main Burners:

1

Primary Capacity:

429 square inches
Published On: 1/10/2013 Last Modified: 3/9/2021
Meathead, BBQ Hall of Famer - Founder and publisher of AmazingRibs.com, Meathead is known as the site's Hedonism Evangelist and BBQ Whisperer. He is also the author of the New York Times Best Seller "Meathead, The Science of Great Barbecue and Grilling", named one of the "100 Best Cookbooks of All Time" by Southern Living.

---