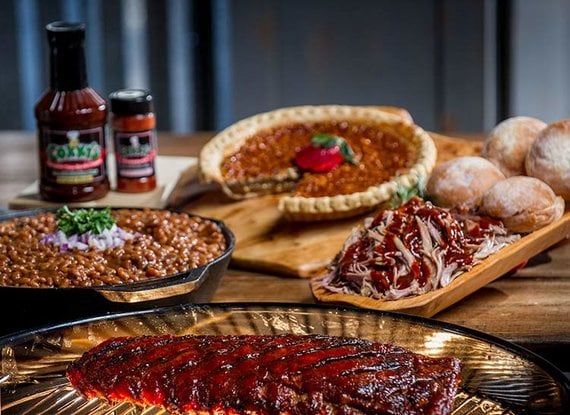 Get great BBQ shipped to your door
Many of our favorite BBQ restaurants now ship right to your door, but shipping food cross country has to be done carefully. We are especially fond of the work done by GoldBelly because they have a clever program that works with the restaurant to make sure that the food is properly sealed, chilled, packaged, insured, and shipped expeditiously at the best rates, often as low as $9.95. Orders ship direct from the vendor, so there is no warehousing. Each package has premium package insurance that protects you if the package is lost, stolen, undeliverable, etc.
They also have a unique shipping calendar that allows you to select the exact day of arrival for a package up to three months in advance so you can be sure that your package arrives on schedule making it perfect for any special occasion. And most important, they understand customer service. Below are some of our favorite foods from BBQ joints and others who deliver directly to you.
Black's Barbecue: In Lockhart, Texas, at Black's Barbecue, everything tastes amazing. But it is their short ribs that truly set them apart from other establishments. This BBQ is for the ultimate beef lover: Juicy, succulent, and tender with a rich fatty smokiness. Black's ships direct so you can easily enjoy it at home.
Corky's BBQ from Memphis: Corky's has been turning out quality slow smoked meats since 1984, and now you can have it delivered to your home. All of their meats are smoked over hickory wood and charcoal. The "Ultimate Taste of Corky's" sampler includes ribs; your choice of smoked chicken or brisket; sauce; rub; beans; and pie. Among their various mail order packages is the immensely popular "Ultimate Taste of Corky's" found here collection featuring a rack of ribs, a pound of the smoked meat of your choice, sauce, rub, beans, and a fudge or pecan pie! You can also order a 4-pack of their popular dry rubs (Original, Honey, Bourbon, and Sweet) by visiting here.
Graber Olives: Meaty, nutty, and richly flavorful, Graber olives are unlike any you can find in the grocery store. Graber tree ages their fruit until it is almost cherry red, and then they are cured in covered vats. Graber olives are not allowed to oxidize so they turn olive green with splotches of brown, unlike most brined black olives.
Grand Traverse Pie Company: Get ready to experience the best cherry crumble pie you've ever had. It's made the old fashioned way, handcrafted from quality locally sourced ingredients like tart Montmorency cherries from Michigan, topped with a special crumble, and slowly baked to golden brown perfection. They ship a wide variety of their pies through Goldbelly.
Jar Sessions from Vie Restaurant: Award-winning chef Paul Virant makes small batch pickled and preserved products with ingredients grown locally in the midwest. They're absolutely delicious. His pickles and preserves are a notch above commercial brands and available online under the Jar Sessions name. Smoked Apple Butter, pickled cherry tomatoes, and chow chow are a few of our favorites.
Kreuz Market: Kreuz is probably the most highly respected barbecue restaurant in Texas, serving simply smoked meats and sausages in the quintessential Texas style. The meat is the star of the show. Now you don't have to leave the comfort of home to experience this Texas tradition.
Monthly Clubs: Everyone loves "food of the month" clubs and this one is among our favorites. With Monthly Club's design-your-own subscription, you can choose from a wide variety of international wines, craft beers, gourmet chocolate, hand-rolled cigars, artisanal cheeses, and more every month (plans start at $85).
Range Relish from Texas Rib Rangers: Bill and Barb Milroy make some great sauces, rubs, and this amazing Bread and Butter Jalapeno Relish. Add some spice to your life!
Snows BBQ: Some of the best barbecue in Texas is being served at Snow's BBQ in Lexington. Instead of standing in line and hoping they don't run out, you can get it delivered instead. The "Why We're #1" sampler includes a low-and-slow brisket, a pork steak, a rack of pork ribs, and Snow's famous smoked sausage. They sell through Goldbelly with free shipping.