YOU ARE HERE >> AmazingRibs » Ratings & Reviews » Ratings Reviews And Buying Guides » AmazingRibs.com Gift Guide for BBQ and Grilling » BBQ Gifts Under $50 » OXO Good Grips Stainless Food Scale with Pull-Out Display Review
OXO Good Grips Stainless Food Scale with Pull-Out Display Review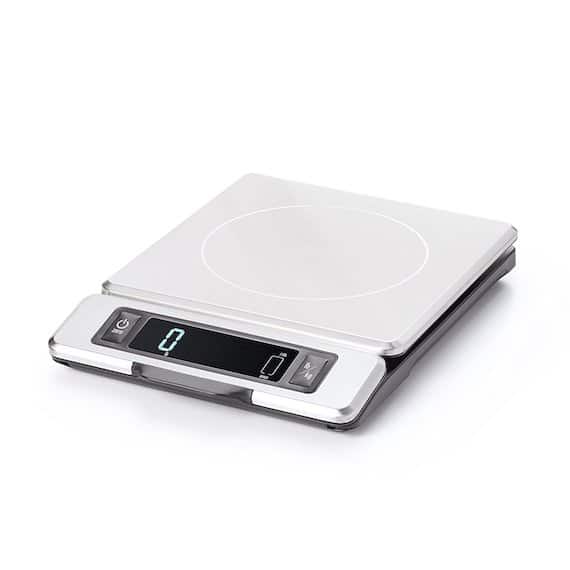 Do Your Food A Favor and Buy A Scale
I don't know how I lived without a good, accurate digital kitchen scale for so many years. It is so important. Look at salt for example. 1 cup of table salt has almost twice as much salinity as a cup of Morton's kosher salt because Morton's kosher salt has more air space between the grains. But a pound of all salts contain exactly the same amount of sodium chloride. Without a scale, making a brine requires a calculator.
Flour and sugar have the same problem. Packed flour or loose flour. Big diff. And if the amount of flour is off in your recipes, it can make them fail.
My favorite scale is from OXO. It can weight accurately up to 11 pounds as well as fractions of an ounce. Push a button and it converts to metric. Put the bowl on the scale and push a button and it zeros out so the bowl's weight is not included. If the bowl extends over the scale, the display on this one pulls out so you can still see the weight reading. Genius. And the top comes off for easy cleaning. Trust me. It will change your life.
Model:

OXO Good Grips Stainless Food Scale with Pull-Out Display

Where to buy (buying from this supplier supports this website):

Made in USA:

yes
Published On: 5/18/2018 Last Modified: 4/27/2021
Meathead, BBQ Hall of Famer - Founder and publisher of AmazingRibs.com, Meathead is known as the site's Hedonism Evangelist and BBQ Whisperer. He is also the author of the New York Times Best Seller "Meathead, The Science of Great Barbecue and Grilling", named one of the "100 Best Cookbooks of All Time" by Southern Living.

---