ChefsTemp Finaltouch X10 Instant Read Thermometer Review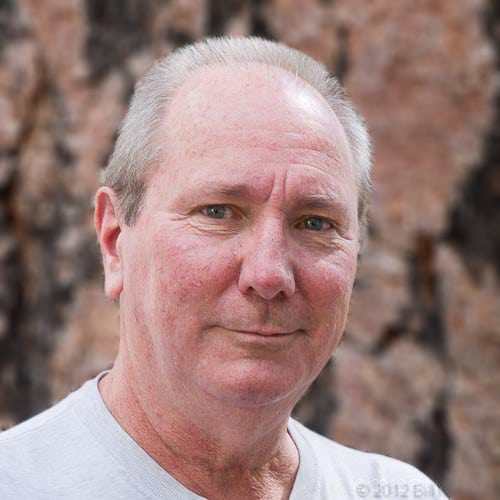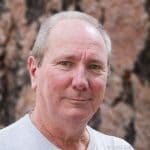 By: Bill McGrath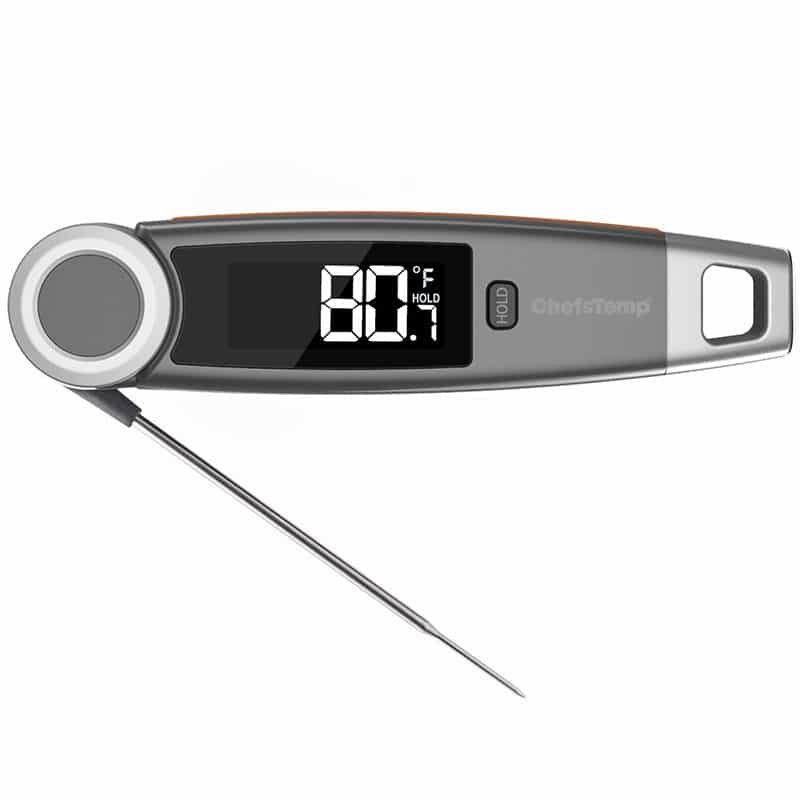 The ChefsTemp Finaltouch X10 is a new entry into the hand-held instant read thermometer field that features solid construction, accurate measurements, quick response time, and water resistance.
The temp probe folds out from the thermometer body and is capable of swiveling 270°, or three-quarters of a turn. This allows the tip to be oriented at 90° from the body, giving direct readings for a left-handed user. The numerical display also rotates so right-side up digits can be read directly without mental gymnastics. The display is back-lit, allowing easy reading in the dark. There is a Hold button that freezes the displayed temperature for easy reading. The large digits make the display readable without squinting.
Unfolding the probe from its slot turns the unit on. If the thermometer sits idle for a few minutes, the display will darken and the unit powers itself off, saving batteries. It will come back to life automatically when you pick it up if the probe is unfolded.
The thermometer is waterproof to an IP67 rating, meaning it can be submerged up to a meter. This rating allows you to rinse it off under running water. It is not diswasher safe, however. The battery door has a seal to keep out moisture. There are two buttons inside the battery compartment. One selects °F/°C. The other is used to put the thermometer in calibration mode should it drift. The tested sample was right on the money and did not require any calibration.
Accuracy was good and the response time was excellent. My only gripe is that the Hold button and the external case could, under sloppy conditions, provide nooks and crannies for bacteria to hide. Reasonable hygiene should eliminate this worry.
The thermometer comes with a comprehensive instruction booklet free of awkward translation goofs. Contact info for the manufacturer is provided in case of problems, including a phone number, e-mail address, and a website. At $70 the unit is not cheap, but quality always comes at a price.
There isn't much to dislike about this product. It should provide years of service given its quality construction.
Thermometer Function:

Hand Held

Item Price:

$ 69.99

Where to buy (buying from this supplier supports this website):

Probe:

Length: 4" (100mm), diameter: 0.125" (3.2mm), tip: 0.069" (1.75mm)

Battery Type:

2xAAA (included)

Battery Life:

Not specified

Min & Max Temp:

-22 to 572°F (-30 to 300°C)

Display Precision:

0.1°

Actual Temp at 32 Degrees:

32.0

Actual Temp at 130 Degrees:

130.1

Actual Temp at 225 Degrees:

224.2

Actual Temp at 325 Degrees:

323.7

Speed from 32 to 212 Degrees:

2

Speed from 32 to 212 Degrees:

2

Numbers Display Size:

0.67" (17mm)

Water Resistance Rating:

IP67 - submersible to 1 m

Weight:

4.4 oz. (124 g)

C/F Switch:

Built in CF switch

Backlight:

Built in Backlight

Adjustable Options:

Calibratable to 32°

Auto shutoff:

Has Auto Shutoff

Color Options:

Gray/Silver

Thermometer Sensor:

Thermocouple

Additional Features:

Hold button, rotating display

Included:

Thermometer, Instructions
Published On: 9/10/2021 Last Modified: 9/13/2021
Bill McGrath - Bill McGrath is AmazingRibs.com's Thermometer Maven. He has sophisticated equipment, an electrical engineering degree from Cornell University, and an MBA (almost) from UC Berkeley. Despite being mostly retired, he is still the person responsible for developing and updating all of ExxonMobil's training modules.

---