Orion Cooker Review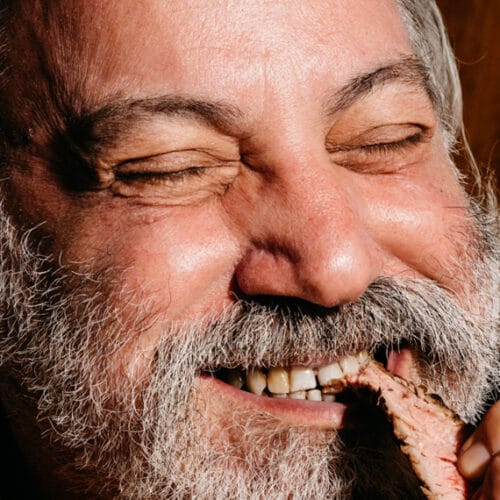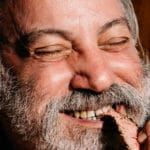 By: Meathead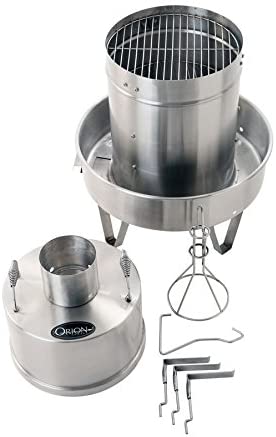 A very clever and unusual design, the Orion excels at keeping meat moist and cooking fast. Well, maybe it isn't that unusual. It is really a hi-tech variation on the cowboy method of cooking in a Dutch oven where the pot sits on coals and coals sit on top of the pot. It is especially good for chicken, turkey, fish, and beef brisket. It is all stainless steel, lightweight and portable, and the central cooking chamber is pretty close to airtight. Wood chips and/or water go in the bottom of the cooking chamber, but the charcoal does not. It goes in a ring around the outside and in a cup on top. About 10 pounds! They recommend Matchlight, which has an awful smell. We recommend starting charcoal in a chimney.
The result is a hot convection oven that is great at creating moist smoky meat in a hurry. Wood chips in the cook chamber provide smoke, but because the charcoal combustion gases are outside the cooking chamber, the smoke flavor is different than most other BBQ smokers. And because it is so moist, one does not get crispy skin on chicken or turkey or a good crust on pork. That said, this is a mighty nice smoker for the price. The manufacturer claims it can smoke six racks of ribs in 1.25 hours, about 25% of the time in a conventional smoker, or a 20 pound turkey in 2.25 hours. Includes three rib hangers to accommodate six racks of ribs, three cooking grates, a poultry stand and lifting handle that holds a 24 pound turkey.
People like it. It's easy to use, cooks fast and produces very good results. One of the only complaints is that Orion is a charcoal hog. You can easily burn through 15 pounds per cook.
Model:

Cooker

Item Price:

$ 169.00

Where to buy (buying from this supplier supports this website):

Amazon

Made in USA:

no

Review Method:

Researched it from Afar
We have researched this product from afar by gathering info from the manufacturer, owners, and other reliable sources, with our BS meters on high.

Primary Function:

Smoker, Tailgater

Fuel:

Charcoal

Primary Capacity:

346 square inches
Published On: 3/19/2013 Last Modified: 4/29/2021
Meathead - Founder and publisher of AmazingRibs.com, Meathead is known as the site's Hedonism Evangelist and BBQ Whisperer. He is also the author of the New York Times Best Seller "Meathead, The Science of Great Barbecue and Grilling", named one of the "100 Best Cookbooks of All Time" by Southern Living.

---