Traeger PTG Pellet Smoker Review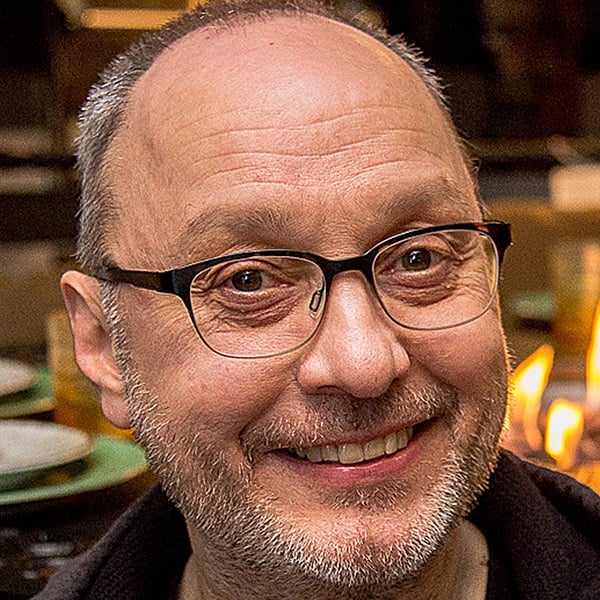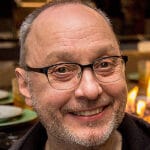 By: Max Good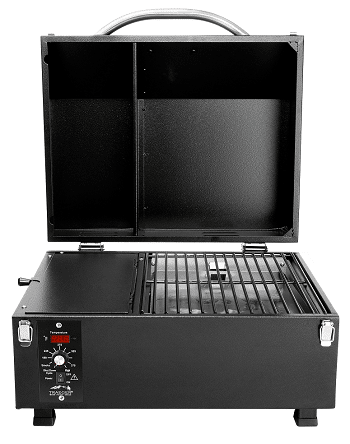 We haven't found many portable pellet smokers and the PTG (Portable Traeger Grill) is the smallest we've seen. It only weighs 40 lbs. and dimensions are 13″ H x 21″ W x 17″ D. The lid latches shut and you can carry it by the handle like a suitcase. With 169 square inches of cook surface and about 6 inches of head room, cooking possibilities are limited. Still this unique little cooker may have some useful BBQ applications, like smoking fish and other foods that cook relatively fast and free up the small cook box for the next round. Of course all pellet smokers require electricity, so this portable either needs access to a 110V outlet, generator or inverter.
A big problem with the old PTGs had been the inferior three position controller that had no thermostat to monitor actual temperature and could only execute pellet run times for low, medium and high heat. It fed the same amount of fuel to the firepot whether cooking on a scorching summer day or frozen winter night. Thankfully Traeger upgraded to digital thermostatic control that allows you to experience the joy of set it and forget it cooking that is one of the main attractions of contemporary pellet smokers.
Traeger pioneered and popularized the pellet smoker and remains the best known brand since it is in wide distribution. In fact about 85% of pellet smokers in the USA are Traeger. The consensus is they are reasonably well built, but some buyers complain that since manufacturing moved to China quality has dropped, especially on entry level models. Of course we hear more complaints as well as praise about Traeger since 8 out 10 pellet smoker owners have one.
All Traegers are black powder coated steel with porcelain enamel steel grates.
Model:

PTG Pellet Smoker

Item Price:

$ 299.99

Where to buy (buying from this supplier supports this website):

Amazon: Free Shipping

Made in USA:

no

Review Method:

Looked Closely At It
We have seen this product up close and we have also gathered info from the manufacturer, owners, and other reliable sources.

Primary Function:

Smoker, Tailgater

Fuel:

Wood Pellets

Main Burners:

1

Primary Capacity:

169 square inches
Published On: 1/16/2013 Last Modified: 3/3/2021
Max Good - Max Good, AmazingRibs.com's Vice President of Product Reviews & Keeper of the Flame, is the man in charge of finding the best products for the AmazingRibs.com Equipment Reviews section. Max bottles his own barbecue sauce recipes and now sells them around the country.

---