Backwoods Smoker Chubby Review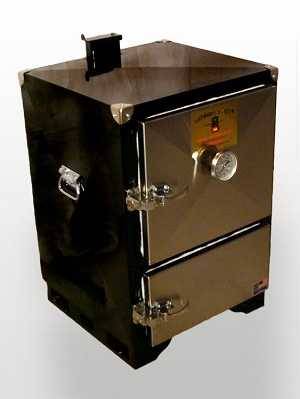 This smallest model will fit nicely in any back yard, but don't be surprised to see them popping up at BBQ competitions as well. Outside dimensions are 32″ tall including the stack, 22.5″ deep, and 22″ wide. The cooking chamber is 13″ high, 17″ deep, and 16″ wide. There are 4 removable racks 16.5″ x 15.5″ separated by 3″ and it comes with two extra shelf sliders for more flexible arrangement of your meats. Capacity is approximately 12 slabs of baby back ribs, 8 slabs of St. Louis cut ribs, 4 slabs of spare ribs, 2 to 3 large briskets, or 4 to 6 Boston butts. Options include 2 additional racks, 2 extra shelf sliders, thermostat controller, stainless steel doors, heat diverter plate above the charcoal, cover, permanent stand, tie down handles, and casters.
Backwoods recently introduced a lower cost Chubby 3400 made in China that sells for $800 with free shipping. A few differences on the 3400 compared to the traditional Chubby are:
Lower quality thermometer.
Latches are not as heavy duty.
3400 comes standard with stainless steel doors.
Backwoods feel performance is identical.
Published On: 3/6/2013 Last Modified: 2/15/2021
Meathead, BBQ Hall of Famer - Founder and publisher of AmazingRibs.com, Meathead is known as the site's Hedonism Evangelist and BBQ Whisperer. He is also the author of the New York Times Best Seller "Meathead, The Science of Great Barbecue and Grilling", named one of the "100 Best Cookbooks of All Time" by Southern Living.

---