Blaz'n Grill Works Gridiron Pellet Smoker Review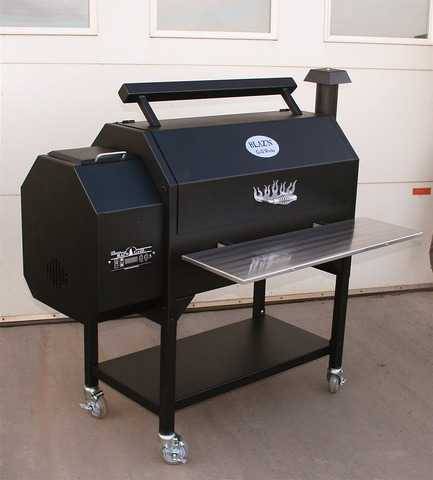 The Gridiron pellet smoker is Blaz'n Grill Works' largest model. The basic design is typical of many pellet smokers, but Blaz'n Grill offers a few unique features. Foremost is the easy clean burn pot which allows you to bypasses the task of lifting the greasy grates and drip pan to clean out ash. Simply slide out the burn pot with a handle located on the right (see below). Just be careful when it is hot!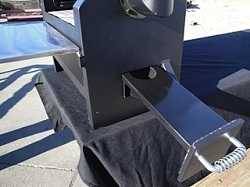 These smokers also utilize a stainless steel, disc shaped heat deflector that rests under the drip pan. The bottom firebox is double walled for better insulation and a hood insert is optional for the lid. The Blaz'n crew also believes their round rod auger transports pellets more smoothly than square rod augers, thus reducing wear on the motor. They will even do custom powder coat colors and/or cut your name into the grates.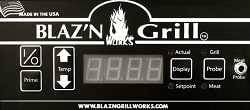 All Blaz'n Grill pellets have a 30 pound capacity hopper. They recently upgraded their digital controllers from an Ortech dial unit with notched temp selections of Off, Smoke, 180, 225, 250, 275, 300, 325, 350, 375, and High, to a more sophisticated Roanoke touch pad digital controller with an integrated meat probe. The desired internal meat temperature can be set and the meat probe will interact with the controller.  When the probe senses the programmed target temperature has been reached, it flashes "done" and automatically reduces the cooking temp 160 degrees.
A large stainless steel drip pan under the grates tilts downward and empties into a small bucket outside the firebox. Stainless steel cooking grates, warming rack and front shelf are standard. The body and cart are powder coated metal with caster wheels.
Owner, Mark Setzer, has been in metal fabrication since the early 1970s. A lover of BBQ, Setzer began making his own pellet smokers and found a strong local interest. In the summer of 2011, he started Blaz'n Grill. Distribution is limited. For more information contact the company direct.
Model:

Gridiron Pellet Smoker

Item Price:

$ 1450.00

Made in USA:

yes

Review Method:

Researched it from Afar
We have researched this product from afar by gathering info from the manufacturer, owners, and other reliable sources, with our BS meters on high.

Primary Function:

Smoker

Fuel:

Wood Pellets

Main Burners:

1

Primary Capacity:

702 square inches

Secondary Capacity:

310 square inches
Published On: 4/11/2014 Last Modified: 2/21/2021
Max Good, Full time grill tester - Max Good, AmazingRibs.com's Vice President of Product Reviews & Keeper of the Flame, is the man in charge of finding the best products for the AmazingRibs.com Equipment Reviews section. Max bottles his own barbecue sauce recipes and now sells them around the country.

---