Camp Chef's SmokePro SG 24 Pellet Grill aspires to be both a smoker and high temperature grill. Though often referred to as pellet grills, cookers like this one are primarily smokers with limited grilling capability at best. If you are not familiar with pellet smokers, they are thermostatically controlled outdoor ovens that burn wood pellets and can be set to exact cooking temperatures just like an indoor kitchen oven. A typical design includes a thermostat under the hood that monitors cooking temperature and feeds wood pellets to a firepot as needed to maintain your set temperature. The firepot is usually covered by a metal heat diffuser. Another large metal drip plate is placed at an angle right under the cooking grates to even out heat and divert drippings to a grease bucket. Some pellet "grill" manufacturers attempt to create a hot, sear zone by exposing foods to the direct flame from burning wood pellets in the firepot. Click here to learn more about pellet smokers. For this Camp Chef model, the SG is short for Slide and Grill, which describes the design.
Slide and Grill
Below is the Camp Chef SG with the cooking grates and drip plate removed. The rectangular heat diffuser in the middle covers the firepot.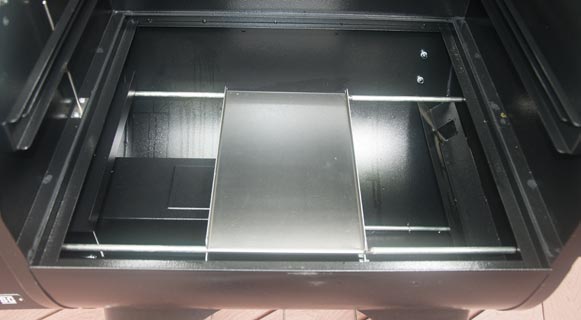 The heat diffuser is suspended on rails and attached to a sliding rod. A grill knob (below) located on the lower left side of the exterior of the smoker activates "grill" mode.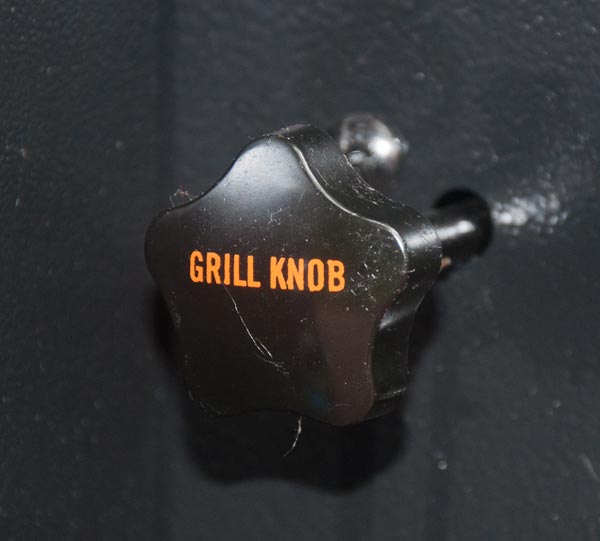 Pull the grill knob and the diffuser slides away to expose the firepot.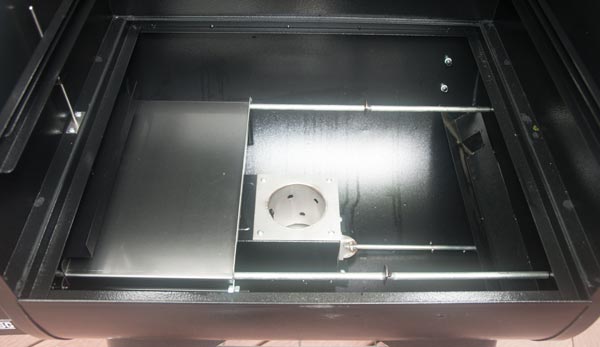 Instead of a solid metal drip plate, SG has a louvered plate with rows of slits that expose foods to the direct heat of the firepot  flame.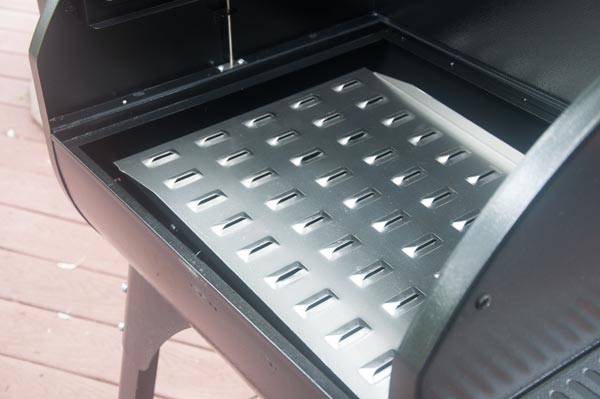 Here is a cross section representation of how it all works.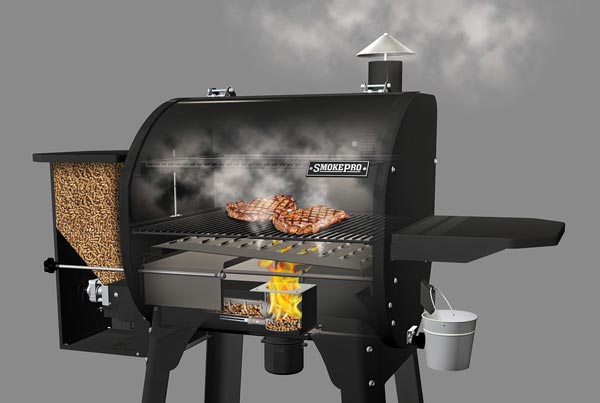 Clever right? Alas what looks good on paper sometimes doesn't work in the real world. SG suffers from the same problem that most pellet sear zones have. The fire from the firepot just isn't big enough or intense enough to produce searing heat. With the temperature cranked all the way to "HI" and the diffuser slid away from the firepot, the cooking surface temperature topped out at about 500°F and the left side was slightly cooler than the right. The hamburgers below weren't bad but didn't get the high heat needed to develop a delicious brown crust. We tested a previous SmokePro model with a standard fixed heat diffuser and solid drip plate and got very similar results, reaching 480°F at the cook surface. Camp Chef says they claim SG provides "direct flame grilling", not searing. Regardless of the terminology, their promo material and videos created the impression SG would give a lot more sizzle than it did.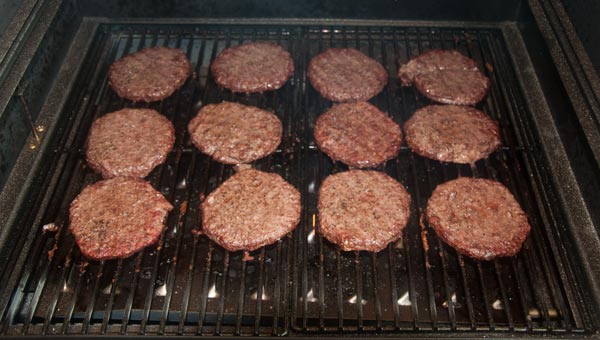 To do any kind of serious grilling, you really need exposure to direct, high temperature heat, i.e. infrared heat from intense flame. Here's a flank steak on the SG, right over the firepot, flipped after five minutes.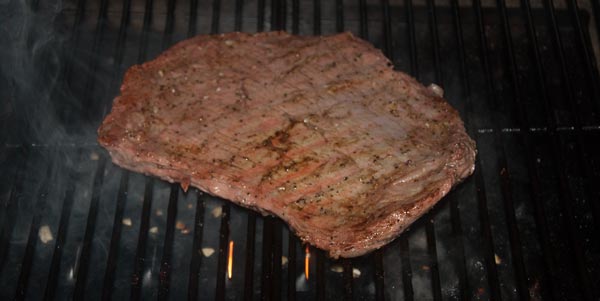 Although the primary cooking surface is slightly cooler on the left side, overall heat is pretty even as shown in the burgers above and the chicken wings below.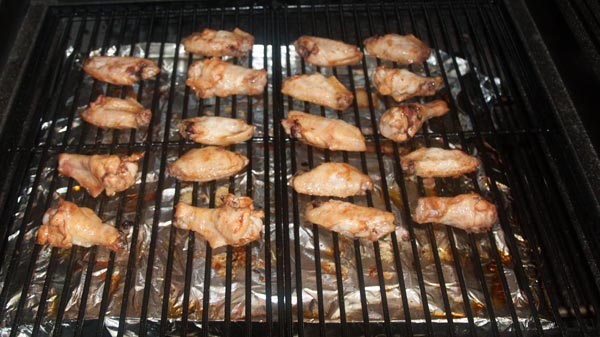 Slide and clean for easy ash removal
Slide and Grill was likely inspired by Camp Chef's unique and useful slide and clean ash removal system. Although pellet smokers don't create much ash, they need regular cleaning, which is a pain with most other designs because the greasy grates and drip pan must be removed to get at the fire pot where the pellets burn (below).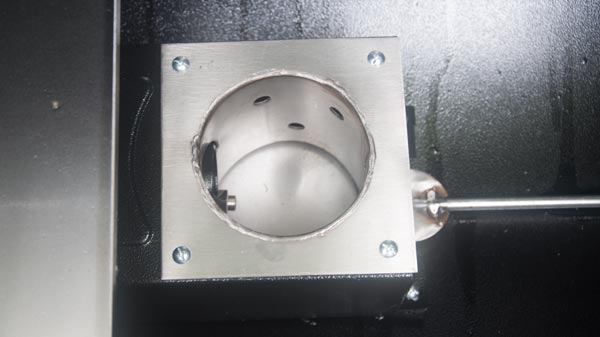 Camp Chef's solution is a "trap door" under the fire pot.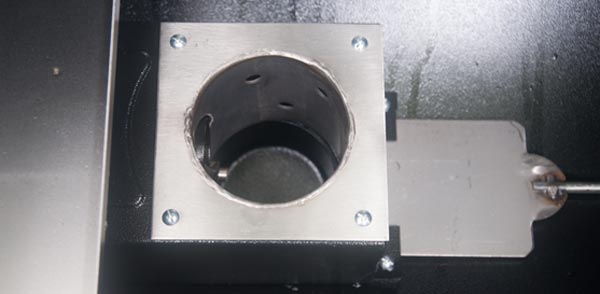 The bottom slides back letting ash drop into a removable cup, shown below.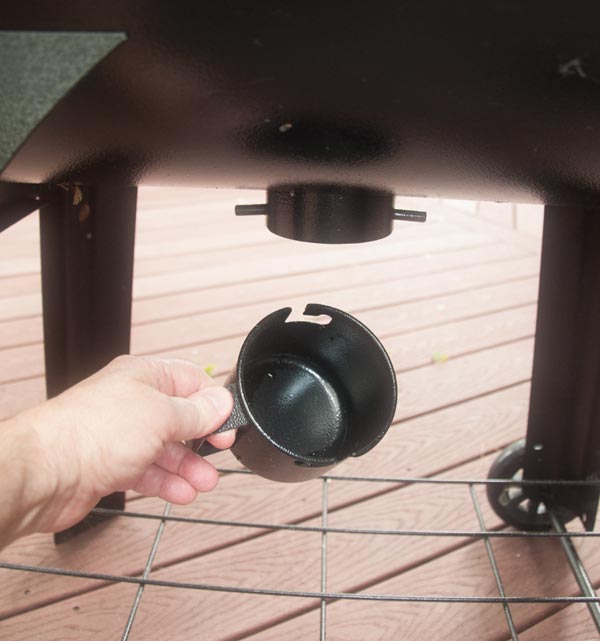 You still have to clean out the bottom of the smoke box periodically, but you don't have to worry about a clogged firepot that could impair the smoker's performance.
After we fired up SG the first time, the ash removal slider was suddenly difficult to move. Camp Chef's customer service was aware of the problem. The Chinese manufacturing facility that makes SmokePro SG applies a coating to prevent rust while the unit is in transit or in storage. This coating can melt down into the ash removal slider and gunk it up. We were advised to remove the ash cup and smack the unfinished metal trap door vigorously with a hammer from underneath to loosen it up. Camp Chef claims this only occurs on a small percentage of units.
Dual meat probe controller
The souped up, notched dial thermostatic controller not only provides "set it and forget it" cooking, it also has an LED readout that toggles between your set cooking temp and internal meat temperatures monitored by two independent, stainless steel meat probes included with SG. You'll get accustomed to the convenience of these integrated meat probes right away. In addition to notched temp settings of 175°F to 400°F degrees, the controller has "Shutdown," and "Feed" settings as well as "Lo Smoke 160°F," "HI Smoke 220°F," and "HI (approximately 500°F)" settings. The two low-temp BBQ "Smoke" settings allow pellets to produce extra smoke by smoldering rather than burning.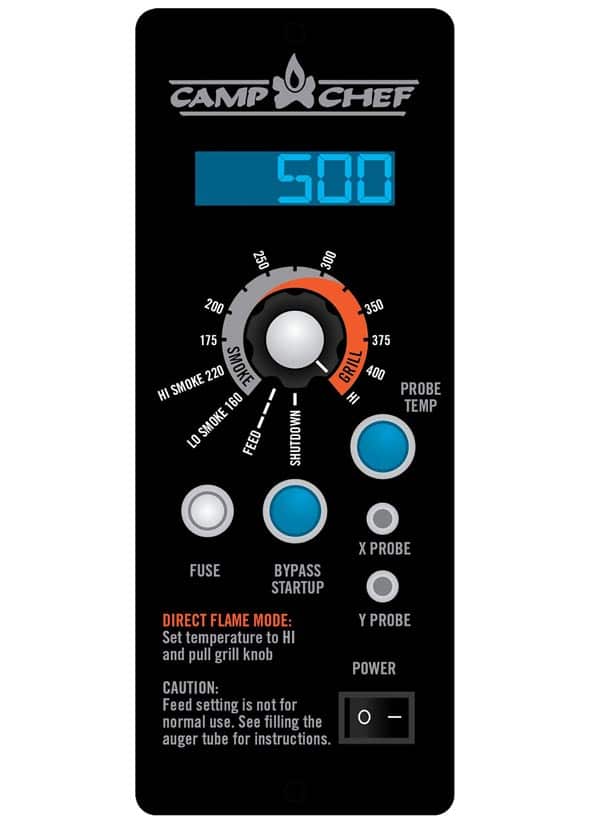 When fuses blow on most other pellet smoker controllers, changing them can take some effort. A convenient feature of the SG is the location of the fuse right on the control panel.
Large capacity
Camp Chef's SG 24 inch wide smoker comes with two coated, thin steel rod primary cooking grates that provide 418 square inches of cook surface.
Two plated steel rod upper grates add another 365 square inches of cooking space, almost doubling capacity.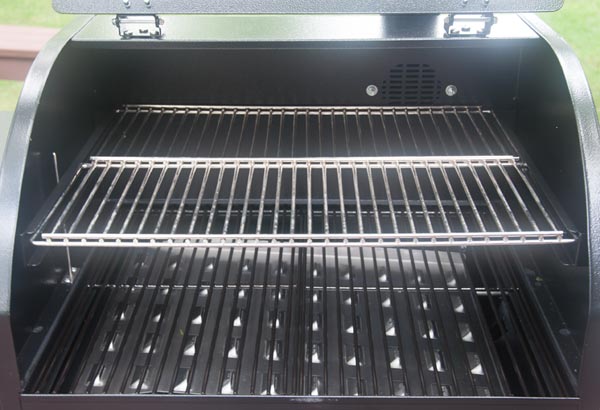 The hood is three inches taller than previous models to give extra head room for the upper racks. The two integrated meat probes enable you to monitor internal food temps on both levels, although cooking temps on the main and upper racks are pretty similar. If you're looking for lots of smoking real estate with a mid-size footprint overall, the even cooking temps from top to bottom are a great selling point for SG. If you want even more smoking real estate, Camp Chef also offers a bigger SGX model.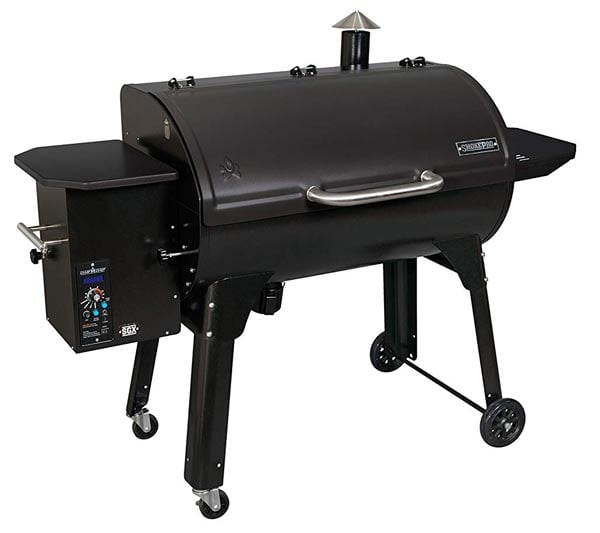 SmokePro BBQ Sear Box
Most pellet smokers aren't good at searing. Unfortunately, Slide and Grill is one of them. However, Camp Chef offers the SmokePro BBQ Sear Box, an optional LP gas sear burner, that solves the problem. It can be added onto current Camp Chef SmokePro Pellet Grills by removing the right side shelf and using the existing hardware to mount the sear burner.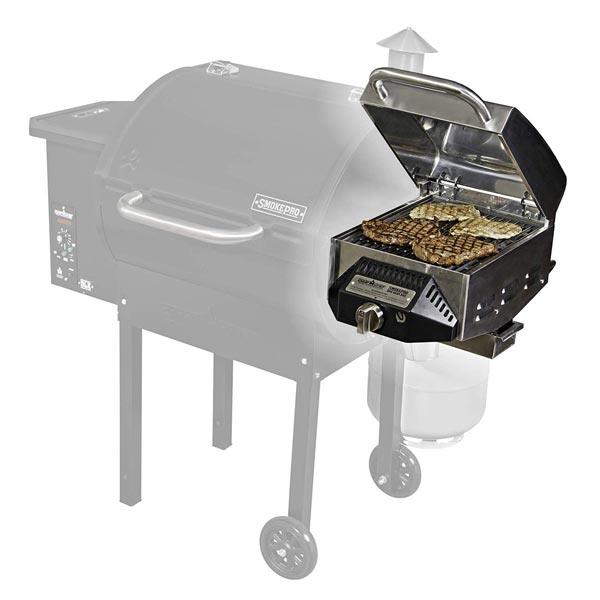 Now, this baby gets HOT! The 16,000 BTU burner ranges from a low of 480°F to a high of 900°F, which is fantastic for reverse seared steaks. Cook the steaks low and slow in the smoker at 225°F until the meat probe registers an internal temp of about 110°F, then slap them onto the sear box to sear and finish. Flip like you've never flipped before! And don't walk away because it won't be there long before a beautiful brown crust forms and the meat's internal temp climbs to the delicious Chef's Temp medium-rare range of 130° to 135°F. Of course, if you already have a grill that hits high searing temps, this option that runs a couple hundred bucks isn't strictly necessary. But if you don't, click here to get your crazy hot Sear Box!
Slide and empty the pellet hopper
SG has one more slider. The 22-pound capacity pellet hopper is equipped with a drain to empty pellets if the grill will be stored for a long time or if you are switching to a different wood. The chute slides open via a pull out knob and empties into a bucket or bag.
Conclusion
The Camp Chef SmokePro SG smoked meats flawlessly. Although we were disappointed in the high temperature performance of the Slide and Grill function, this is a solid, well made pellet smoker with beaucoup capacity and useful features.
Packaging was excellent with all parts held firmly in molded foam inserts. It comes almost fully assembled. All you need to do is attach the legs, side shelf, chimney and lid handle – no wiring required.
Three year warranty.
We thank Camp Chef for providing a SmokePro SG for our tests.