FIRECRAFT APPEARS TO BE OUT OF BUSINESS.
The FireCraft Pellet Q-450 is a mid-size, stainless steel pellet smoker. In addition to being made almost entirely of stainless steel it has a couple other unique features. Foremost is an impressive optional sear station. Although they are often called pellet grills, most lack the ability to effectively achieve high temperature searing. FireCraft accomplishes this with a three-stage small flame, medium flame, and high flame firepot and an optional "Sear Station" shown below. All models come standard with the three-stage flame settings, but the Sear Station, which is necessary for optimal searing, runs about $50 extra. A FireCraft branded forked spatula used on the raised grate side is included.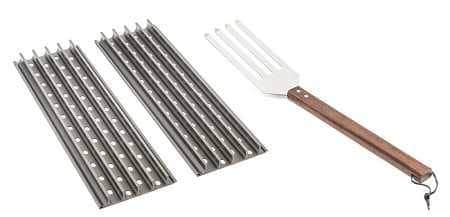 Sear Station
The Sear Station consists of two extruded aluminum cook surfaces with a flat side and a raised grate side that amplify and even out heat over the entire left side of the cook surface. They are custom made for the Q-450 by GrillGrates (TM). GrillGrates may be the best thing to happen to low power gas grills and pellet smokers since salt and pepper. If your current cooker struggles to sizzle and sear, GrillGrates will boost the cooking temp considerably. Click here to see the different sizes available to order.
Most pellet smokers have a flat drip plate right beneath the cooking grates which is tilted to channel drippings into a grease tray or bucket. The Q-450 has an arched drip plate, below left, with a removable cut out above the firepot. Remove the cut out to expose the firepot, then replace the standard steel rod cooking grate above it with the extruded aluminum Sear Station, below right.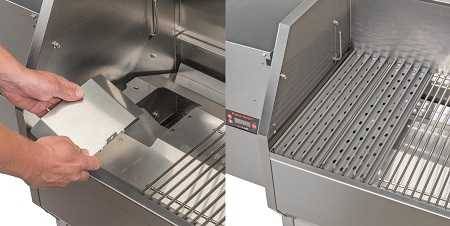 You then preheat the smoker to 425°F. Open the lid and raise the cooking temp to 500°F. The display will show options for F1 (small flame), F2 (medium flame), and F3 (large flame). A column of fire shoots up licking the bottom of the Sear Station. The column of flame increases in size from F1 to F3. Always leave the lid up when using the sear option. The aluminum grates store the heat and even it out. Some other pellet smokers have similar designs that expose food to direct flames from the firepot, the Q-450 is one of the best we've tested although it relies heavily on the optional Sear Station.
When the Q-450 rolled out, FireCraft pitched it as the only all stainless steel pellet smoker made in the USA for under $1,000. Initially it was made with 430 grade stainless and had an MSRP, (Manufacturer's Suggested Retail Price), of about $900. Now it is being made in China with higher quality 304 grade stainless steel with an MSRP of about $1,000. Click here to learn more about stainless steel. We tested the first US made model. FireCraft tells us there is little functional difference: "Like the US made grill you have, all the exterior pieces, the majority of the interior pieces, and the hardware is stainless. A few pieces inside in the pellet hopper are galvanized steel and the grill grates are chrome-plated. The only changes are that the grade of stainless switches from 430 to 304 and the factory moves from the US to China." If you buy online direct from FireCraft, they sell for the new MSRP of about $1,000 with free shipping. So far their new dealers are selling at the MAP, (Minimum Advertised Price), of the original $900 target.
Set It and Forget It
Pellet smokers work much like your indoor kitchen oven with a sensor inside that relays the current cooking temperature to a controller that turns on an electric element or gas burner as needed to hold your set cooking temp. Pellet smoker controllers feed wood pellets to a burning firepot as needed in a similar manner. They are outdoor BBQ ovens with smoke. The Q-450 has an 18 lb. capacity pellet hopper that will hold enough fuel for many hours of low and slow smoking. You can put a brisket on at night, set the temp to 225°F and go to bed for an evening of sweet dreams, knowing you'll wake up to tasty smoked meat. FireCraft's pellet hopper can easily be emptied via a small chute at the bottom. This feature is handy when changing wood types or packing the smoker away for storage. Click here to learn more about pellet smokers.
FireCraft uses an advanced PID touchpad controller, (below), that is extremely accurate. It also has an integrated meat temperature probe. Plug the probe in on the right side of the controller and thread it though a meat probe port on the smokebox to insert into foods. The LED display can toggle between set temp, actual temp, and internal meat temp. When using the meat probe, you must select the internal meat target temp. If cooking brisket, you would set the meat target temp to 203°F. When the internal meat temp hits 203°F, the controller automatically drops the cooking temp down to 180°F to stop cooking and keep warm. The meat probe's automatic drop-to-hold function is nice when cooking briskets and pork butts, however, you have to be mindful that auto hold does not work for foods like chicken and fish that have internal doneness temps below 180°F. The internal meat holding temperature cannot be set below the default holding temp of 180°F. So if you're cooking something like chicken to 165°F internal temperature, you have to monitor it the old fashioned way: keep an eye on the meat probe temp and pull the chicken off at 165°F, or the controller will keep cooking until the internal temp registers 180°F.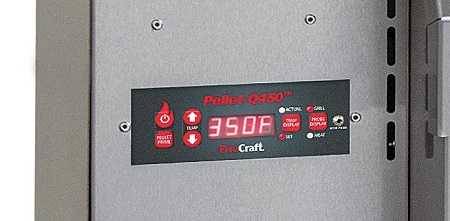 Smoking and Roasting at 225°F and 325°F
The PID controller held cooking temps accurately and heat was very even across the cook surface. The Q-450 doesn't have a chimney. Instead, it uses rear vents that run from left to right along the back. FireCraft feels this venting enhances the cooker's even heat profile.
Packaging was good with all parts protected from damage in transit. All stainless steel was completely covered with laser film, below.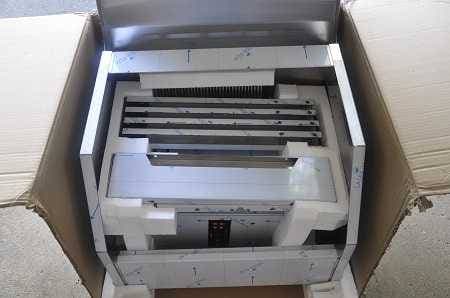 Leaving laser film on stainless steel cookers is a common practice for obvious reasons. Stainless steel can be expensive and buyers will be upset if their shiny new grill has blemishes. It's usually a pain to remove, but lovers of the shine appreciate the manufacturers' intentions. On the Q-450, some of the film was tucked under folded parts or rivets and was impossible to remove completely (see below). Additionally, some edges on the cooker were rather sharp.
That said, if you're hooked on the look of shiny stainless steel and want a set-it-and-forget-it, all-stainless pellet smoker that can do double duty as a grill, the Q-450 is the least expensive model we know of.
Firecraft includes a three year limited warranty against defects in material and workmanship, two years on electronics. Does not apply to firepot, grill grate, meat probe, internal sensor or damage caused by corrosion.