Green Mountain Grills Daniel Boone Choice Pellet Smoker Review
By: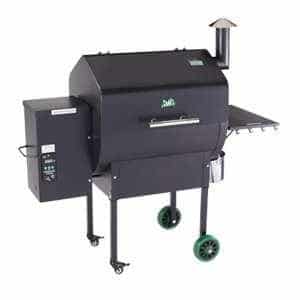 The Green Mountain Grills Daniel Boone Choice is their most popular model. Green Mountain makes two lines of pellet smokers: Choice and Prime. The Prime models have similar names but include WiFi and several other extras. Even the Daniel Boone Choice includes some features not common in lower price pellet smokers and that often cost extra even in higher cost cookers. There's a standard meat probe feature that reports the internal temperature of what's being cooked to the controller read-out, a low pellet alarm, a work surface on both sides, and tool hooks. The touch pad digital controller allows BBQ cooks to enjoy set it and forget ease of use. All cooking grates are stainless steel. The peaked lid has 13.5 inches of headroom. Our posted MSRP is for the basic black powder coated steel model. A shiny stainless steel lid model is available for about a hundred bucks more. GMG claims the temperature range is 150 to 500°F.
Green Mountain Grills used to come standard with a two piece drip pan designed with their "Open Flame Technology". In 2018 they switched to a one piece stainless steel drip pan, however the two piece Open Flame is still available as an option. It consists of one large drip pan with a grid of small holes and a smaller heat shield on top with a corresponding grid of holes. The heat shield slides left to right. When the holes line up, one can see the flame in the firepot. This is meant to expose meat to a searing open flame. We've seen variations on this idea from other pellet manufacturers. It sounds good on paper, but generally doesn't do much. Pellet firepots are small and the flames generated are not powerful enough to make much difference at the grate surface.
Options include a "turbo" mode that automatically kicks in at ambient temperatures less than 35°F to help the cooker get up to operating temperature faster.
On the Daniel Boone Prime, Wi-Fi control lets the cook relax in or outdoors and monitor or even change what's going on without lingering on a hot or frigid patio. Read our review of the Prime model here. But don't waste your money on the optional lid thermometer. The built-in digital thermometer will be way more accurate than this ancient heat estimator. If you want to double check your digital controller accuracy, don't rely on a bi-metal dome thermometer which can be off by 50 to 100°F, plus it's in the dome not down by the cook surface. You'll need a good digital thermometer to double check. Insulation blankets and fitted covers are also available.
Model:

Daniel Boone Pellet Smoker

Manufacturers Suggested Retail Price:

$599.00

Made in USA:

no

Review Method:

Looked Closely At It
We have seen this product up close and we have also gathered info from the manufacturer, owners, and other reliable sources.

Primary Function:

Smoker

Fuel:

Wood Pellets

Main Burners:

1

Primary Capacity:

456 square inches
Published On: 1/23/2013 Last Modified: 3/3/2021
Max Good - Max Good, AmazingRibs.com's Vice President of Product Reviews & Keeper of the Flame, is the man in charge of finding the best products for the AmazingRibs.com Equipment Reviews section. Max bottles his own barbecue sauce recipes and now sells them around the country.

---