Upright Barrel Smokers, aka Ugly Drum Smokers, have been popular for many years. In the past, most were homemade by do-it-yourselfers from a 55 gallon drum, scrounged up parts and a little elbow grease. Hence the "Ugly" moniker. But Hunsaker offers professionally made cookers that are not your father's Ugly Drum Smoker. In fact, they're downright good-looking. They come in a selection of colors and have interesting features meant to improve performance.

Most current Hunsaker owners are competition teams who like to smoke meats "hot and fast". More on hot and fast smoking below.
Vortex charcoal basket
A primary goal of Hunsaker's design is creating even heat and reducing hot spots. One element key to this aim is their unique Vortex Charcoal Basket (below). It consists of the Vortex Plate (left) and Charcoal Basket (right).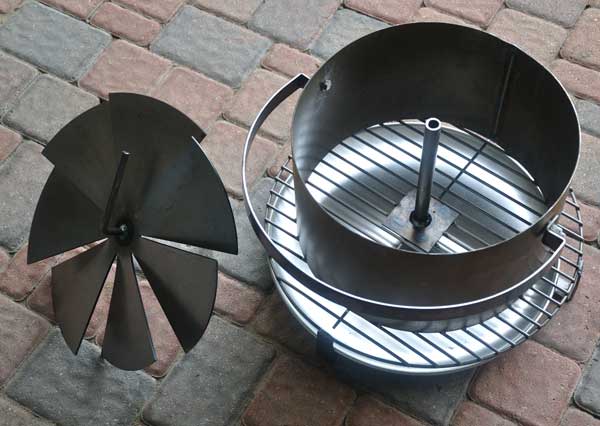 The Vortex Plate fits over the charcoal basket and is meant to direct heat and smoke in a radial pattern up and away from the fire, reducing hot spots. The plate is stationary and does not spin. Below we see the Charcoal Basket with Vortex Plate installed. A carrying handle folds up or down as needed and a removable ash plate slides into the bottom frame. The Vortex Charcoal Basket may be purchased separately for use in other drums and full-size Weber Smokey Mountain Smokers.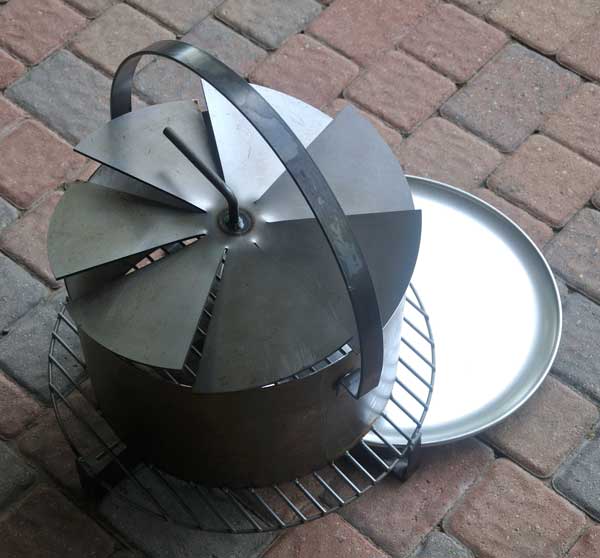 The basket is placed inside a slightly conical heat shield at the bottom of the Hunsaker drum (below). The conical shield is intended to reduce transfer of heat to the drum walls.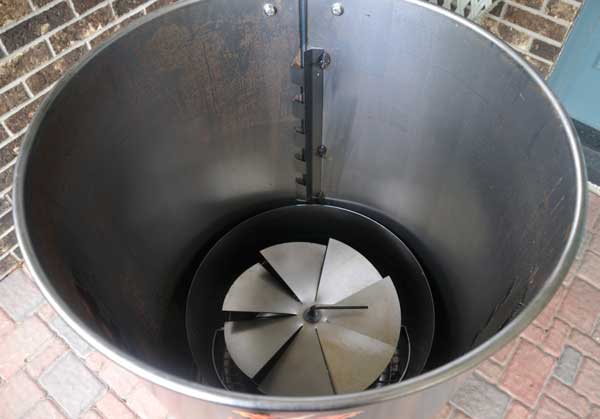 Hunsaker comes with one 21 inch, expanded metal cooking grate that may be positioned at five different levels by inserting the grate in vertical rails that have five notches from low to high. One vertical rail is visible in the photo above. Grates in most barrel smokers rest on pins mounted on the inner wall. Hunsaker's unique design places pins on the rim of the grate. The pins slide into the notched rails (below).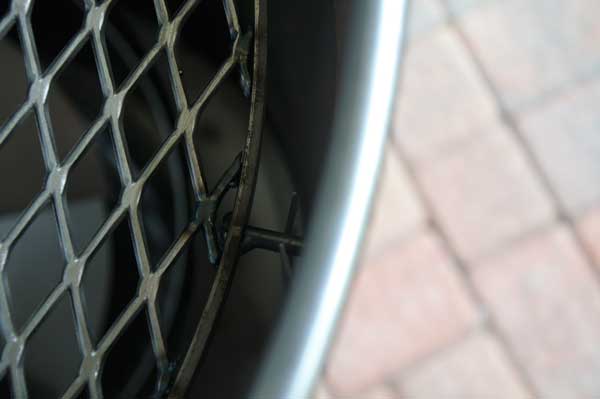 Here is the grate in low position.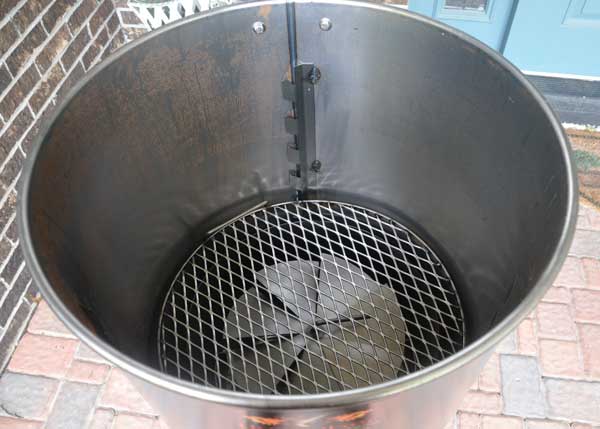 And high position. Most cooking is done in the high position. With a digital thermometer probe placed at the center grate, we tested temperature from top position to bottom position, which turned out to be difficult because Hunsaker is very sensitive to any changes in the cooker. Each time we opened the lid to move the grate down, the temp shot up and we had to tweak and reset the exhaust damper. Nonetheless, we ultimately felt that the heat was pretty consistent from top to bottom.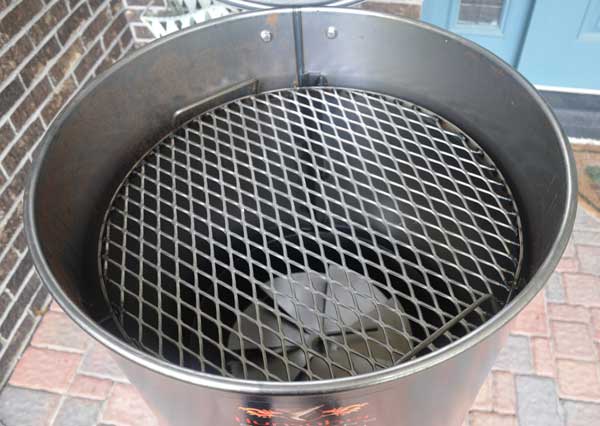 Additional grates may be purchased. Although Hunsaker is a smoker, some owners like to use it as a grill. For easy access when grilling, Hunsaker suggests positioning the Charcoal Basket up high on a second grate placed below the top cooking grate. An optional "Hybrid Rack" may also be purchased to hang meats (below).
The raised bar on the right is used to hang meat from hooks (included with the hybrid grate). Distance from the bar to the Vortex Plate handle is 19.5 inches.
Air dampers
The exhaust damper is located on a chimney mounted to the lid. Hunsaker refers to it as "the throttle". Most cooking temperature adjustments are made with this damper. It is very sensitive and will respond to the slightest change. A bi-metal thermometer is also mounted on the chimney. Hunsaker believes this placement is easier to see and less prone to damage than thermometers mounted to the side of the barrel. Thermometers placed above the actual cook surface don't show the cooking temp in the location of the food. We are fervid advocates for using modern, accurate digital thermometers with temperature probes placed right on the cooking grate. Not surprisingly, our digital thermometer registered slightly higher temps than Hunsaker's chimney unit. Click here to learn about the importance of accurate digital thermometers.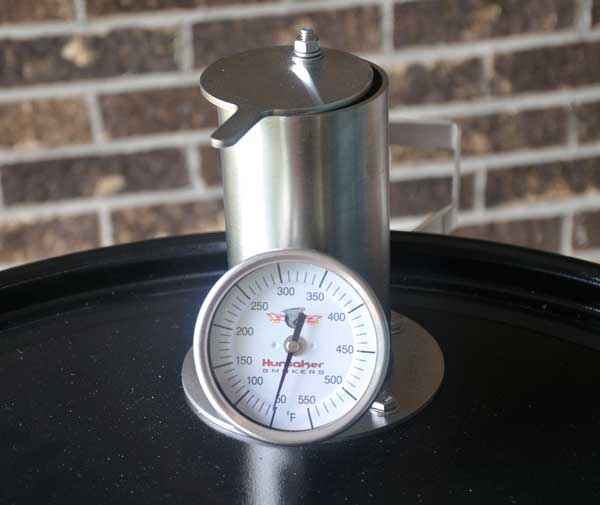 For what it's worth, Hunsaker's thermometer may be calibrated with a screwdriver.
To further the goal of producing even heat, Hunsaker positions their air intake vent at the bottom-center of the barrel, so air gets sucked up the middle of the charcoal basket and is swirled throughout the barrel by the Vortex Plate. This placement also minimizes the effect of wind conditions. The damper is controlled by a foot operated lever shown below. Note the markings for START (wide open), RUN (half open), and STOP (closed). Hunsaker warns, "Smoking can be messy. We suggest you place a large, shallow drip pan under the smoker to catch any grease." Good advice as we quickly discovered.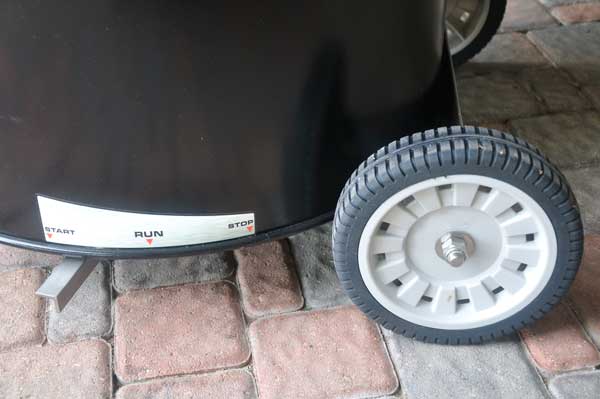 Competition teams appreciate the two large rear wheels. Tilt Hunsaker back and those wheels help move it onto trailer ramps and across most terrain easily. A heavy duty, locking caster is located in front.
Hinged lid
Hinged or roll away lids are always a welcome feature. Hunsaker's clever "floating hinge" (below) lets the lid drop across the entire rim of the barrel to seat and seal completely until you flip it up. It includes a lock for times when you want to leave it up for more than a moment. Incorporated into the hinge is a handle for tilting and moving Hunsaker on those big wheels.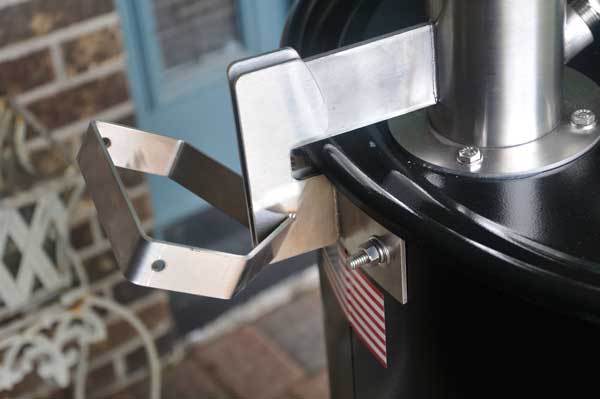 Hot and fast smoking
Low and slow smoking at 225 degrees F is the traditional way of making barbecue favorites like ribs, pork shoulders and briskets. These cuts are loaded with fat and tough connective tissues that will break your teeth if grilled like a steak. But magic occurs when they are cooked low and slow over a long duration. Fats and chewy tissues melt into soft, succulent meat butter, and smoke provides irresistible finish, flavor and aroma. There is a growing trend, however, particularly in competition barbecue, to cook "hot and fast" at around 300 degrees. That's a far cry from intense searing temps, but a departure from low and slow traditions. Upright drum smokers tend to run in that higher temperature range and are popular among the hot and fast crowd. Although Hunsaker says their smokers can run low and slow at 225 degrees, their single page "Operating Recommendations" state, "We normally like to cook between 275-300 degrees."  So we took their advice and shot for 300 degrees.
Poor instruction
As detailed above, there is a lot to like about Hunsaker. But the single page Operating Recommendations had us stumbling straight out of the gate. We had trouble firing up the charcoal and controlling the temperature following the written instructions. So we tried a lighting method shown in one of their website videos, then another method given as verbal advice from Hunsaker over the phone. All of these methods were slightly different and, ultimately, disappointing. Finally, Hunsaker put us in touch with pit boss, Brian Neale of The Smoke Freaks BBQ Team. Neale, a Hunsaker aficionado, advised us to use still another method of starting the charcoal, which helped. That method:
Fill the charcoal basket halfway, then place it in the drum.
Fire up a half chimney of charcoal. When ashed over, dump it on the fresh charcoal in the drum.
Install the Vortex Plate.
With both dampers wide open, close the lid.
When the fire rises to target temp, slide the lower intake damper to the middle RUN position and close down the upper exhaust damper to three quarters of an inch open.
After using this method to get it fired up, everything we cooked was good. A flight of chicken wings, below, demonstrated Hunsaker's even cook surface, and the wings finished up crisp and delicious.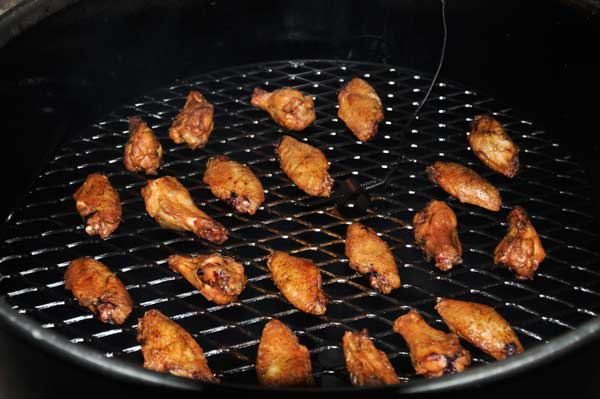 We tried hot and fast brisket. The six pound choice grade flat show below finished fast in three hours by following pitmaster Neale's instruction. And it was pretty dang good! Here's a short version of his recipe: cook for two hours then wrap in aluminum foil with a cup of liquid (we used beef broth), back on the smoker for about another hour until the the meat is probe tender. Neale said it's OK for the internal meat temp to go a little hotter than low and slow brisket.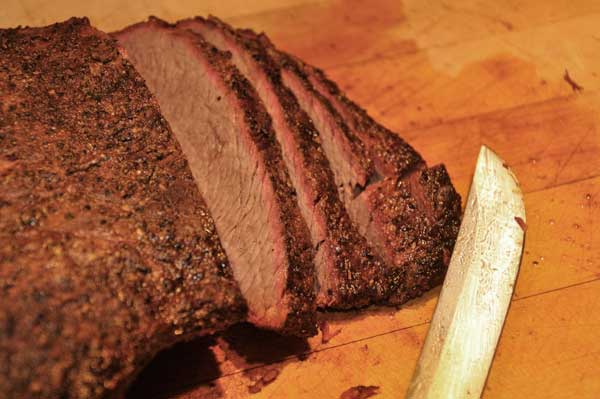 For a more detailed, championship worthy brisket recipe from The Clark Crew BBQ Team, winners of the 2017 American Royal Barbecue Invitational, click here.
This was all well and good, but after several cooks using various methods with both briquets and lump charcoal, we never felt fully in control of Hunsaker. It wasn't that temps swung wildly out of control, but they drifted. If temp drifted up and we closed the exhaust damper "throttle" just a tiny bit, temp would start drifting down, sending us back to tweak the throttle. Up and down and in and out we went. Hunsaker is one of the most sensitive smokers we've used and we struggled to stabilize temps.
To gain further insight on stabilizing this unique smoker, we searched the internet for reviews and comments. The few we found were consistently favorable. One review by a competition cook commented on the set-it-and-forget-it stability of her Hunsaker. And champion pitmaster, Harry Soo of Slap Yo Daddy BBQ, had high praise for the Vortex Charcoal Basket which he uses in his Weber Smokey Mountains. Pitmaster Neale lauds Hunsaker's super temperature sensitivity, which he views as nothing but positive.
Since skilled, competitive teams are Hunsaker's target demographic, the company may not feel detailed instruction is needed. I've never been in competition, but I'm no rookie either, and if I have trouble with a smoker, it's a good bet others will too. We strongly feel Hunsaker needs to do a better job with their lighting and stabilizing instructions, particularly considering the unusual design. Providing info on hot and fast smoking would also be a good idea.
Conclusion
Hunsaker is a small company manufacturing smokers for competition teams. Clever and useful features such as the big wheels, floating lid hinge, wind resistant air intake and, of course, the Vortex Charcoal Basket serve to differentiate Hunsaker from other brands and they are gaining presence on competition fields. Residential cooks beware. This is not a smoker for first timers. It's not a starter product, and not the one and only cooker you probably want on your deck or patio. But aspiring backyard pit bosses interested in hot and fast smoking might be interested in adding this to their arsenal.
Hunsaker is well made with sturdy fit and finish. Standard color choices are Gloss Black, Gloss Red, Gloss Blue, Flat Black and Metallic Silver. Custom colors and team logo plates are available.
Warranted free from mechanical defects for one year after date of purchase.
We thank Hunsaker for providing a Vortex Smoker for our tests.