THIS MODEL IS DISCONTINUED. REC TEC OFFERS SOME NEW MODELS WITH SIMILAR FEATURES. In 2020 the company changed their name to recteq.
REC TEC Grills RT-680 basic body is very similar to Traeger's Texas Grill. Both are large pellet smokers for just under $1000, but REC TEC offers significant upgrades. Instead of the Ortech style dial controller employed by Traeger, REC TEC's touch pad, proportional-integral-derivative controller (PID controller) is made to their specs by Roanoke Controls: the same company that makes the superb Memphis Grills controllers. PID controllers are used in many industrial applications to detect and correct error values or fluctuations between a measured value and a desired set point.
Although it does not have an integrated meat probe or wireless capability, REC TEC's controller toggles between set temp and actual temp and has a cool down function and, best of all, it just plain works great. The test model we received from REC TEC consistantly hit set cooking temperatures and held them evenly from left to right across the entire cooking surface. We smoked BBQ ribs, brisket, pork shoulder, chicken and salmon with the greatest of ease and got excellent results every time. In fall of 2014, REC TEC replaced the Pellet Primer button on previous models with an Extreme Smoke button. Extreme Smoke can only be used in lower temps from 180° to 250°. It directs the fan to oscillate on and off to allow the pellets to smolder more and create more smoke.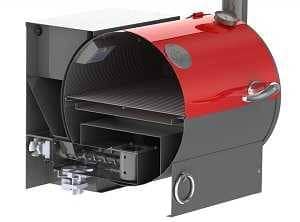 Like Memphis, REC TEC places the hopper at the back and burn pot at the center of the cook chamber. This allows use of a large, 40 pound double hopper and a shorter auger, increasing unattended cook time duration, creating efficiency in pellet transport and reducing stress on the auger motor. Central location of the burn pot may enhance heat distribution and account in part for the evenness of temperature across the grates.
The controller, mounted on the left side, also acts as a side table and has tool hooks. A lower storage shelf is included and the flat lid of the double hopper can be used as an additional shelf. REC TEC burns about one pound of pellets per hour at 225F so you probably won't need to open the hopper lid while cooking. In mild weather, the hopper "shelf" gets hot enough to be used as a make-shift warming tray.
All pellet grills need to be plugged into an AC outlet. REC TEC wisely takes advantage of this requirement to include a very useful internal hood light. Seams are welded, powder coated and caulked. Grill grates are one quarter inch, marinade resistant, long lasting stainless steel rods. The firepot, heat deflector and drip pan are also stainless steel. Grab the handle on the right under the chimney and it moves easily on two large, plastic wheels and two locking casters.
Overall assembly was easy. REC TEC comes with a drip bucketful of hardware and a very basic diagram that provides adequate instruction. However, we could have used a bit more detail about which nuts, bolts and washers go where. That said, new owners may experience an immediate sense of satisfaction while handling the heavy duty hardware that bolts this baby together.
No review of REC TEC would be complete without comment on the striking and appealing appearance. With its bright red powder coated hood and shining micro polished stainless steel bull horn handles and nose ring towel holder, it's a mighty cool looking cooker that's a pleasure to use.
Six year warranty. Most sales are direct.