I don't care what your butcher says or the label on the tray of meat says, London Broil is NOT a cut of meat. It is a cooking method. And here is how to cook it to perfection!
I have seen butchers label everything from flank steak to porterhouse "London Broil." NOT! London broil is usually a large thick cut steak or small roast from a lean hardworking muscle, marinated and broiled or grilled, and cut in thin slices across the grain.
The odd part is that the term broil is not commonly used in London. Over there, they call it a "grill" of all things.
Spotlight on our favorite products
Bring The Heat With Broil King Signet's Dual Tube Burners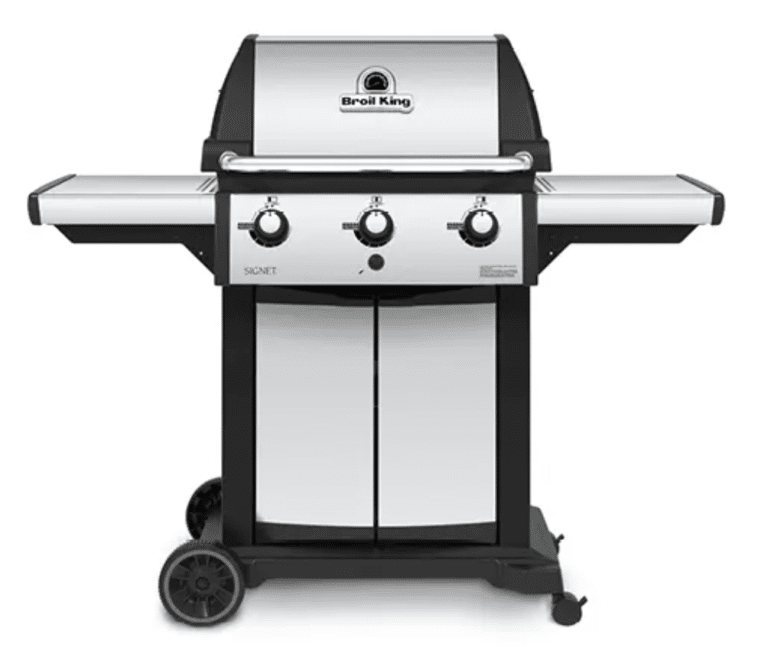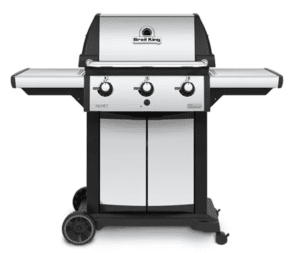 The Broil King Signet 320 is a modestly priced, 3-burner gas grill that packs a lot of value and power under the hood including dual-tube burners that are able to achieve high, searing temps that rival most comparatively priced gas grills. Click here to read our complete review.
– THIS IS NOT AN AD –
To make London Broil, I use chuck roasts, top round, sirloin, or coulotte. I make a concentrated, intensely flavorful brinerade with soy sauce as the salt source. I leave it in the liquid for several hours, overnight sometimes. And then I break several Meathead Methods.
Normally we leave oil out of marinades because it cannot penetrate meat, which is 70% water. Normally we pat meat dry to encourage browning. A wet surface steams, and if there is sweetness, the surface can burn. With London Broil, the surface steams and helps cool the thick cut of meat so it doesn't burn. The result is a beautiful dark slab that smells heavenly.
Here's how to make a London Broil the right way, starting first with a flavorful marinade then finishing it on the grill for a kiss of smoke.
Serve with: a cabernet.
---
---
Makes:
---
Takes:
---
Ingredients
2

pounds

beef steak, 1 to 2" thick

(read more about selecting the right cut below)

5

tablespoons

dark soy sauce

2

tablespoons

vegetable oil

1

teaspoon

toasted sesame oil

4

cloves

garlic 

2

tablespoons

Italian seasoning blend

1

teaspoon

black pepper

1

teaspoon

gochujang or another hot sauce or pepper paste
Notes:
About the beef. For London Broil I usually select a thick lean cut such as top round or sirloin or occasionally a chuck roast.

Try to buy a slab that is uniformly thick so it cooks evenly, unless you have someone who wants it slightly overcooked. Then a tapered end has his or her name on it.
About the gochujang. This is a spicy hot and salty Korean-style miso paste but you can use another hot sauce if you don't have it. Don't worry too much about the heat. Each slice of meat has only a 1/4" (6mm) wide layer of marinated meat on the surface so it will not be too hot.
Optional. If you are using a very lean cut, make a horseradish compound butter and place some on the hot meat so it melts. Just soften a stick of butter and mix in 2 tablespoons of horseradish or an herb, then chill.
Metric conversion:
These recipes were created in US Customary measurements and the conversion to metric is being done by calculations. They should be accurate, but it is possible there could be an error. If you find one, please let us know in the comments at the bottom of the page
Method
Prep. Trim any fat cap and silverskin off the meat.

Combine the balsamic, soy, oils, garlic (press it or mince it first), seasoning and pepper in pan or a large zipper bag and slide the meat in. Place a zipper bag in a bowl in case it leaks. Chill for 4 to 24 hours. Every 30 minutes to an hour, roll it around so all sides of the meat stay wet.

Fire up. Set up your grill for 2-zone cooking and get the hot zone really hot.

Cook. Place the meat in the indirect zone and let it warm until it hits about 125°F (52°C) in the thickest part. Then move it over the high heat, lid up, and flip often until it gets really dark all over but not burned. Remove from the grill.

Serve. Slice across the grain about ¼" (6mm) thick, plate, and serve.
---