Opening an oyster shell isn't hard once you know how. There are special knives for oyster shucking like this one on Amazon. They are thicker than a normal knife with a tapered point, but not a sharp point. They usually have one sharp edge for cutting the adductor muscle. If you don't want to buy a monotasker, a screwdriver with a thin blade will work to pry open the shell, and a paring knife will work to cut the adductor.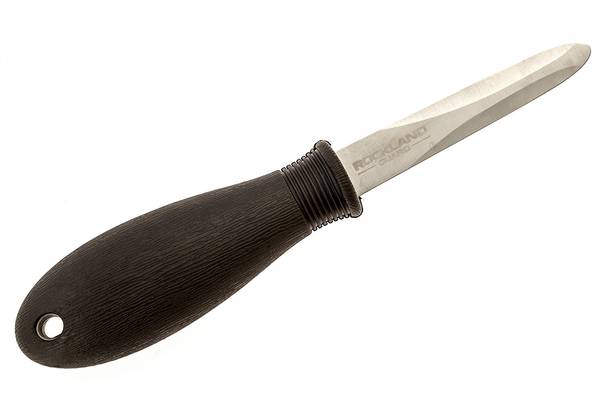 It is also a good idea to wear a protective glove. Sometimes the knife will slip and it can severely cut your hand. The best gloves are cut-proof.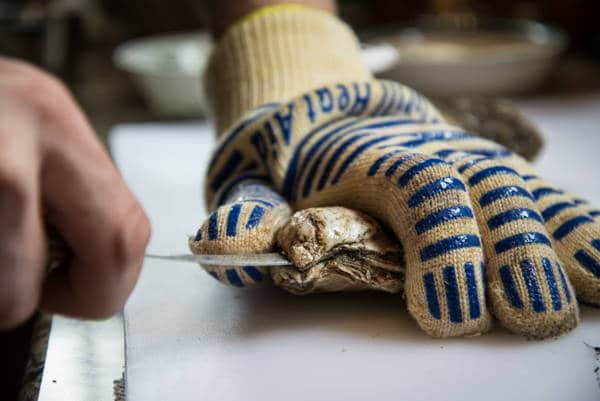 Step 1) Make sure the edges are perfectly clean with no bits of broken shell. Even the slightest bit of crunch would ruin the creamy luxurious texture. To make shucking easier, pop the oysters in the freezer for 20 minutes to numb their muscles. If you are right handed, sit the oyster on a flat surface, round end (belly) facing down, and pointed end facing right. That is where the hinge is. Place your left hand on top of the oyster and grasp the knife firmly in your right hand. With the pointed end find a gap between the shells near the hinge and work the point in about 1/4″ with the point angled to the table, not your hand. Then twist the knife to pop open the hinge. ow wipe off the blade on a towel otherwise crumbled bits of shell will get into the meat.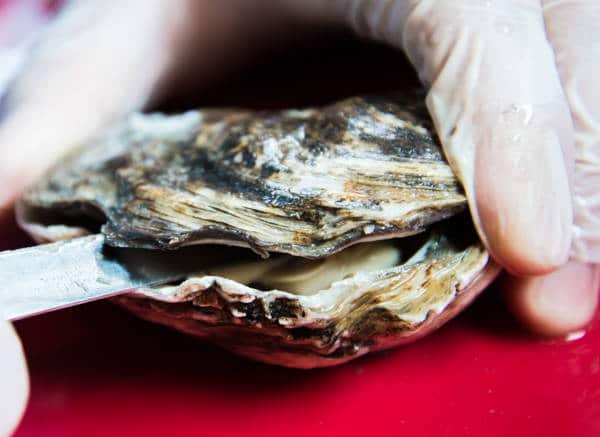 2) Work the knife around to the opposite side and with a twist the shell should pop open. The adductor muscle on the inside of the shell connects the meaty center to the shell. Insert the knife and sweep it along the shell. This should cut the adductor and the shell should lift off easily. Now wipe off the blade again.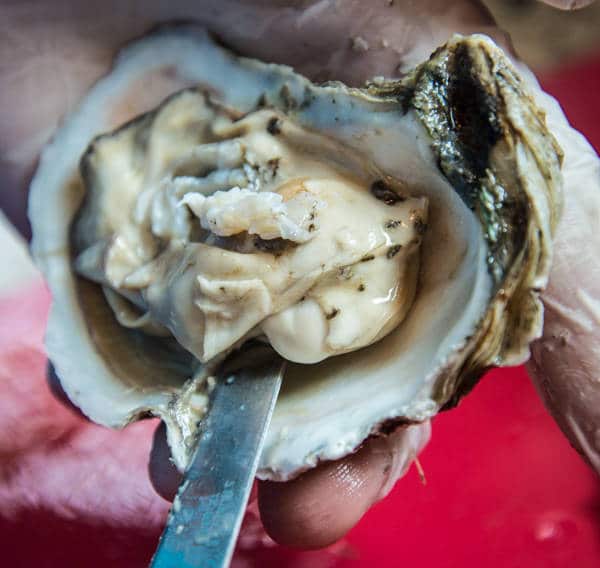 3) Repeat the sweeping action along the other half of the shell and the oyster meat should be loose in the shell. The liquid from fresh oysters should be clear. Cloudiness indicates older oysters that have begun to break down.
Cooking them
You can now slurp it down, splash some horseradish or hot sauce on, or a squirt of lemon. For a pretty presentation, flip the meat over. The other side is nicer looking. Or try this classic recipe for Oysters Grilled with Roasted Garlic Butter and Romano.
Here's another idea: Leave it in the shell and add some bread crumbs, parm, herbs, spinach, butter, Pernod, and then toss it on the grill.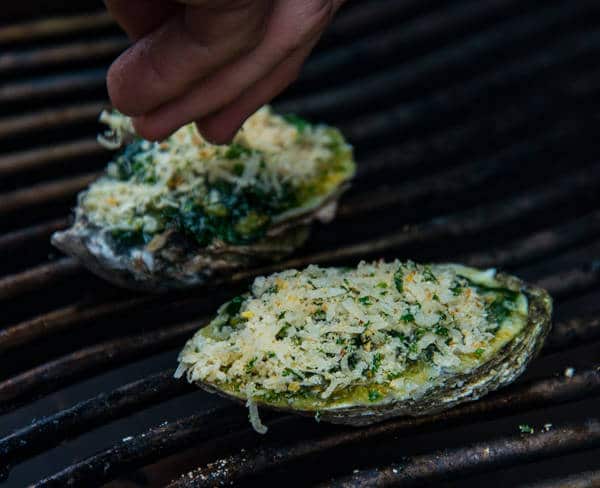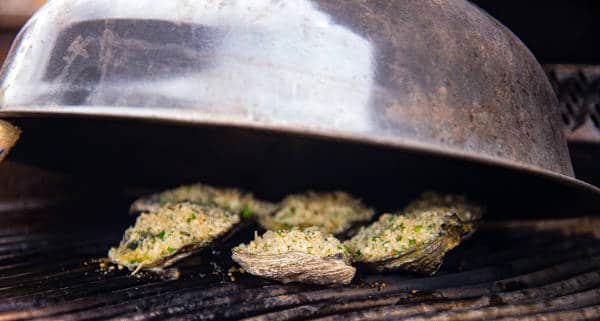 Toss some wood chips, dried herbs, hardwood sawdust, or even clean hay on the fire to make lots of smoke and cover them with a bowl or pan to capture some smoke.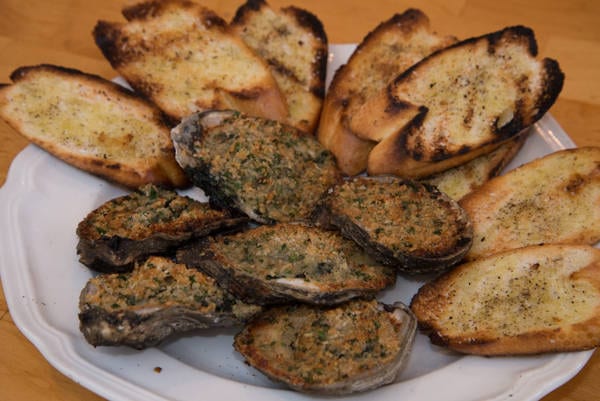 Or you can remove the meat and put it on a grill topper on your smoker and smoke them.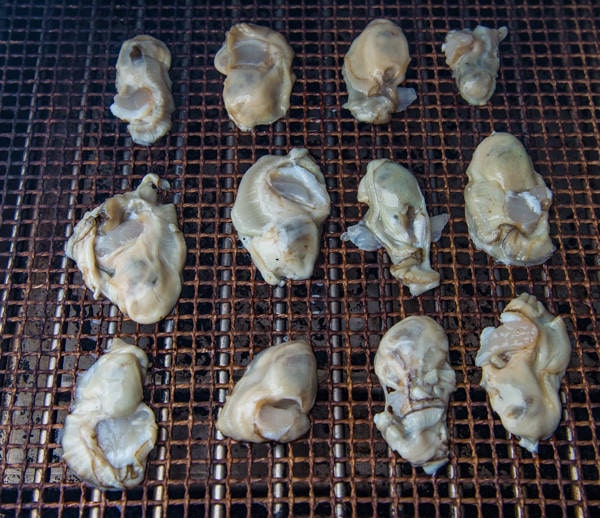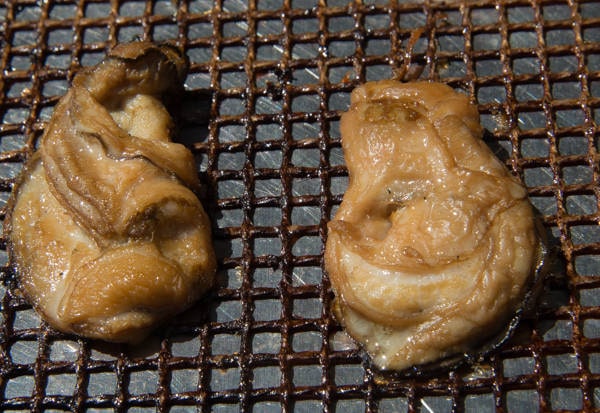 Smoked oysters on a cracker, on garlic bread, folded into puffed pastry. Oh my.