"Knowledge is knowing that a tomato is a fruit. Wisdom is knowing not to put it in a fruit salad."Brian O'Driscoll. Read more at: https://www.brainyquote.com/quotes/brian_odriscoll_680037?src=t_salad
My favorite coleslaw draws inspiration from the famous Waldorf salad. The original Waldorf salad was invented in 1896 by Oscar Tschirky, the dining room manager at the renowned Waldorf-Astoria Hotel in New York City. Known as "Oscar of the Waldorf", Tschirky also is credited with inventing Veal Oscar, veal cutlets with crabmeat, asparagus, and bearnaise sauce. At the time the glamorous hotel was located on 5th Avenue, but it was torn down to make room for the Empire State Building in 1929. The Waldorf is now on Park Ave.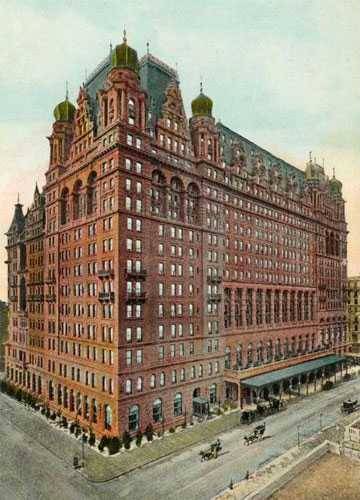 This riff on the classic Waldorf salad uses cabbage rather than lettuce, but like the original, it has apples, walnuts, and it is crisp, delicate, crunchy, sweet and sour, and downright addictive. Whip up a batch of this flavor packed side dish before your next BBQ and grilling cookout and you can thank me later!
Waldorf Slaw Recipe
No BBQ or grilling party is complete without coleslaw but unfortunately this beloved side dish can be lacking in flavor. The recipe for a great slaw borrows from the famous Waldorf Salad, replacing lettuce with cabbage before adding apples and walnuts for a crisp, delicate, crunchy, sweet and sour coleslaw.
Yield. About 12 servings
Preparation time. 30 minutes
Let it sit. Let it chill in the fridge for at least an hour if possible.
Ingredients for the dressing
1/3 cup white sugar
3/4 cup natural (unseasoned) rice wine vinegar
1/4 cup vegetable or corn oil
1 teaspoon celery seed
1 teaspoon Morton's coarse kosher salt (read more about the science of salt here)
1 teaspoon freshly crushed black pepper
Ingredients for the slaw
1 crunchy apple
1 pound green cabbage (about half a head)
3 large carrots, peeled
6 scallions, finely chopped
1 medium red bell pepper, seeded, stemmed, and chopped small
1/2 cup celery, chopped small (about 2 medium stalks with leaves removed)
1 large green jalapeño
3/4 cup walnuts (in a pinch you can substitute pecans)
1/2 cup dried cranberries or raisins
About the vinegear. Rice wine vinegar is very mild. It is not hard to find. Most groceries carry it. Some are seasoned and some are not. Get the unseasoned if possible, but the seasoned will do. If you must use distilled white vinegar, use less, about 1/2 cup.
Method
1) First, read my article on The Science of Slawsome Slaw.
2) Whisk together all the dressing ingredients.
3) Core and chop the apple into chunks about 1/4 inch. Leave the skin on. Add it to the dressing immediately and mix to keep it from browning.
4) Slice the jalapeño in half and remove the seeds. If you wish, you can also remove the white ribs, where most of the heat hides. Slice into thin slivers and then chop into tiny bits so nobody gets a big chunk of heat. Add to the dressing. Wash your hands thoroughly after handling hot peppers or better still, wear gloves or use a paper towel when doing the cutting. If you do not wear gloves, be sure not to rub your eyes, or touch any other moist parts of your body, or any one else's.
5) Chop or shred the cabbage and add to the bowl. Add the rest of the salad ingredients except the nuts and cranberries. Hold them aside. We don't want them getting soggy. Toss thoroughly.
6) Taste and adjust the salt, pepper, vinegar, and anything else you wish to suit your taste. Chill for at least one hour to extract the flavors from the celery seeds and vegetables and to allow them to marry. More than an hour is better.
7) Warm the walnuts in a dry frying pan over a medium heat for five minutes, until the meat starts to brown slightly. This brings the oils to the surface. Add them and the cranberries to the salad just before serving. Sing "Take me back to Manhattan."