Fluke 62 Mini Review
By: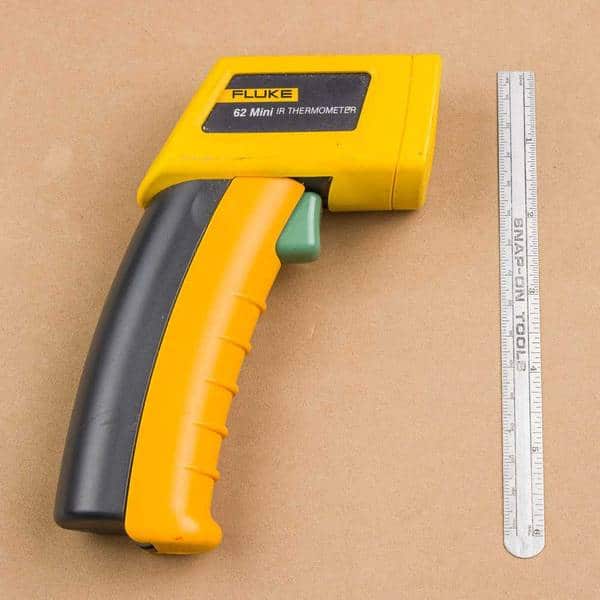 This IR gun has a 1:10 measurement cone, meaning that the area sensed is one foot in diameter when it is ten feet from the gun. Operation is straightforward: pull the trigger, position the laser pointer on the area to be measured, and read the display which backlights for operation in darkness. Both the instantaneous temperature and the maximum temp during this trigger pull are displayed. No data is stored; each trigger pull takes a new reading.
Fluke is one of the premier manufacturers of electrical test equipment. This is their basic model. It is solidly made, with a rubberized housing that would make it resistant to damage from reasonable drops. We give it a Bronze medal for meeting expectations and ease of use. It appears that this model may be out of production, but the link to Amazon below redirects you to a replacement model which we have not tested.
Thermometer Function:

Infrared Gun

Manufacturers Suggested Retail Price:

$75.00

Where to buy (buying from this supplier supports this website):

Probe:

None

Battery Type:

9 Volt

Battery Life:

12 hours

Safe Operating Range:

32 to 122ºF (0 to 50ºC)

Min & Max Temp:

-20 to 932ºF (-30 to 500ºC)

Display Precision:

0.5ºF (0.2ºC)

Actual Temp at 32 Degrees:

n/a

Actual Temp at 130 Degrees:

n/a

Actual Temp at 225 Degrees:

n/a

Actual Temp at 325 Degrees:

n/a

Actual Max Temp:

n/a

Speed from 32 to 212 Degrees:

Not applicable

Speed from 32 to 212 Degrees:

n/a

Numbers Display Size:

0.5" (12mm)

Water Resistance Rating:

Not specified

Weight:

7 oz (200 g)

C/F Switch:

Built in CF switch

Backlight:

Built in Backlight

Auto shutoff:

1

Color Options:

Yellow/gray

App:

None

Logging:

No

Included:

Thermometer, batteries, instruction sheet

Available Accessories:

None

Alarms:

None
Published On: 7/6/2014 Last Modified: 1/25/2021
Bill McGrath - Bill McGrath is AmazingRibs.com's Thermometer Maven. He has sophisticated equipment, an electrical engineering degree from Cornell University, and an MBA (almost) from UC Berkeley. Despite being mostly retired, he is still the person responsible for developing and updating all of ExxonMobil's training modules.

---