Maverick ET-32 Redi-Check Rapid Read Probe Review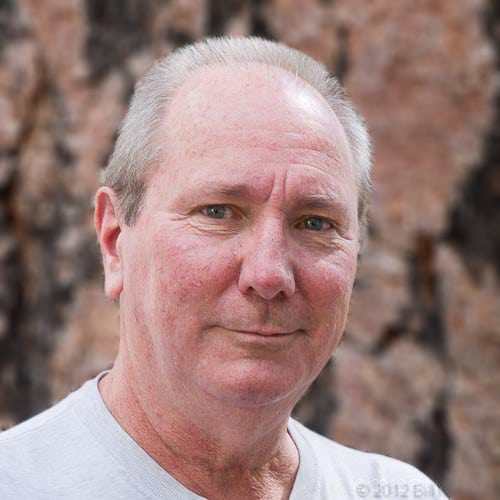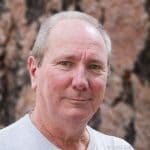 By: Bill McGrath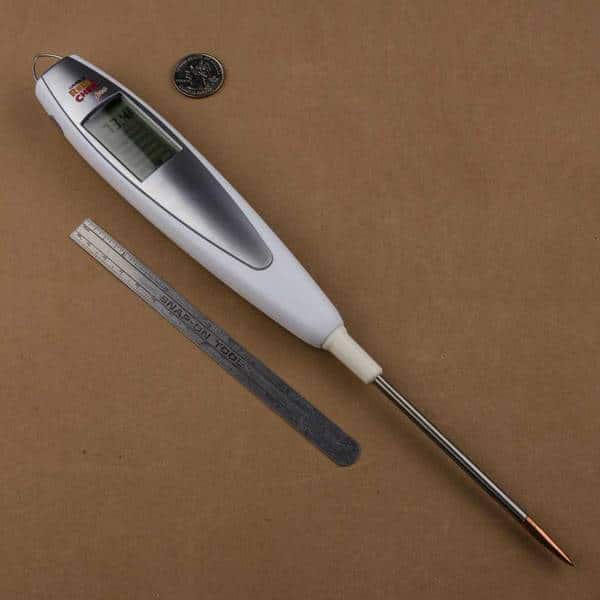 This LARGE hand-held rapid-read thermometer has a long probe, fairly quick response time, and a limited temperature range. It has no backlight nor hold feature.
When turned on, this unit displays the current temperature in F or C depending on user's setting. Below the temp readout is a column of six boxes that are labeled raw, rare, m-rare, medium, well-beef and well-poultry. One box at a time has a label displayed, corresponding to the temperature range that has been preprogrammed into the unit. (These values correspond to the same ones found on the AmazingRibs Meat Temperature Guide.) The temperature ranges are spelled out on the instruction sheet. There is no selection for meat type.
The display is properly oriented when the handle is up and the probe is pointed down. This seems backward to this reviewer unless you prefer to poke your food from the top. Perhaps this is to prevent burning yourself.
The manufacturer's contact info, including address and website, but no telephone number, is found in the owner's instruction sheet. The unit is covered by a 90-day limited warranty. The instruction sheet seems to have been written by someone whose grasp of English is marginal.
For an instant-read thermometer, this is reasonably quick to respond. However, the diameter of the probe will leave a larger-than-necessary entry wound. The lack of features like a min/max readout, a hold button and a backlight make this unit unattractive, given the competition. We're not wild about the inflexible temperatures associated with the doneness display. For these reasons, we aren't recommending this thermometer.
Thermometer Function:

Hand Held

Item Price:

$ 10.00

Where to buy (buying from this supplier supports this website):

Probe:

Length: 4" (100mm), diameter: 0.2" (5mm)

Battery Type:

1xAAA (included)

Safe Operating Range:

Not specified

Min & Max Temp:

32 to 212ºF (0 to 100ºC)

Display Precision:

0.1º

Actual Temp at 32 Degrees:

32.0

Actual Temp at 130 Degrees:

126.6

Actual Temp at 225 Degrees:

n/a

Actual Temp at 325 Degrees:

n/a

Speed from 32 to 212 Degrees:

8

Speed from 32 to 212 Degrees:

8

Numbers Display Size:

Temperature: 0.25" (6mm)

Water Resistance Rating:

No

Weight:

3.35 oz (95g)

C/F Switch:

Built in CF switch

Backlight:

No Backlight

Color Options:

White

App:

No

Logging:

No

Included:

Probe, instructions

Available Accessories:

None

Alarms:

Visible, audible
Published On: 5/7/2014 Last Modified: 1/25/2021
Bill McGrath - Bill McGrath is AmazingRibs.com's Thermometer Maven. He has sophisticated equipment, an electrical engineering degree from Cornell University, and an MBA (almost) from UC Berkeley. Despite being mostly retired, he is still the person responsible for developing and updating all of ExxonMobil's training modules.

---