Maverick ET-41 BBQ Probe with LCD Review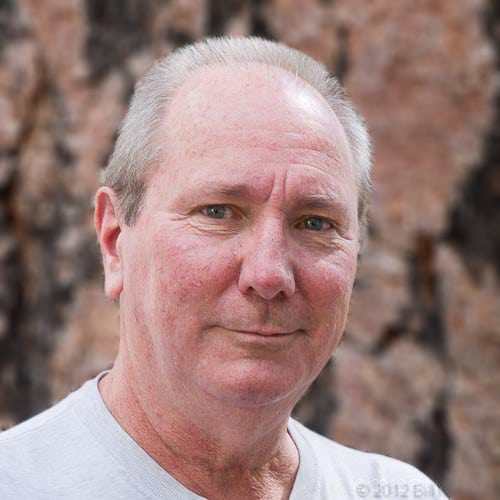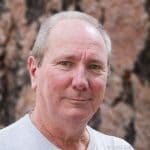 By: Bill McGrath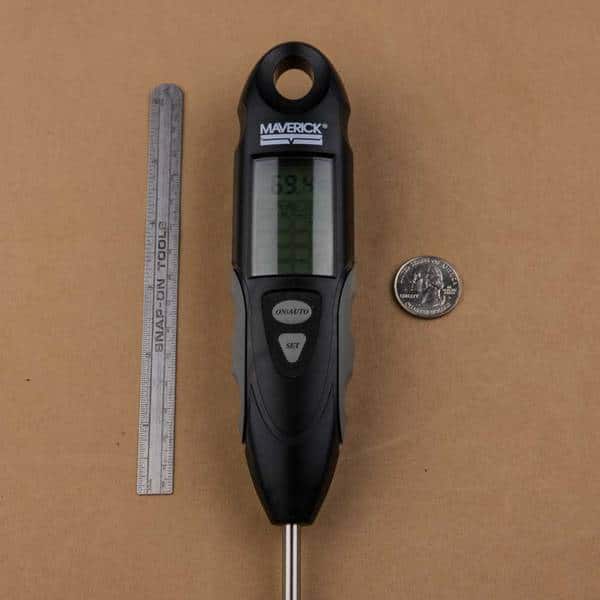 This VERY LARGE hand-held rapid-read thermometer has a long probe, moderate response time, and a limited temperature range. If you're going to a thermometer dual, this is the baby you'll want to take along! It has no backlight nor hold feature. The battery compartment has a seal to keep out moisture.
When turned on, this unit displays the current temperature. Below the temp readout is a matrix of four kinds of meat and four doneness levels. These are set to government recommendations and cannot be changed. When the probe is inserted into cooking food, the squares in the matrix will show the doneness state for each meat type. You must choose the correct column from which to read. However, you can set a target temperature which will trigger an audible alarm and a flashing display. Turning the unit off will cancel this personal setting – an inconvenience as it will auto-shutoff after 5 minutes.
The display is properly oriented when the handle is up and the probe is pointed down. This seems backward to this reviewer unless you prefer to poke your food from the top. Perhaps this is to prevent burning yourself.
The manufacturer's contact info, including address, website and telephone number, is found in the owner's instruction sheet. The unit is covered by a 90-day limited warranty.
For an instant-read thermometer, this is somewhat slow to read. Couple that with the large entry wound, and this isn't really a desireable unit for most users. If you need an epic tool to explore the innards of a shoulder cut of brontosaurus, this might be the right tool. Otherwise, we're not recommending this item.
Thermometer Function:

Hand Held

Item Price:

$ 22.00

Where to buy (buying from this supplier supports this website):

Probe:

Length: 9" (23cm), diameter: 0.235" (6mm)

Battery Type:

1xAAA (included)

Battery Life:

~2 years

Safe Operating Range:

Not specified

Min & Max Temp:

32 to 212ºF (0 to 100ºC)

Display Precision:

0.1º

Actual Temp at 32 Degrees:

32.2

Actual Temp at 130 Degrees:

130.0

Actual Temp at 225 Degrees:

n/a

Actual Temp at 325 Degrees:

n/a

Speed from 32 to 212 Degrees:

15

Speed from 32 to 212 Degrees:

15

Numbers Display Size:

Temperature: 0.31" (8mm)

Water Resistance Rating:

Yes

Weight:

4.6oz (130g)

C/F Switch:

Built in CF switch

Backlight:

No Backlight

Auto shutoff:

1

Color Options:

Black

App:

No

Logging:

No

Included:

Probe

Available Accessories:

None

Alarms:

Visible, audible
Published On: 5/7/2014 Last Modified: 1/25/2021
Bill McGrath - Bill McGrath is AmazingRibs.com's Thermometer Maven. He has sophisticated equipment, an electrical engineering degree from Cornell University, and an MBA (almost) from UC Berkeley. Despite being mostly retired, he is still the person responsible for developing and updating all of ExxonMobil's training modules.

---