Maverick ET-68 Digital Grilling Fork Review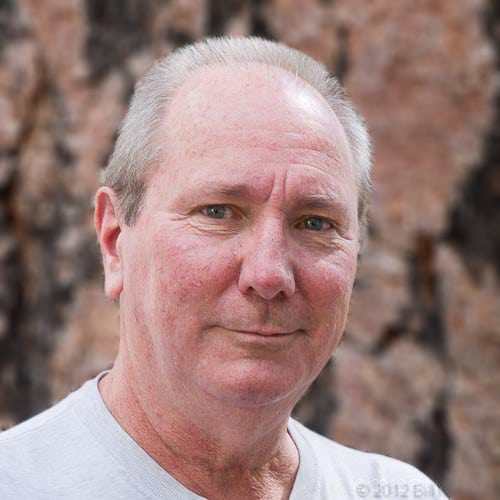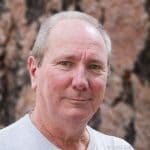 By: Bill McGrath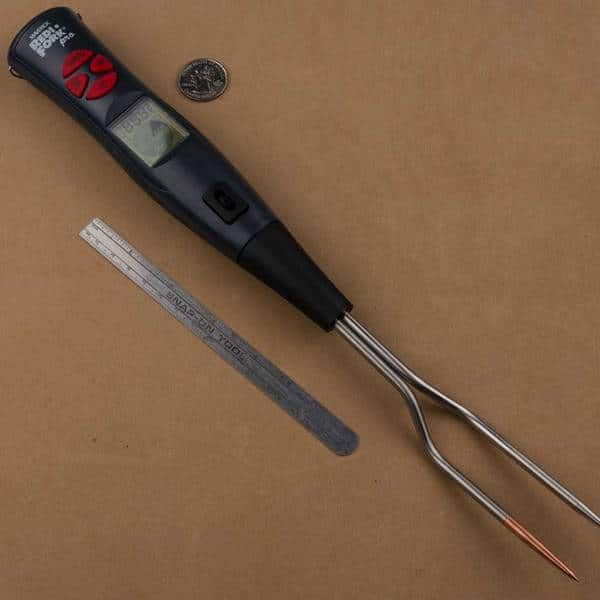 This temperature fork reads temperature via a sensor located in the right tine only. It has a up/down timer and a pie chart showing doneness. The tines are detachable for cleaning. There is no backlight, min/max or hold function. The display is right-side-up when the handle is up and the tines point down, backwards, in my opinion.
The fork has a timer OR a temperature mode, they cannot work simultaneously. If you are in timer mode and switch to temperature mode, the timer stops and resets to zero if up-counting, or your previous time setting if down-counting. In temperature mode, as temperatures rise, a pie chart will display a raw segment, then add a rare segment, a med-rare segment, a med segment, a well-beef segment, and finally a well-poultry segment. The temperatures for these displays correspond to the values found on the AmazingRibs Meat Temperature Guide, and are printed in the user's instructions. You can also set your own temperature value that will trigger an audible/visible alarm. This setting will be remembered when the unit auto-shuts off. (The auto-shutoff feature does not work in Timer mode. This is sensible. When the timer times out, the auto-off function will then work.)
The fork takes several readings when inserted into a hot material like meat. I simulated this by heating up some water in a bowl, and comparing the temperature read by the fork to the value obtained from a thermometer of known accuracy. The fork read within a couple of degrees of the reference unit. This is acceptable accuracy for a device like this.
The manufacturer's contact info, including address and website, but no telephone number, is found on the instruction sheet. The unit is covered by a 90-day limited warranty.
I'll admit to a personal bias: I don't like these fork thermometers. I think they're a gimmick. I prefer a fast hand-held with a long, thin probe shaft to the relatively short and fat fork tines. However, this unit performs as advertised, is sufficiently accurate and fast-reading, and may work perfectly well for some users. I will ignore my personal preferences and give this unit a Bronze medal for performing according to specs.
Thermometer Function:

Hand Held

Item Price:

$ 24.39

Where to buy (buying from this supplier supports this website):

Probe:

Length: 3" (7.5cm), diameter: 0.2" (5mm)

Battery Type:

2xAAA (included)

Battery Life:

up to 6 months

Safe Operating Range:

Not specified

Min & Max Temp:

32 to 212ºF (0 to 100ºC)

Display Precision:

0.1º

Actual Temp at 32 Degrees:

32.5

Actual Temp at 130 Degrees:

n/a

Actual Temp at 225 Degrees:

n/a

Actual Temp at 325 Degrees:

n/a

Speed from 32 to 212 Degrees:

3*

Speed from 32 to 212 Degrees:

10

Numbers Display Size:

0.25" (6mm)

Water Resistance Rating:

Tines only

Weight:

5.35oz (152g)

C/F Switch:

Built in CF switch

Backlight:

No Backlight

Auto shutoff:

1

Color Options:

Black

App:

No

Logging:

No

Included:

Fork with detachable tines, instructions

Available Accessories:

None

Alarms:

Visible, audible
Published On: 5/7/2014 Last Modified: 1/25/2021
Bill McGrath - Bill McGrath is AmazingRibs.com's Thermometer Maven. He has sophisticated equipment, an electrical engineering degree from Cornell University, and an MBA (almost) from UC Berkeley. Despite being mostly retired, he is still the person responsible for developing and updating all of ExxonMobil's training modules.

---