Maverick ET-73 Remote Smoker Thermometer Review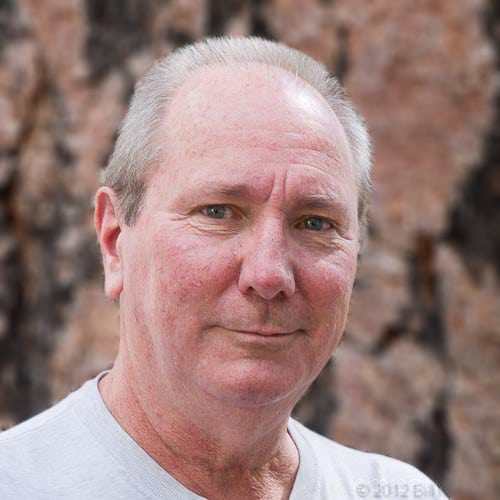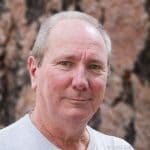 By: Bill McGrath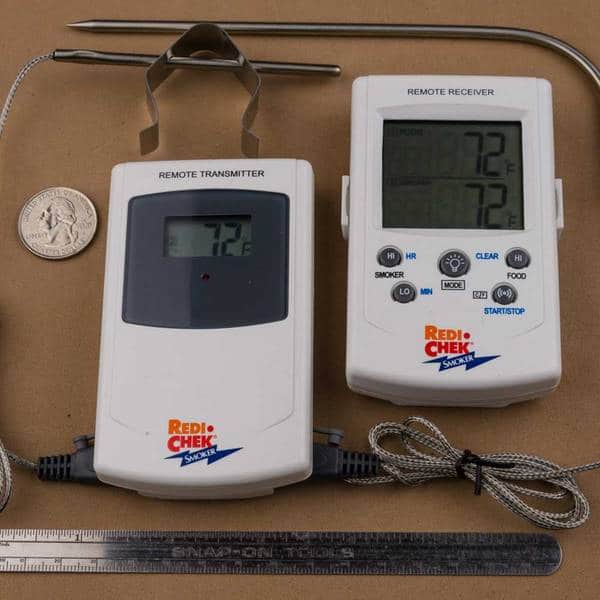 This nicely made two-probe remote unit tracks food and smoker temperatures and also has an up/down counter that will alarm when it reaches zero.
The transmitter displays the food and smoker temperature alternately. The receiver displays both temps simultaneously when in the temperature mode, and the food temp and time in the timer mode. The alarms can be set to run simultaneously. The timer alarm will sound when the user-settable down timer reaches zero. The food temperature alarm will sound and its temperature will flash when the alarm temperature setting is reached. The smoker will alarm if its temperature goes above or below the upper/lower setting. The smoker low-temp alarm won't arm until the temperature goes above the low setting. All temps are user-settable. Irritatingly, the setting button only allows upward movement, if you overshoot your target temperature, you'll have to go through the entire range and start from the bottom. A separate down button would have been nice. The maximum timer setting is 24 hours.
The manufacturer claims a range of 100′ (30m) between the transmitter and the receiver. Unfortunately, there is no annunciation of loss of communication between the transmitter and receiver, the last temperatures received remain displayed on the display – a serious shortcoming! Consider getting the Maverick ET-732 or the ET-733 as they are not afflicted with this and offer some additional features, albeit at a higher price.
Maverick's transmitter has seals around the probe jacks and a seal around the battery box, nevertheless they advise against using it in the rain. To maintain waterproof integrity, the on/off switch is located under the battery compartment door, necessitating its removal (using a coin) to operate the switch. A hanger for the transmitter allows it to be attached to a handle or other convenient point. The two probes each have a 3′ (1m) cable, too short in our opinion.
The contact information for the manufacturer, including address, website and telephone number are found in the owner's manual. The unit has a 90-day limited warranty.
We like the way this unit is built. It has the little extra goodies that make it easy to use, and the accuracy is good. It alarms what you need to know about, except the loss of communication issue. Overall, it is a good value and we give it a Silver recommendation.
Thermometer Function:

Leave in Food, Leave in Cooker, Wireless Remote

Item Price:

$ 34.30

Where to buy (buying from this supplier supports this website):

Probe:

Meat probe: lenght: 6" (150mm), diameter: 0.16" (4mm), cable: 3' (0.9m). Smoker probe: length: 3" (75mm), diameter: 0.16" (4mm), cable: 3' (0.9m)

Battery Type:

4xAAA (Included)

Battery Life:

not specified

Safe Operating Range:

not specified

Min & Max Temp:

14 to 410ºF (-10 to 210ºC)

Display Precision:

1º

Actual Temp at 32 Degrees:

Meat probe: 35, smoker probe: 33

Actual Temp at 130 Degrees:

Meat probe: 131, smoker probe: 131

Actual Temp at 225 Degrees:

Meat probe: 227, smoker probe: 228

Actual Temp at 325 Degrees:

Meat probe: 329, smoker probe: 325

Speed from 32 to 212 Degrees:

Meat probe: 30, smoker probe: 40

Speed from 32 to 212 Degrees:

Meat probe: 40, smoker probe: 60

Numbers Display Size:

Temperature: 0.56" (14mm)

Water Resistance Rating:

Transmitter: yes, Receiver: no

Weight:

7.5oz (210g)

C/F Switch:

Built in CF switch

Backlight:

Built in Backlight

Color Options:

White, black, gray

Thermometer Connection:

RF

App:

No

Logging:

No

Included:

2 probes, transmitter, receiver, grill clip, hanger, manual

Available Accessories:

6' (2m) food probe available

Alarms:

Visible, audible
Published On: 5/7/2014 Last Modified: 1/28/2021
Bill McGrath - Bill McGrath is AmazingRibs.com's Thermometer Maven. He has sophisticated equipment, an electrical engineering degree from Cornell University, and an MBA (almost) from UC Berkeley. Despite being mostly retired, he is still the person responsible for developing and updating all of ExxonMobil's training modules.

---