Maverick PT-100BBQ Review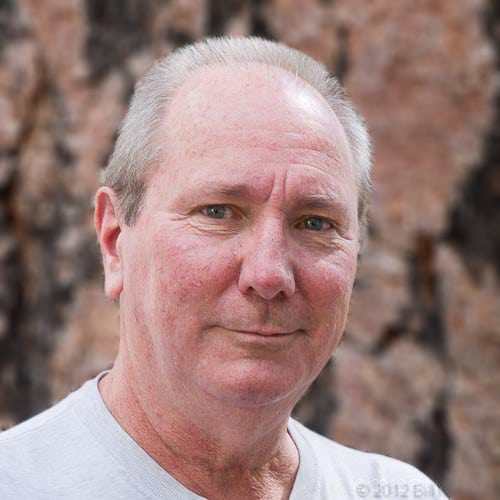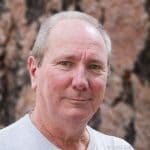 By: Bill McGrath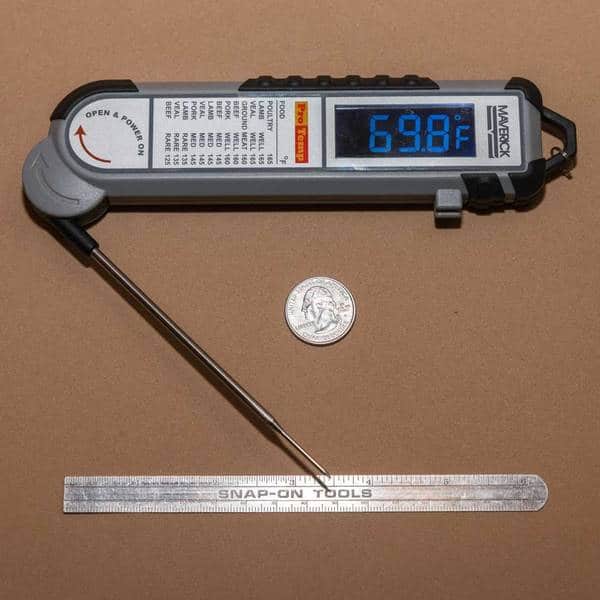 The Maverick PT-100 is a rapid-read handheld digtal thermometer intended for measuring food temperatures. It cannot be left in the oven or grill while cooking. It has a large, back-lit readout and a chart of suggested food temperatures for safety.
This unit opens and closes like a folding knife. Opening the probe turns on the power and closing it turns it off. It will auto-shutoff after 3 minutes if there is no change in temperature. There is a recessed pushbutton switch on the rear to change from Fahrenheit to Celsius. The unit remembers which scale has been selected unless the batteries are removed when it will revert to Fahrenheit. There is a table of recommended cooking temperatures for different kinds of food next to the temperature display.
The thermometer has rubber guards at its corners, making it likely to survive being dropped. The display is easy to read in both bright light and darkness. The perpetual backlighting comes at a cost in terms of battery life, but at 10 hours of continual use, it shouldn't be necessary to change batteries often. The response time is rapid, making this unit a good choice for quick checks of doneness. Accuracy is excellent. It is water-resistant, but not submersible. The cooking temps shown on the face of the unit are on the high side, so use your own judgment as to proper doneness. Street prices are considerably lower than the MSRP, so check Amazon before deciding that the price is too high.
There is a certificate of calibration on the instruction sheet. The thermometer has a one-year limited warranty. The address and telephone number of the manufacturer is included.
We recommend this unit for its quick response, excellent accuracy, sturdy construction and ease of reading.
Meathead's Notes from the Field:
"The one thing it does better than the ThermaPen is the LCD screen that is backlit and bright enough to read easily in total darkness, and it can be very dark inside a big pit late at night. There is also a small meat temperature guide on the side with which I have a few minor quibbles. Just as important, Maverick gets good marks for customer service in my book and from what I hear from readers.
Thermometer Function:

Hand Held

Item Price:

$ 99.99

Where to buy (buying from this supplier supports this website):

Probe:

Length: 4.375" (111mm), diameter: 0.140" (3.5mm), tip: 0.070" (1.78mm)

Battery Type:

3xAAA (included)

Battery Life:

10 hrs. - mfgr. est.

Safe Operating Range:

32 to 122ºF (0-50ºC)

Min & Max Temp:

-40 to 450ºF (-40 to 232ºC)

Display Precision:

0.1º

Actual Temp at 32 Degrees:

34.9

Actual Temp at 130 Degrees:

130.8

Actual Temp at 225 Degrees:

225.2

Actual Temp at 325 Degrees:

330.0

Speed from 32 to 212 Degrees:

~2

Speed from 32 to 212 Degrees:

~6

Numbers Display Size:

0.535" (13mm)

Water Resistance Rating:

IP44

Weight:

4.3 oz (122g)

C/F Switch:

Built in CF switch

Backlight:

Built in Backlight

Auto shutoff:

1

Color Options:

Grey

Thermometer Sensor:

Thermocouple

App:

No

Logging:

No

Included:

Thermometer, Instruction sheet

Available Accessories:

None

Alarms:

None
Published On: 5/7/2014 Last Modified: 1/25/2021
Bill McGrath - Bill McGrath is AmazingRibs.com's Thermometer Maven. He has sophisticated equipment, an electrical engineering degree from Cornell University, and an MBA (almost) from UC Berkeley. Despite being mostly retired, he is still the person responsible for developing and updating all of ExxonMobil's training modules.

---