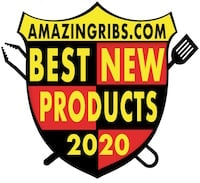 The Maverick PT-51 Instant Read thermometer is a folding hand-held unit that responds quickly, has excellent accuracy, and is designed for both left- and right-handed users.
The thermometer utilizes a thermocouple sensor for quick response. The probe opens up 90° past center so that it can be used in either hand. The display rotates by pressing the on-screen button so that it can be read from either orientation; it does not rotate the display automatically like some higher-priced units. The same button that rotates the display also activates a Hold function to capture the instantaneous temperature. The Hold mode can sometimes be activated accidentally due to the sensitivity of the button's touch. The display reads in either Fahrenheit or Celsius, selectable via a recessed button on the rear of the unit. 
The unit I tested required a bit more force to extend the probe than I think is wise; I thought I might break it off while opening or closing the probe. The unit is claimed to be waterproof to 3 feet (0.91m). I placed it in a large pot of room-temperature water; it didn't leak. The thermometer is powered by a single CR2032 battery which is included. Battery life is not specified.
The unit comes with a one-year limited warranty. The manufacturer's contact info, including a snail mail address, website, and telephone number are printed on the instruction sheet.
Great accuracy, good speed, waterproof and priced very competitively; we give it a Gold Medal.