Maverick ST-100 Chef Tunes Review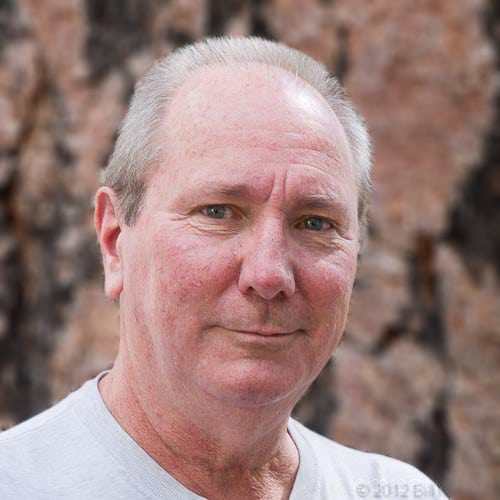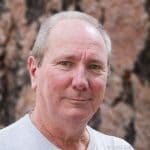 By: Bill McGrath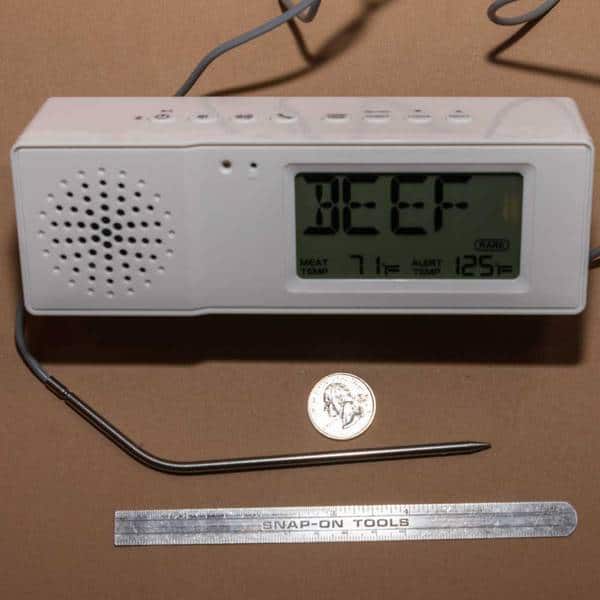 This unusual product is a thermometer, music player and telephone in one countertop unit. It can connect via Bluetooth to your smart phone, and while connected can play music stored on your phone or act as a hands-free telephone.
The unit contains a battery which is charged by an external power supply. There is a short cable with a probe at the end to place into food while cooking. The temperature range is narrow: 32 to 212º F (0 to 100ºC). or it can be configured to work on the Celsius scale. It will display the time in 12 or 24 hour formats in large letters. To operate, you select the type of meat from a choice of beef, pork, chicken, turkey, veal, lamb, ham, fish or ground meat. You then select the doneness: well, medium, med-rare or rare. The device then selects the temperature for you, although you have some limited ability to override its selection. After you've made your selection, a voice reads it out to you. When the food reaches the selected temperature, the voice announces that your food is done. There is no choice of gender or accent, sorry, Texans.
While you're waiting for chow, you can connect your phone via Bluetooth and use the device as a cordless phone. You can also fire up one of your music players and play tunes through the speaker on the gadget. Or you could take a nap and wait for "the voice."
The unit comes with a 90 day limited warranty. The manufacturer's contact information, including address, telephone number and website, is on the instruction sheet.
At nearly $90, it's a rather limited use thermometer that prefers to dictate terms to you and provide entertainment. That's fine if you dig that sort of thing, but I'd rather get one of Maverick's dedicated devices like the PT-100. Of course, you could give one as a gift to a technically-averse boyfriend/girlfriend.
Thermometer Function:

Leave in Food, Leave in Cooker, Wireless Remote

Item Price:

$ 89.99

Where to buy (buying from this supplier supports this website):

Probe:

Length: 4.5" (115mm), diameter: 0.16" (4mm), cable: 3' (0.9m)

Battery Type:

Internal lithium

Battery Life:

4 hours music, ??

Safe Operating Range:

not specified

Min & Max Temp:

32 to 212ºF (0 to 100ºC)

Display Precision:

2ºF/1ºC

Actual Temp at 32 Degrees:

33

Actual Temp at 130 Degrees:

130

Actual Temp at 225 Degrees:

n/a

Actual Temp at 325 Degrees:

n/a

Speed from 32 to 212 Degrees:

7

Speed from 32 to 212 Degrees:

7

Numbers Display Size:

Time/Meat: 0.8" (20mm), temp: 0.3" (7.6mm)

Water Resistance Rating:

Probably not

Weight:

~1/2 lb (225g)

C/F Switch:

Built in CF switch

Backlight:

Built in Backlight

Color Options:

White

Thermometer Connection:

Bluetooth

App:

No

Logging:

No

Included:

Display, probe, power supply, manual

Available Accessories:

None

Alarms:

Voice
Published On: 5/7/2014 Last Modified: 1/28/2021
Bill McGrath - Bill McGrath is AmazingRibs.com's Thermometer Maven. He has sophisticated equipment, an electrical engineering degree from Cornell University, and an MBA (almost) from UC Berkeley. Despite being mostly retired, he is still the person responsible for developing and updating all of ExxonMobil's training modules.

---