OXO Chef's Precision Thermocouple Thermometer Review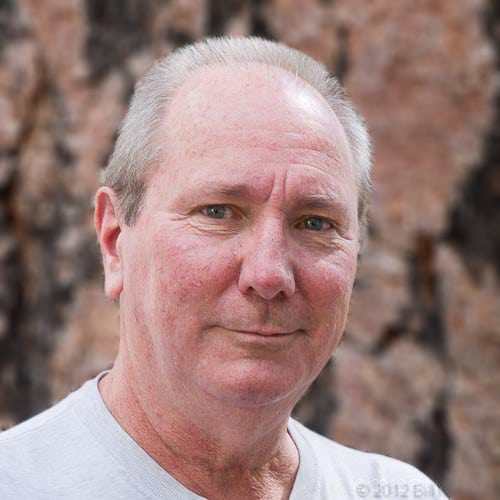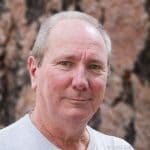 By: Bill McGrath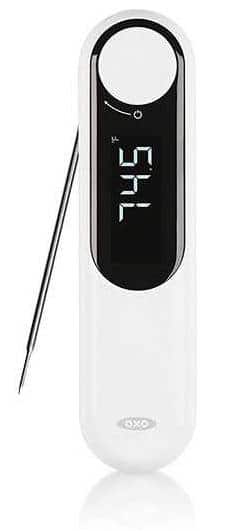 The OXO Chef's Precision Thermocouple Thermometer is a high-end instant read thermometer that is waterproof to IP66 standards (excellent protection) and incorporates some features that make it attractive for left-handed users.
The probe unfolds like a pocket knife blade, a style that has become popular in this type of instrument. It has a button at the probe pivot point that allows you to open the probe by squeezing and turning the circular white button seen in the photo. This feature allows you to extend the probe without touching the probe itself, reducing the risk of cross-contamination. Unlike most folding thermometers, the probe can rotate out 45º beyond straight, making it easy to use in the left hand. The display will also flip over so that it can be read without mentally inverting the numbers.
The IP66 rating means that the thermometer can be rinsed off under running water without damage, making this unit easy to clean. The plastic housing is devoid of nooks and crannies where food residue can hide, further reducing the risk of food contamination.
There are two switches inside the waterproof battery compartment. One allows the user to select either the Fahrenheit or Celsius scale. The other selects the resolution, either 0.1º or 1º. After three minutes of inactivity, it will shut off the display. While asleep, moving the thermometer will revive it. After ten minutes, it will shut off completely, requiring the user to fold the probe in and out to turn it back on.
The thermometer's accuracy is excellent and its response time is on par with the fastest units available. It also comes with a microfiber pouch with a draw string.
The warranty is two years from date of purchase. The instruction manual provides contact information for the manufacturer in case of problems.
This is a nicely-made thermometer with excellent performance and solid construction. We like that it's waterproof and designed to avoid cross-contamination. A solid Platinum Medal.
Thermometer Function:

Hand Held

Item Price:

$ 99.95

Where to buy (buying from this supplier supports this website):

Probe:

Length: 4.17" (105mm), diameter: 0.130" (3.3mm), tip: 0.068" (1.7mm)

Battery Type:

2xAAA (included)

Battery Life:

up to 43 hrs (mfgr.)

Safe Operating Range:

32 to 122ºF (0 to 50ºC)

Min & Max Temp:

-52 to 572ºF (-50 to 300ºC)

Display Precision:

0.1 or 1º

Actual Temp at 32 Degrees:

32.0

Actual Temp at 130 Degrees:

130.5

Actual Temp at 225 Degrees:

226.5

Actual Temp at 325 Degrees:

326.6

Speed from 32 to 212 Degrees:

3

Speed from 32 to 212 Degrees:

3

Numbers Display Size:

0.43" (11mm)

Water Resistance Rating:

IP66

Weight:

3.8 oz. (107g)

C/F Switch:

Built in CF switch

Backlight:

Built in Backlight

Auto shutoff:

1

Color Options:

White

Thermometer Sensor:

Thermocouple

Included:

Thermometer, batteries, storage pouch, instructions
Published On: 12/30/2017 Last Modified: 1/25/2021
Bill McGrath - Bill McGrath is AmazingRibs.com's Thermometer Maven. He has sophisticated equipment, an electrical engineering degree from Cornell University, and an MBA (almost) from UC Berkeley. Despite being mostly retired, he is still the person responsible for developing and updating all of ExxonMobil's training modules.

---