Tel-Tru QT303F Infrared and Probe Thermometer Review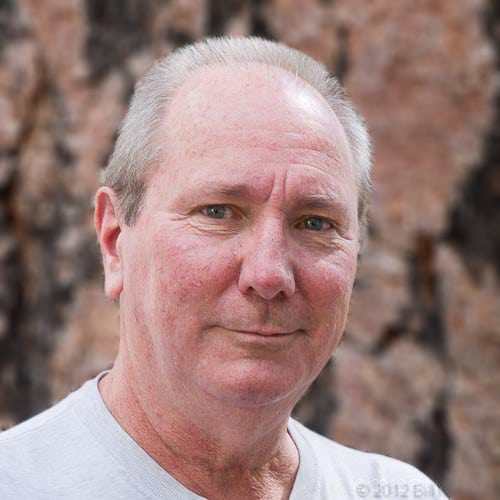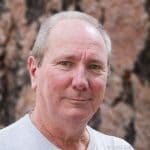 By: Bill McGrath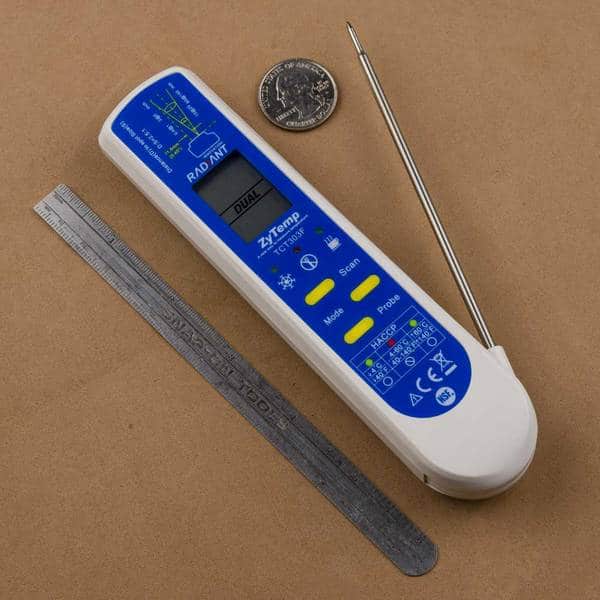 The Tel-Tru QT303F Infrared/Probe Thermometer is a dual mode unit that can measure a wide temperature range accurately using either the probe or its infrared sensor. It features a fast response time and HAACP indicator lights to warn when food is at an unsafe temperature. The unit can have its emissivity response tailored to the user's needs, and comes set at 0.95 by default.
While we do not have the equipment to check the accuracy of the infrared sensor, the probe's readings were very accurate, always within a degree at all our test temps. Response to our 32-212º test was a very respectable 5 second, making this a good choice as an instant read thermometer. There is a Hold function that will capture the temperature when the Probe button is depressed, making it easy to remove the probe and read the display. There are three LEDs that indicate when food is not within the safe range. When temperatures are below 40ºF (4ºC) or above 140ºF (60ºC), a green light indicates a safe temperature. Between these ranges, a red LED will illuminate to flag potentially unsafe conditions.
The housing of the thermometer had a very sturdy feel to it. The battery compartment cover fit tightly and had a rubber seal that covered the securing screw. Overall, quality was good.
The manufacturer's contact info, including telephone number, e-mail and website, is found on the instruction sheet. There is no explicitly stated warranty period.
At $153 MSRP, this is an expensive thermometer, but it works well and is well constructed. We wonder about the utility of IR sensors for food preparation work, but some people like them for measuring the temps of cooking surfaces. If you're in the market for a dual-mode device and have the money to spend, this is a nice unit. We give it a Silver rating given its price and performance.
Thermometer Function:

Hand Held, Infrared Gun

Item Price:

$ 153.25

Where to buy (buying from this supplier supports this website):

Probe:

Length: 4.44" (113mm), diameter: 0.13" (3.3mm), tip: 0.082" (2mm)

Battery Type:

2xAAA (included)

Battery Life:

18 hours cont. use

Safe Operating Range:

32 to 122ºF (0 to 50ºC)

Min & Max Temp:

-67 to 626ºF (-55 to 330ºC) (probe)

Display Precision:

0.1º/1º

Actual Temp at 32 Degrees:

32.5

Actual Temp at 130 Degrees:

129.5

Actual Temp at 225 Degrees:

224

Actual Temp at 325 Degrees:

326

Speed from 32 to 212 Degrees:

5

Speed from 32 to 212 Degrees:

5

Numbers Display Size:

0.25" (6mm)

Water Resistance Rating:

Yes

Weight:

3.15oz (98g)

C/F Switch:

Built in CF switch

Backlight:

No Backlight

Color Options:

White

Thermometer Sensor:

Thermocouple

App:

No

Logging:

No

Included:

Thermometer, batteries, instructions

Available Accessories:

None

Alarms:

Visible (HAACP LEDs)
Published On: 5/31/2014 Last Modified: 1/28/2021
Bill McGrath - Bill McGrath is AmazingRibs.com's Thermometer Maven. He has sophisticated equipment, an electrical engineering degree from Cornell University, and an MBA (almost) from UC Berkeley. Despite being mostly retired, he is still the person responsible for developing and updating all of ExxonMobil's training modules.

---