The Thermoworks Chef Alarm is a leave-in-food or leave-in-oven thermometer with a probe attached to the end of a flexible cable. The display unit would remain outside the oven/grill and provides the current probe temperature, min and max temperatures, upper and lower alarm settings and has a count-down timer function. The probe is designed to operate at oven temperatures, but the display unit should not be left in the oven or smoker. There are several different probes that are available for this unit that expand its capabilities. (See the probe purchasing link below.) You could have two probes in food and a third that measures the oven temperature, and plug one in at a time to monitor the different temperatures. Some probes respond quickly enough to use this unit as an instant-read thermometer.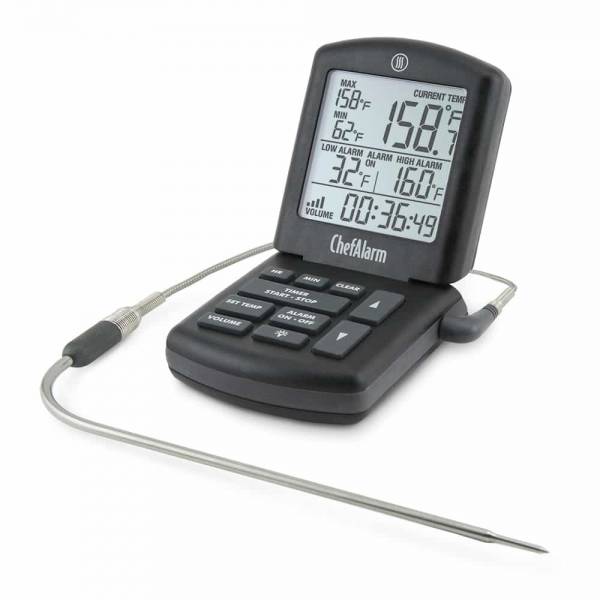 The unit comes with a right-angle probe, a pot clip to hold the probe, a display unit, a carrying/storage case and instructions. The instructions are clear and complete. The back of the instruction sheet has temperature recommendations for various kinds of food, including candy temps. The display housing is well-made. The hard storage case has handy pockets to store the probe and display units, and zips closed.
When the unit is first turned on, the min/max readings are cleared. The unit remembers whether you're working in F or C, and the alarm settings are retained. The timer is reset on power off. The latter feature allows you to set a cooking time that will trigger an alarm when it reaches zero. It can be set up to 99 hrs and 59 minutes. If set to zero, it will act as a count-up timer. There is also an adjustable-volume audible alarm if the probe should drop below a minimum temperature or above a maximum, both user settable. The alarm function can be turned on and off. A backlight button will turn on the illumination for 20 seconds. There is a magnet on the back of the display to allow attaching it to a steel surface. The unit can also be calibrated to within 1° accuracy.
The manufacturer's contact information – address, web and telephone are on the instruction sheet, which is in English only. There is no certificate of calibration.
We give this unit a Platinum recommendation for its accuracy, reasonable speed, price, quality of construction and ease of use.
Meathead's Notes From the Field:
"The probes are thinner than any thermistor I've seen and read within five seconds so ChefAlarm can be used as an instant read, and best of all, the new Pro-Series silicon coated cables are waterproof and submersible so there is no risk of damaging them with rain or when cleaning, a common problem with the metal braided probes common on other meters."