ThermoWorks DOT TX-1200 Review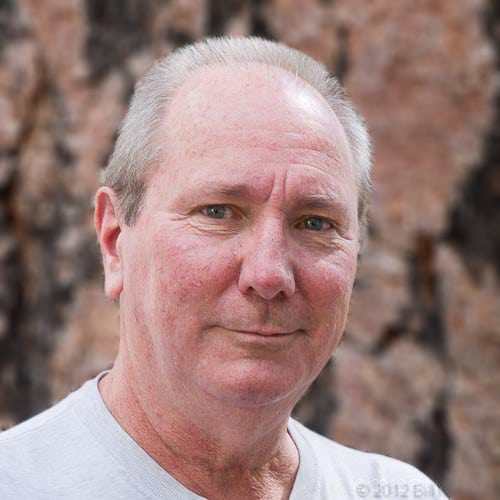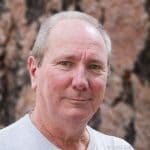 By: Bill McGrath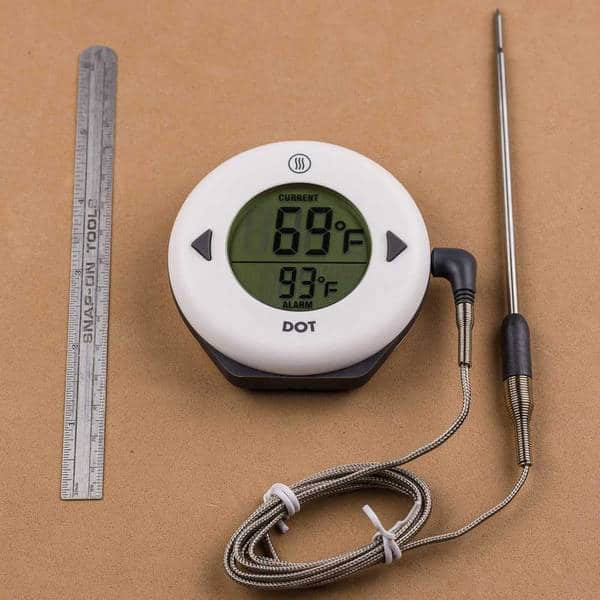 The ThermoWorks DOT TX-1200 is intended for use in food while cooking. It has a large readout, an easily-set alarm temperature and a long probe cable. Unlike most thermometers of this type, it has a rapid response time that would allow it to double as an instant-read thermometer if desired. Because there are numerous probes available for this unit, you could insert one into one meat, another into a second piece, and a third to monitor the cooker temperature, making this a very versatile thermometer.
The round readout, 3″ (7.5 cm) in diameter has an easel stand that lets it sit upright on a counter and a pair of magnets on the back that allow it to fasten to a steel surface. The temperature alarm is both audible and visual, with blinking digits, and can be disabled if needed. Temperature accuracy was within 1ºF on all measurements. The user can select either Fahrenheit or Celsius scales. The instruction sheet has temperature guidance for doneness of food, so there are no chickens and pigs to select – just set the desired temp and go.
Like all ThermoWorks products, the build quality is excellent. There are seals that protect the unit from splashing water. The readout could probably be used as a hockey puck, and the cable is more rugged than most. There is a strain-relief on both ends of the cable, reducing the likelihood of damage. Battery life is loosely predicted at 5000 hours, but will vary with alarm usage. Unfortunately, there is no backlight, surprising in a nice unit like this.
There is no explicitly stated warranty, but our experience with this manufacturer indicates that they stand behind their products. All the usual contact info can be found on the packaging and the instruction manual.
We give this a Platinum medal for its excellent construction, accuracy and simplicity. My only gripe is the lack of a backlight. Nice unit, reasonable price.
Thermometer Function:

Hand Held, Leave in Food, Leave in Cooker

Item Price:

$ 39.00

Where to buy (buying from this supplier supports this website):

Probe:

Length: 4.5" (11.4cm), diameter: 0.138" (3.5mm), Tip: 0.085" (2.15mm), cable: 46" (1.2m)

Battery Type:

2xAAA (included)

Battery Life:

5000 hours, variable

Safe Operating Range:

32 to 122ºF (0 to 50ºC)

Min & Max Temp:

-58 to 572ºF (-50 to 300ºC)

Display Precision:

1º

Actual Temp at 32 Degrees:

32

Actual Temp at 130 Degrees:

129

Actual Temp at 225 Degrees:

224

Actual Temp at 325 Degrees:

324

Speed from 32 to 212 Degrees:

5

Speed from 32 to 212 Degrees:

5

Numbers Display Size:

0.63" (16mm)

Water Resistance Rating:

IP65 - Splashproof

Weight:

4.2 oz. (120g)

C/F Switch:

Built in CF switch

Backlight:

Built in Backlight

Color Options:

Black and white

Thermometer Sensor:

Thermistor

Included:

Probe, readout, instructions

Available Accessories:

Additional probes are available

Alarms:

Audible/Visible
Published On: 10/20/2014 Last Modified: 1/28/2021
Bill McGrath - Bill McGrath is AmazingRibs.com's Thermometer Maven. He has sophisticated equipment, an electrical engineering degree from Cornell University, and an MBA (almost) from UC Berkeley. Despite being mostly retired, he is still the person responsible for developing and updating all of ExxonMobil's training modules.

---