ThermoWorks IR-Gun-S Review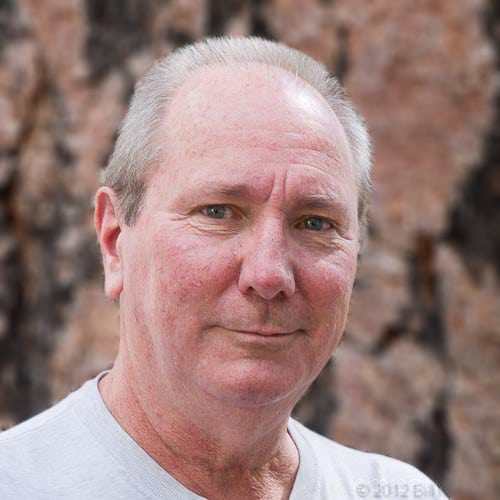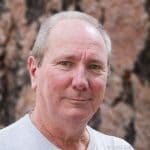 By: Bill McGrath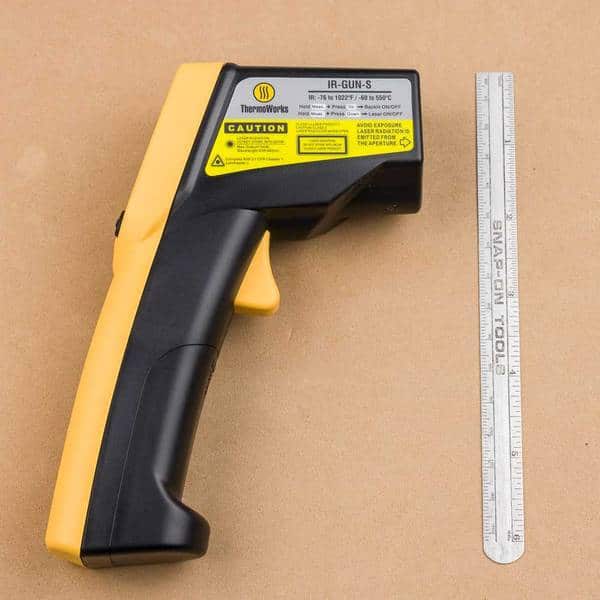 The ThermoWorks IR-Gun-S is an infrared themometer with a few interesting features that set it apart from most other products of this type. Like most IR thermometers, it records the temperature in a cone in front of the sensor whose size is proportional to the distance from the gun. Think of htis cone as the field of view in a camera lens. Many are wide angles – the circle of measurement might be 1:4, meaning that the circle would be one foot in diamter at four feet from the gun. This unit is more like a telephoto where the ratio is 1:12, so the circle is one foot in diameter at 12 feet from the gun. This tighter cone makes it easier to narrow the area where the measurement is taken, excluding other surfaces that surround the target area.
There is a mode button that allows the user to view the minimum, maximum, difference, or average temperature detected during one pull on the trigger. One can also set high and low alarm thresholds that trigger an audible signal if the measured temperature is above or below the settings. Pressing the mode button after the unit shuts off will recall the last set of measurements. You can even put the unit into continuous measurement mode that doesn't require a trigger pull – a handy feature if you want to capture a maximum or minimum temperature. One can also easily adjust the emissivity settings (if you know what you're doing!) and change between Fahrenheit and Celsius scales. The backlight can be switched on and off to enhance low light visibility or save battery power.
The manufacturer's contact information, including address, telephone and website, is found on the instruction sheet. There is no explicitly stated warranty, but our experience with this company indicates that they stand solidly behind their products.
We don't have the equipment to test the accuracy of this type of thermometer, but they aren't intended for highly accurate readings anyway. We give this unit a Gold medal for ease of use and features not found on most IR guns.
Thermometer Function:

Infrared Gun

Item Price:

$ 69.00

Where to buy (buying from this supplier supports this website):

Probe:

None

Battery Type:

2xAAA (included)

Battery Life:

14-18 hours continuous

Safe Operating Range:

32 to 122ºF (0 to 50ºC)

Min & Max Temp:

-70 to 1022ºF (-60 to 550ºC)

Display Precision:

0.1º

Actual Temp at 32 Degrees:

n/a

Actual Temp at 130 Degrees:

n/a

Actual Temp at 225 Degrees:

n/a

Actual Temp at 325 Degrees:

n/a

Actual Max Temp:

n/a

Speed from 32 to 212 Degrees:

Not applicable

Speed from 32 to 212 Degrees:

n/a

Numbers Display Size:

0.5" (12mm)

Water Resistance Rating:

Not specified

Weight:

5.1 oz (145 g)

C/F Switch:

Built in CF switch

Backlight:

Built in Backlight

Adjustable Options:

1

Auto shutoff:

1

Color Options:

Yellow/gray

App:

None

Logging:

No

Available Accessories:

None

Alarms:

High and Low
Published On: 7/6/2014 Last Modified: 1/25/2021
Bill McGrath - Bill McGrath is AmazingRibs.com's Thermometer Maven. He has sophisticated equipment, an electrical engineering degree from Cornell University, and an MBA (almost) from UC Berkeley. Despite being mostly retired, he is still the person responsible for developing and updating all of ExxonMobil's training modules.

---