ThermoWorks MicroTherma 2K with 303-159 Probe Review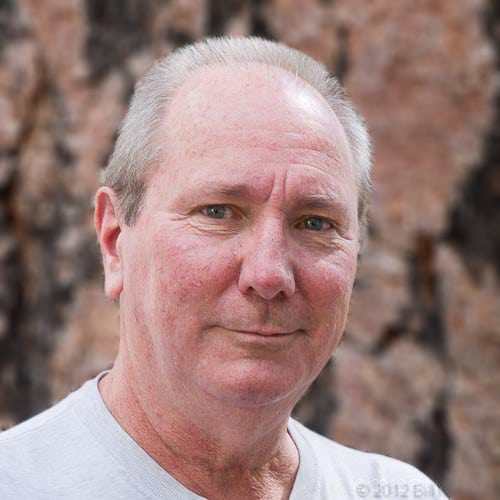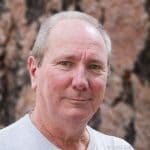 By: Bill McGrath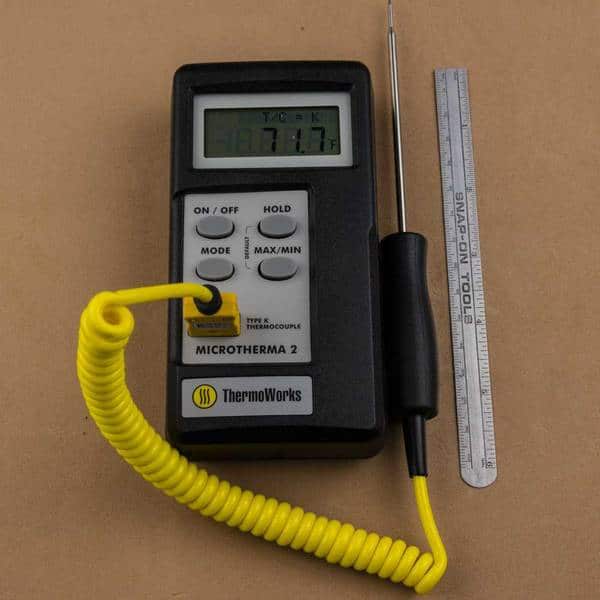 The ThermoWorks MicroTherma 2K is a high-accuracy unit that accepts any K-type thermocouple sensor. It comes with a high price tag. It has excellent accuracy and a quick response time with the kit probe, one that cannot be left in the oven/grill. However, since any K-type probe can be plugged into this unit, it can double as an in-food/in-cooker thermometer as well as a rapid-read hand-held unit.
This unit isn't really designed for food use as it lacks any protection from water or dust ingress, and it has no backlight. It does have a min/max function and a hold button. It's strongest suit is its accuracy.
It can be configured in a number of ways, including adjusting the screen contrast. Other configurable options include the ability to trim the readout to compensate for probe errors and switch between F and C scales. The thermometer's inherent temperature range is –328 to 2501ºF (-200 to 1372ºC), but with the kit probe, the temperature range is a more suitable -58 to 482ºF (-50-250ºC). Purchase additional probes to take advantage of the unit's inherent range if you have the need or if you want to add an in-food/in-cooker capability to your arsenal.
The manufacturer's contact info, including address, telephone number, website and e-mail, is found on the instruction sheet. The thermometer is covered by a 2 year warranty. A certificate of calibration is included.
We're giving this kit a Silver medal for its performance. If it had a waterproof rating and a backlight, it would be Gold, so we're downgrading it on suitability to purpose, not performance, which is excellent.
* Temperature range is probe dependent. This value is for the stated probe.
Thermometer Function:

Hand Held, Leave in Food, Leave in Cooker

Item Price:

$ 184.00

Where to buy (buying from this supplier supports this website):

Probe:

THS-303-159: length: 4" (10cm), diameter: 0.12" (3mm), tip: 0.06" (1.5mm)

Battery Type:

2xAA (included)

Battery Life:

1000 hours

Safe Operating Range:

Not Specified

Min & Max Temp:

–328 to 2501ºF (-200 to 1372ºC) (Probe dependent)

Display Precision:

0.1º

Actual Temp at 32 Degrees:

32.2

Actual Temp at 130 Degrees:

129.6

Actual Temp at 225 Degrees:

225.0

Actual Temp at 325 Degrees:

325.0

Speed from 32 to 212 Degrees:

3

Speed from 32 to 212 Degrees:

3

Numbers Display Size:

0.38" (9.5mm)

Water Resistance Rating:

No

Weight:

7.75oz (220g) (with probe)

C/F Switch:

Built in CF switch

Backlight:

No Backlight

Adjustable Options:

1

Color Options:

Black

Thermometer Sensor:

Thermocouple

App:

No

Logging:

No

Included:

Thermometer, Case, Instructions, Certificate of Calibration

Available Accessories:

Many to choose from

Alarms:

No
Published On: 5/7/2014 Last Modified: 1/28/2021
Bill McGrath - Bill McGrath is AmazingRibs.com's Thermometer Maven. He has sophisticated equipment, an electrical engineering degree from Cornell University, and an MBA (almost) from UC Berkeley. Despite being mostly retired, he is still the person responsible for developing and updating all of ExxonMobil's training modules.

---