ThermoWorks Therma 20 Plus with 174-166 Probe Review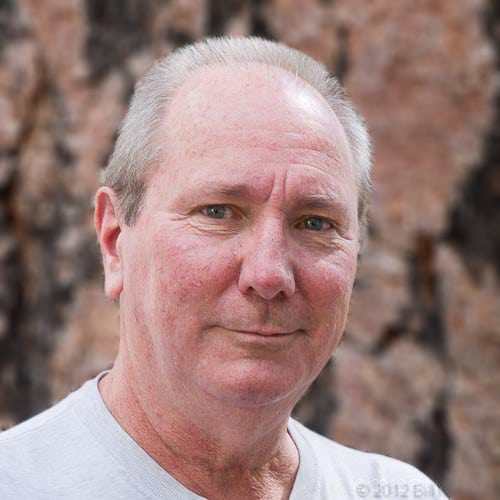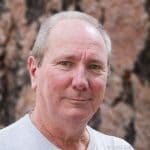 By: Bill McGrath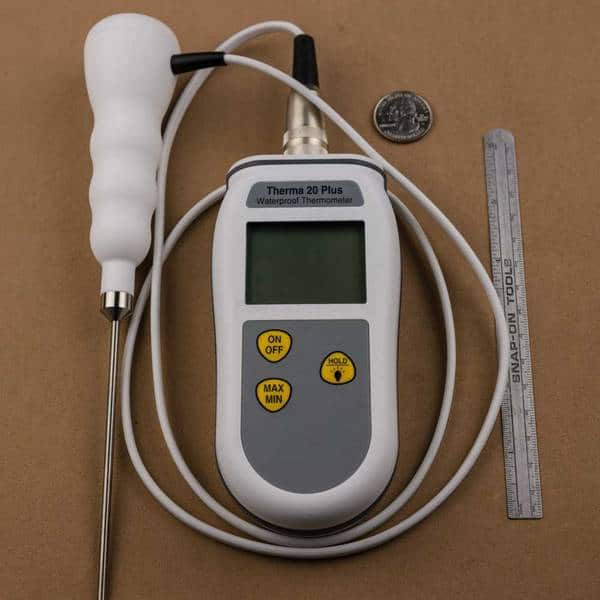 This solidly-built, full-featured thermometer and probe are built to last in environments that would ruin most equipment. Accuracy is excellent. It has all the features except for a very quick response time. The maximum temperature is 302ºF (150ºC) which might limit its functionality for some users. It cannot be left in the oven/grill while cooking, and no in-food/in-cooker probes are offered for this unit.
This thermometer is designed to work in wet environments that would kill most other thermometers. Both the display and the probe are built to commercial standards. The entire package is protected to IP66/67 standards, meaning it will survive under a faucet or completely submerged. It uses a thermistor sensor so it won't respond as quickly as a good thermocouple probe with a small-diameter tip. That's not to say that it's slow, it will go from ice water to boiling water in about 16 seconds, not a huge imposition.
The display is a large 0.66″ (15mm) with a button-activated backlight. It has a min/max feature and a hold button. The unit will auto-shutoff after 10 minutes, but this can be disabled by pressing the Hold button while powering-on the unit. It will revert to auto-off when manually turned off. Battery life is claimed to be 10,000 hours, so you may never have to replace them. The thermometer comes with a zippered case to hold it and its probe.
The manufacturer's contact info, including address, website, and telephone number, is found in the instruction sheet. The unit is covered by a 2 year limited warranty. A certificate of calibration is included with the thermometer.
At nearly $200 for the complete unit, this isn't for everyone. However, if you want a bullet-proof thermometer that will survive in a wet environment, one that will provide excellent accuracy and is solidly-built, then this would be a good choice. The somewhat slow response time and the limited temperature range conspire to reduce this unit's rating to a Silver medal.
Thermometer Function:

Hand Held

Item Price:

$ 198.00

Where to buy (buying from this supplier supports this website):

Probe:

174-166 Probe: length: 5" (12.5cm), diameter: 0.12" (3mm)

Battery Type:

3xAAA (included)

Battery Life:

10,000 hours

Safe Operating Range:

32 to 122ºF (0-50ºC)

Min & Max Temp:

-40 to 302ºF (-40 to 150ºC)

Display Precision:

0.1º

Actual Temp at 32 Degrees:

32.4

Actual Temp at 130 Degrees:

129.9

Actual Temp at 225 Degrees:

224.6

Actual Temp at 325 Degrees:

n/a

Speed from 32 to 212 Degrees:

16

Speed from 32 to 212 Degrees:

20

Numbers Display Size:

0.66" (15mm)

Water Resistance Rating:

IP66/67 (submersible)

Weight:

0.49lb (220g)

C/F Switch:

Built in CF switch

Backlight:

Built in Backlight

Auto shutoff:

1

Color Options:

White

Thermometer Sensor:

Thermistor

App:

No

Logging:

No

Included:

Thermometer, case, instructions, Cert. of calibration

Available Accessories:

Many to choose from

Alarms:

None
Published On: 5/7/2014 Last Modified: 1/25/2021
Bill McGrath - Bill McGrath is AmazingRibs.com's Thermometer Maven. He has sophisticated equipment, an electrical engineering degree from Cornell University, and an MBA (almost) from UC Berkeley. Despite being mostly retired, he is still the person responsible for developing and updating all of ExxonMobil's training modules.

---