YOU ARE HERE >> AmazingRibs » Ratings & Reviews » Ratings Reviews And Buying Guides » BBQ Tools Toys And Accessory Reviews » Weber Smokey Mountain Tips And Accessories » Maximize Rib Cooking Space With the Rib Ring
Maximize Rib Cooking Space With the Rib Ring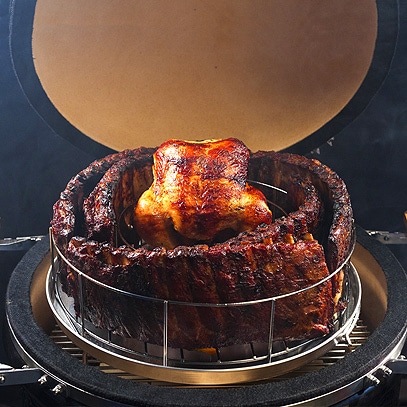 One downside of smoking on a Weber Smokey Mountain is the limited amount of space available for smoking multiple racks of ribs.
Maximize the smoker space with a Rib Ring from BBQ Guru. Somebody should get the Nobel Prize for this. If you own a Weber Smokey Mountain or a round Kamado or a Weber Kettle or a drum smoker, you have felt the frustration of wanting to cook a lot of ribs for a party, and you just can't get enough of them on.
The Rib Ring solves the problem. It can hold 6 racks of ribs or 5 racks and a chicken. It even comes with a thermometer probe holder. Round cooker? Round rack! DOH! It works on any cooker 18" or wider.
Published On: 11/7/2018 Last Modified: 4/29/2021
Clint Cantwell, Champion Pitmaster - Clint Cantwell is AmazingRibs.com's Senior Vice President of Whatever, charged with creating recipes, writing articles, shooting photos, and a little bit of everything else. He was named one of the "10 Faces of Memphis Barbecue" by Memphis Magazine and was the winner of Travel Channel's "American Grilled: Memphis".

---